Call for Nominations: 2020 Driver of the Year Award
by Women In Trucking Staff, on Nov 27, 2019 3:47:00 PM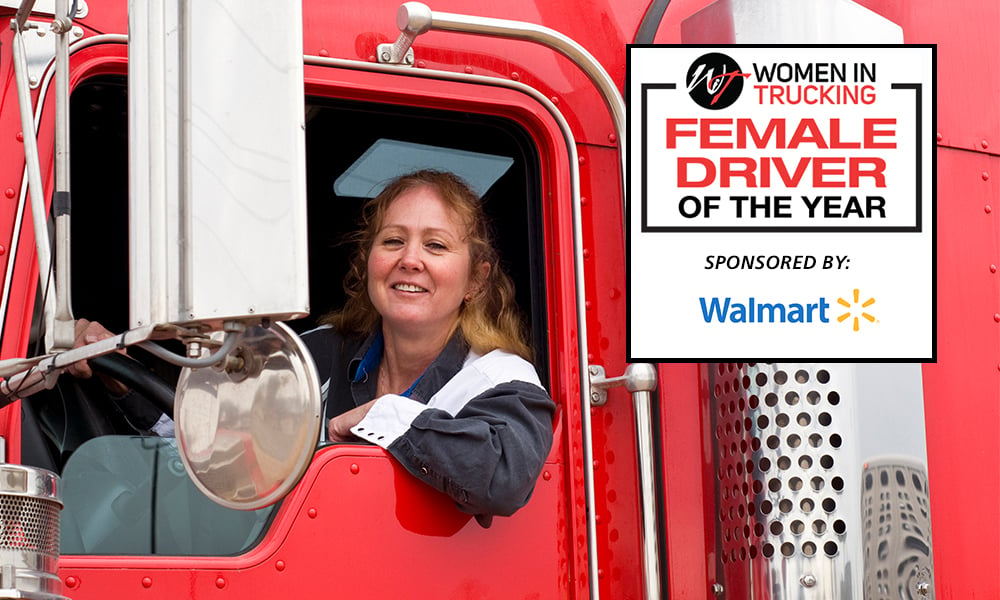 Plover, WI – November 27, 2019 – Women In Trucking Association (WIT) and Walmart are seeking nominations for the inaugural Women In Trucking Female Driver of the Year award.
The goal of WIT's Female Driver of the Year award is to recognize outstanding female professional drivers who lead the industry in safety standards while actively work to enhance the public image of the trucking industry. The grand prize winner will be chosen based on safety record, impact on the industry's image and positive community contributions.
"Celebrating women's accomplishments is a key aspect of our mission," says Ellen Voie, WIT president and CEO. "We're thrilled to honor an outstanding female driver with this new award."
The contest is open to any female driver or contractor who has safely driven one million consecutive, accident-free miles. A driver must be nominated by the motor carrier by which she is currently leased to or employed. The nominee must have been employed by or leased to and driving for her current trucking company employer for the past three years.
"Walmart is committed to providing women a great workplace to grow their careers and is a proud sponsor of Women In Trucking," said Bryan Most, vice president of transportation for Walmart and Women In Trucking board member. "We are excited to take this relationship a step further and sponsor Women In Trucking's first-ever Female Driver of the Year award to recognize and empower women who are making an impact in the transportation industry."
The inaugural award will be presented to a deserving driver at the 2020 Salute to Women Behind the Wheel event at the Mid America Trucking Show (MATS) in Louisville, Ky. on Friday, March 27. The grand prize winner will be chosen based on her safety record, positive community contributions, and impact on the public image of the trucking industry. She will receive a plaque, commemorative ring and more.
The nomination process is now open and will close on February 15, 2020. Check out the rules and eligibility requirements. Nominations can be submitted at: https://www.surveymonkey.com/r/WITDOY2020.
###
About Women In Trucking Association, Inc.
Women In Trucking Association, Inc. is a nonprofit association established to encourage the employment of women in the trucking industry, promote their accomplishments and minimize obstacles faced by women working in the trucking industry. Membership is not limited to women, as 17 percent of its members are men who support the mission. Women In Trucking is supported by its members and the generosity of Gold Level Partners: Arrow Truck Sales, BMO Transportation Finance, Daimler Trucks North America, Expediter Services, FedEx Freight, Great Dane, J.B. Hunt Transport, Michelin North America, Penske Transportation Solutions, Peterbilt Motors Company, Ryder System, and Walmart. Follow WIT on Twitter, Facebook, or LinkedIn. For more information, visit www.womenintrucking.org or call 888-464-9482.
About Walmart
Walmart Inc. (NYSE: WMT) helps people around the world save money and live better - anytime and anywhere – in retail stores, online, and through their mobile devices. Each week, nearly 275 million customers and members visit our more than 11,300 stores under 58 banners in 27 countries and eCommerce websites. With fiscal year 2019 revenue of $514.4 billion, Walmart employs over 2.2 million associates worldwide. Walmart continues to be a leader in sustainability, corporate philanthropy and employment opportunity. Additional information about Walmart can be found by visiting http://corporate.walmart.com, on Facebook at http://facebook.com/walmart and on Twitter at http://twitter.com/walmart.