Call for Nominations: Women In Trucking 2021 Female Driver of the Year Award Sponsored by Walmart
by Women In Trucking Staff, on Dec 1, 2020 6:30:00 AM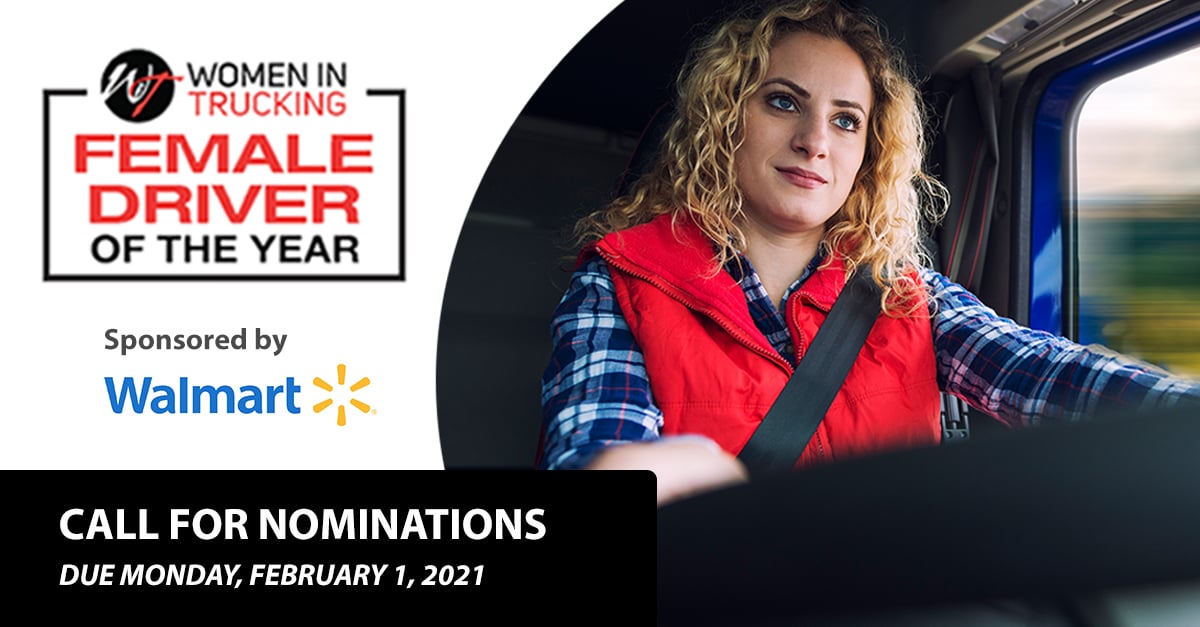 Plover, WI – December 1, 2020 – Women In Trucking Association (WIT) is seeking nominations for the annual Women In Trucking Female Driver of the Year award sponsored by Walmart. The second annual award recognizes outstanding female professional drivers who lead the industry in safety standards while actively working to enhance the public image of the trucking industry.
"We are pleased to sponsor Women In Trucking's Female Driver of the Year award as a way to recognize and empower women who are making an impact across the industry," said Ryan McDaniel, vice president of transportation and Women In Trucking board member. "I'm proud of the work Walmart and Women In Trucking are doing to advance women within transportation."
The application is open to any female driver who has safely driven at least one million consecutive, accident-free miles. The driver must be nominated by the motor carrier by which she is currently leased or employed and must have three years of experience with that company.
"Female drivers are still in the minority and we consider them all to be pioneers today," said Ellen Voie, WIT president and CEO. "This award allows us to recognize a woman who is a positive example of a successful and accomplished driver and give her the recognition she deserves."
The finalists and overall winner will be recognized at the 2021 Salute to Women Behind the Wheel event at the Mid-America Trucking Show (MATS) in Louisville, Ky. on Friday, March 26. The winner will be chosen based on her safety record, positive community contributions, and impact on the public image of the trucking industry. She will receive a plaque, commemorative ring and more.
Nomination forms can be submitted at https://www.womenintrucking.org/female-driver-of-the-year. Nominations are due February 1, 2020.
###

About Women In Trucking Association, Inc.
Women In Trucking, Inc. is a nonprofit association established to encourage the employment of women in the trucking industry, promote their accomplishments and minimize obstacles faced by women working in the trucking industry. Membership is not limited to women, as 17 percent of its members are men who support the mission. Women In Trucking is supported by its members and the generosity of Gold Level Partners: Amazon, Arrow Truck Sales, BMO Transportation Finance, Daimler Trucks North America, Expediter Services, FedEx Freight, Great Dane, J.B. Hunt Transport, Michelin North America, PACCAR, Penske Transportation Solutions, Ryder System, Walmart, and Waste Management. Follow WIT on Twitter, Facebook, or LinkedIn. For more information, visit www.womenintrucking.org or call 888-464-9482.
About Walmart
Walmart Inc. helps people around the world save money and live better - anytime and anywhere – in retail stores, online, and through their mobile devices. Each week, nearly 275 million customers and members visit our more than 11,300 stores under 58 banners in 27 countries and eCommerce websites. With fiscal year 2019 revenue of $514.4 billion, Walmart employs over 2.2 million associates worldwide. Walmart continues to be a leader in sustainability, corporate philanthropy and employment opportunity. Additional information about Walmart can be found by visiting http://corporate.walmart.com, on Facebook at http://facebook.com/walmart and on Twitter at http://twitter.com/walmart.