Ellen Voie Named NASTC's 2018 Transportation Person of the Year
by Women In Trucking Staff, on Nov 6, 2018 9:34:00 PM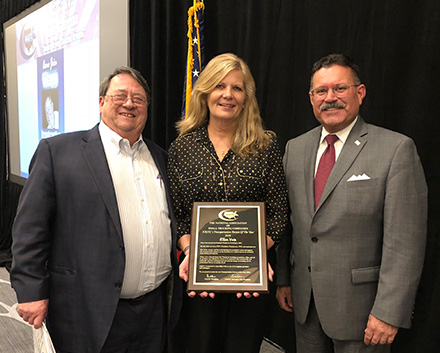 Plover, WI – November 6, 2018 – The National Association of Small Trucking Companies (NASTC) named Ellen Voie, President and CEO of Women In Trucking Association (WIT) as the 2018 Transportation Person of the Year. The announcement was recently made at the NASTC annual conference in Nashville, TN.
Voie created WIT in 2007 and has been a spokesperson for gender diversity in the trucking industry ever since. The association was formed to promote the employment of women in the trucking industry, remove obstacles that might keep them from succeeding, and to celebrate the successes of its members.
Today, over a decade later, Voie, the association, and its members are collectively a force to be reckoned with economically and politically. They have enhanced and elevated the image of trucking and its professional drivers to another level.
"I am truly honored to be recognized by David Owen and his team as the 2018 Person of the Year," Voie said, "We've had a long partnership with NASTC and they have been supportive of our efforts to increase the percentage of women employed in the trucking industry by recognizing a female professional driver each year at their conference," Voie added.
"NASTC is honored to count Ellen Voie as one of its longtime partners and colleagues. We are proud to name her our Transportation Person of the Year, 2018," said David Owen, NASTC President. "Her vision, energy, and forward-thinking has propelled women throughout the transportation industry to the forefront at a critical time in an extremely male-dominated industry."
Prior to establishing WIT, Voie's role was the Manager of Retention and Recruiting Programs at Schneider, Inc. In 2005, Voie earned the Certificate Association Executive (CAE) credential from the American Society of Association Executives. In December 2008, she attended Tri-C Truck Driver Academy in Cleveland, OH to earn her Class A Commercial Driver's License (CDL). In July 2012, she was honored by the White House as a Transportation innovators Champion of Change. She received the 2015 "Distinguished Alumna of the Year" award from her alma mater, the University of Wisconsin— Steven's Point Division of Communication. Voie was also named one of Supply & Demand Chain Executives magazine's "2016 Pros to Know," which honors select supply chain executives who are leading initiatives to help their clients, companies, or the supply chain community at large to prepare for the significant challenges in the year ahead. In May 2016, she was chosen as one of Fleet Owner's Dozen Outstanding Women in Trucking. In 2017, Voie was named to Insight Success Magazine's "The 30 Most Inspirational Leaders in Business" and "The 30 Most Innovative CEOs to Watch."
Voie's background in the trucking industry began in 1980, when she earned a diploma in Traffic and Transportation Management while employed as Traffic Manager for a steel fabricating plan in central Wisconsin.
In 2015, Voie was appointed to serve a two-year term on the FMCSA's Entry Level Driver Training Advisory Committee. She serves on the Board of Directors of the Wisconsin Motor Carrier Association and is a member of the Wisconsin DOT's Motor Carrier Advisory Committee.
###
About Women In Trucking Association, Inc.
Women In Trucking Association, Inc. is a nonprofit association established to encourage the employment of women in the trucking industry, promote their accomplishments and minimize obstacles faced by women working in the trucking industry. Membership is not limited to women, as 17 percent of its members are men who support the mission. Women In Trucking is supported by its members and the generosity of Gold Level Partners: Michelin North America, Arrow Truck Sales,Bendix Commercial Vehicle Systems, Daimler Trucks North America, BMO Transportation Finance, Expediter Services, Great Dane, J.B. Hunt Transport, and Walmart. Follow WIT on Twitter, Facebook, or LinkedIn. For more information, visit http://www.womenintrucking.orgor call 888-464-9482.