Finalists Announced for Women In Trucking Association Technology Innovation Award, Sponsored by Clean Harbors
by Women In Trucking Staff, on Nov 2, 2022 5:00:00 AM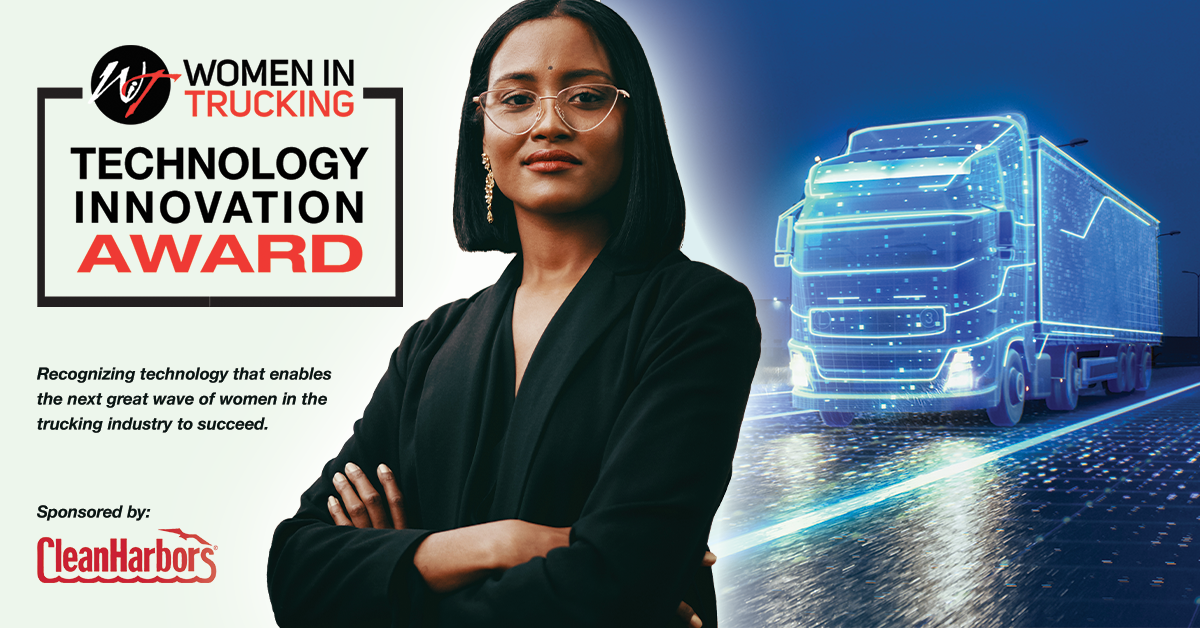 Plover, WI – Nov. 2, 2022 – The Women In Trucking Association (WIT) announced today three finalists for its inaugural Technology Innovation award for WIT members. The award is sponsored by Clean Harbors.
The newly created award recognizes innovation, vision, and technical achievements that support and advance the trucking industry. Nominations were open to any WIT member who has contributed innovative technical or mechanical solutions, ideas, or practices in the commercial motor vehicle industry.
The finalists for the award are Relay Payments, REVOLOK USA LLC, and Walmart.
Relay Payments
Relay Payments launched in 2019 to modernize payments for the supply chain, logistics, and trucking industries. The company's co-founders saw the lack of efficiency and frustration stemming from the industry's reliance on cash and paper checks. They stepped in to introduce an entirely digital, secure, and contactless payment network. The solution simplifies the payment process, saving time and money. To date, more than 275,000 truck drivers have downloaded the Relay Payments mobile app to use for over-the-road transactions. The company strives to be the end-to-end payments ecosystem for the supply chain, logistics, and trucking industries.
REVOLOK USA LLC
The all-new REVOLOK 6600 3/8" G70 provides smart, safe, fast, and easy cargo securement. REVOLOK eliminates the guesswork of determining how tight to secure cargo chains. The device has a built-in clutch that was designed for 3/8" G70 chain so it will never go under or over Working Load Limit (WLL) during dynamic events. It allows drivers to tie down equipment in tight spaces without compromise. The device decreases securement time and meets DOT standards per chain specifications. It also reduces physical effort while securing cargo chain, allowing drivers who have physical injuries or arthritis an easier, faster cargo securement process.
Walmart
NTransit is a mobile software application built to provide Walmart fleet drivers with a world-class experience in the cabs of Walmart trucks. The application runs on an on-board tablet device in the cab of the truck and provides the driver with all the information and tools they need to successfully execute their trip. The application further removes friction for drivers by reducing touches, digitizing documents, connecting them to the office staff, giving them point-by-point directions to destinations, and keeps the driver fully connected with key partners throughout the supply chain.
The winner will be announced at the WIT Accelerate! Conference & Expo held in Dallas, TX, Nov. 13-16, 2022, and is sponsored by Clean Harbors, the nation's leading provider of environmental and industrial services.
###
About Women In Trucking Association, Inc.
Women In Trucking Association, Inc. is a nonprofit association established to encourage the employment of women in the trucking industry, promote their accomplishments and minimize obstacles faced by women working in the trucking industry. Membership is not limited to women, as 17 percent of its members are men who support the mission. Women In Trucking is supported by its members and the generosity of Gold Level Partners: Amazon, Arrow Truck Sales, Daimler Truck North America, DAT Solutions, FedEx Freight, Great Dane, J.B. Hunt Transport, Michelin North America, PACCAR, Penske Transportation Solutions, Ryder System, Walmart, and WM. Follow WIT on Twitter, Facebook, LinkedIn, Instagram, TikTok, and YouTube. For more information, visit www.womenintrucking.org or call 888-464-9482.
About Clean Harbors
Clean Harbors (NYSE: CLH) is North America's leading provider of environmental and industrial services. The company serves a diverse customer base, including a majority of Fortune 500 companies. Its customer base spans a number of industries, including chemical, energy and manufacturing, as well as numerous government agencies. These customers rely on Clean Harbors to deliver a broad range of services such as end-to-end hazardous waste management, emergency spill response, industrial cleaning and maintenance, and recycling services. Through its Safety-Kleen subsidiary, Clean Harbors also is North America's largest re-refiner and recycler of used oil and a leading provider of parts washers and environmental services to commercial, industrial, and automotive customers. Founded in 1980 and based in Massachusetts, Clean Harbors operates in the United States, Canada, Mexico, Puerto Rico, and India. For more information, visit www.cleanharbors.com.