First Canadian "Salute to Women Behind the Wheel"
by Women In Trucking Staff, on Apr 19, 2016 10:56:00 AM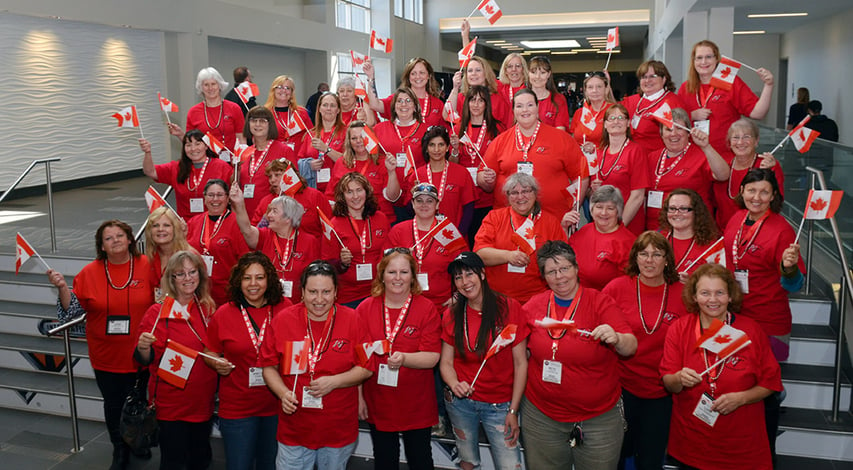 Plover, WI (April 19, 2016) - The Women In Trucking (WIT) Association and the Owner-Operator's Business Association of Canada (OBAC) held the first Canadian "Salute to Women Behind the Wheel." The event was held at Truck World 2016 in Toronto, Ontario on Saturday, April 16.
There were forty-two female commercial drivers who were honored and acknowledged for their efforts and successes as women in a male dominated career. The drivers had a combined total of 475 years of experience, although five of the women were new to the industry with less than one year experience each.
"Women comprise less than three percent of the driver population here in Canada," said Ellen Voie, WIT President and CEO. "These female professional drivers truly deserve to be honored for their pioneering spirit and their fierce determination to succeed in a very challenging environment."
Each year the Women In Trucking Association holds a "Salute to Women Behind the Wheel" in Louisville, Kentucky at the Mid-America Trucking Show. This was the first time the event was held in Canada. "The sea of red t-shirts and smiling faces said it all. Saturday's Salute to Women Behind the Wheel was just what we hoped it would be; a celebration of women truck drivers and an opportunity to thank them for their courage and commitment to the industry. It may have been the first Canadian Salute, but it certainly won't be the last," said Joanne Ritchie, OBAC's Executive Director.
Andreea Crisan, COO of Andy Transport, Montreal, Quebec and WIT board member, addressed the audience of over 100 drivers, their families and supporters. She welcomed them and thanked them for their passion and determination.
The drivers were treated to a cake, refreshments, and each one received a goodie bag and a door prize from numerous sponsors.
Plans are underway for an event in 2017 and will be announced by WIT and OBAC in the near future.
Owner-Operator's Business Association of Canada is an innovative, member-driven, results-oriented association that works with commercial drivers to promote a culture of safety, professionalism, integrity, fairness, and respect.
###
About Women In Trucking Association, Inc.
Women In Trucking Association, Inc. is a nonprofit association established to encourage the employment of women in the trucking industry, promote their accomplishments and minimize obstacles faced by women working in the trucking industry. Membership is not limited to women, as 17 percent of its members are men who support the mission. Women In Trucking is supported by its members and the generosity of Gold Level Partners: Bendix Commercial Vehicle Systems, Daimler Trucks North America, BMO Transportation Finance, Great Dane, J.B. Hunt Transport, Ryder System, Inc., U.S. Xpress, and Walmart. Follow WIT on Twitter, Facebook, or LinkedIn. For more information, visit http://www.womenintrucking.org or call 888-464-9482.