Nominations Now Open for 2021 Influential Woman in Trucking Award
by Women In Trucking Staff, on Jul 14, 2021 6:00:00 AM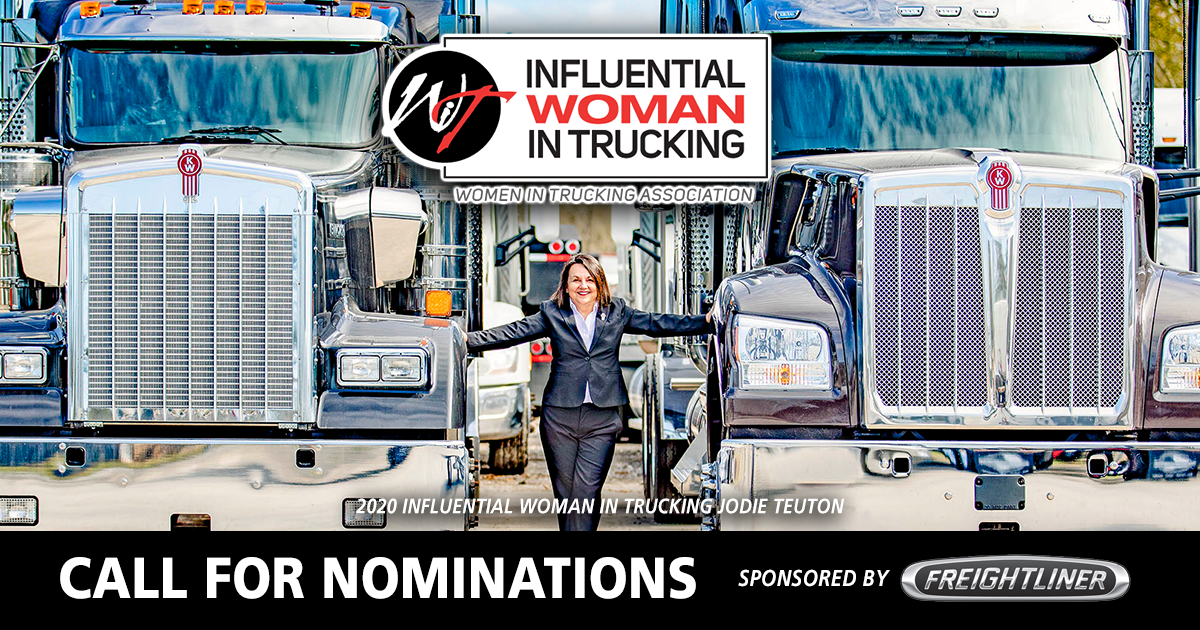 Plover, WI – July 14, 2021 – The Women In Trucking Association (WIT) and Freightliner Trucks are seeking nominations for the 2021 Influential Woman in Trucking award.
Over a decade ago, the award was created to honor women in the transportation industry who make or influence key decisions in a corporate, manufacturing, supplier, owner-operator, driver, sales or dealership setting, have a proven record of responsibility, and mentor and serve as a role model to other women in the industry.
"Each year, the list of nominees for the Influential Woman in Trucking Award becomes even more impressive. Women are certainly making their mark in our industry and this recognition is our way of telling their stories to inspire others," said Ellen Voie, president and CEO, Women In Trucking.
Nominations will be accepted through September 1 at https://www.surveymonkey.com/r/2021InfluentialAward.
The winner will be announced at the WIT Accelerate! Conference & Expo held in Dallas, Texas, November 7-9, 2021. Each finalist will be asked to serve as a panelist for the "How Remarkable Women Unleash their Leadership Potential" panel discussion.
"Freightliner continues to support this award because we feel strongly about promoting and raising awareness of this industry and the many career paths it creates. Especially now more than ever, we want to highlight trucking in these unprecedented times," said Kary Schaefer, general manager, Freightliner and Western Star product marketing and strategy, Daimler Trucks North America. "This award highlights the exceptional female leaders that help shape our industry and we want to show our support and continue to foster diversification in the workplace."
Last year, in an unprecedented tie, Kristy Knichel, CEO, Knichel Logistics, and Jodie Teuton, vice president, Kenworth of Louisiana/ Hino of Baton Rouge and Monroe, received the recognition in honor of their outstanding commitment and service to the industry.
"Trucking was hidden in plain sight in America until it was deemed 'essential.' To be honored with this award at a time when our industry was finally acknowledged was so gratifying," said Teuton. "Being able to share the stage with my co-winner Kristy Knichel and my industry too was the moment of a lifetime."

"Being named the 2020 Influential Woman in Trucking, alongside Jodie Teuton, has been the highlight of my twenty plus years in transportation," said Knichel. "When I began my career in the late 1990's, I was often the only woman in the room at industry events. Because of perseverance, hard work, and organizations like the Women In Trucking Association advocating for the advancement of women, it is quite the opposite now! I love nothing more than to see all of these talented women making their marks on the industry as well and will jump at the chance to help them along the way whenever possible."
Past recipients of the Influential Woman in Trucking award also include: Marcia Taylor, CEO, Bennett International Group; Rebecca Brewster, president and COO, American Transportation Research Institute; Joyce Brenny, president, Brenny Transportation, Inc./Brenny Specialized, Inc.; Rochelle Bartholomew, CEO, CalArk International; Kari Rihm, president, Rihm Kenworth; Ramona Hood, president and CEO, FedEx Custom Critical; Daphne Jefferson, Former U.S. Department of Transportation, FMCSA; Angela Eliacostas, founder and CEO, AGT Global Logistics; Ruth Lopez, director, transportation management, Ryder System, Inc.
###
About Women In Trucking Association, Inc.
Women In Trucking Association, Inc. is a nonprofit association established to encourage the employment of women in the trucking industry, promote their accomplishments and minimize obstacles faced by women working in the trucking industry. Membership is not limited to women, as 17 percent of its members are men who support the mission. Women In Trucking is supported by its members and the generosity of Gold Level Partners: Amazon, Arrow Truck Sales, BMO Transportation Finance, Daimler Trucks North America, Expediter Services, FedEx Freight, Great Dane, J.B. Hunt Transport, Michelin North America, Penske Transportation Solutions, PACCAR, Ryder System, Walmart, and Waste Management. Follow WIT on Twitter, Facebook, or LinkedIn. For more information, visit www.womenintrucking.org or call 888-464-9482.