Nominations Open for Women In Trucking Technology Innovation Award, Sponsored by Clean Harbors
by Women In Trucking Staff, on Aug 1, 2022 4:30:00 AM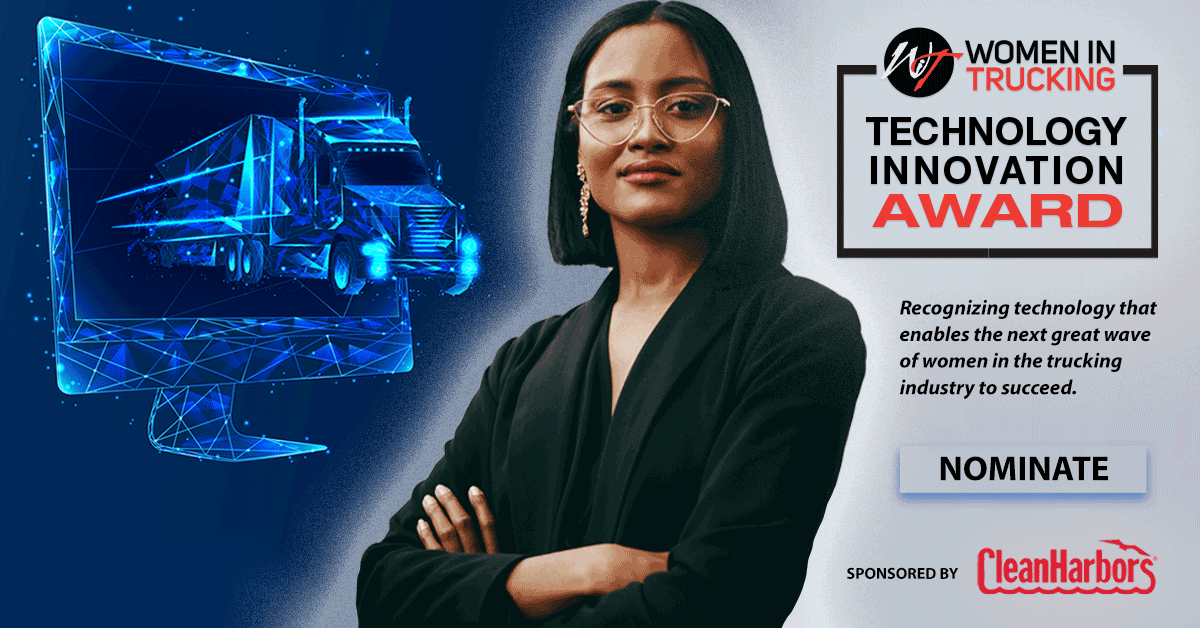 Plover, WI – Aug. 1, 2022 – The Women In Trucking Association (WIT) announced today that it is seeking nominations for its inaugural Technology Innovation Award for WIT members, which is sponsored by Clean Harbors.
The newly created award recognizes innovation, vision and technical achievements that support and advance the trucking industry. Nominations are open to any WIT member who has:
Contributed innovative technical or mechanical solutions, ideas, practices, or innovations in the management and maintenance of the commercial motor vehicle industry.

Promoted the advancement of women in the trucking industry.

Earned the respect of their peers and clearly demonstrated industry leadership and applicability of trucking products and technologies that support the transportation industry.
"We've seen some amazing innovation in the industry to help our drivers become more efficient, safer and productive," said Ellen Voie, WIT president and CEO. "This award will highlight some products or services that help us advance our mission to remove obstacles as well as celebrate success!"
Nominations will be accepted through September 28 at https://witawards.secure-platform.com/site.
The winner will be announced at the WIT Accelerate! Conference & Expo held in Dallas, Texas, November 13-16, 2022. The award is sponsored by Clean Harbors, the nation's leading provider of environmental and industrial services.
"As a leader of safety, innovation and technology, we're excited to sponsor this award in conjunction with WIT," said Michelle DeStefano, senior director of Culture and Engagement at Clean Harbors. "This is an excellent way for us to celebrate the contributions of those in trucking who are at the forefront of making positive impacts throughout the industry."
###
About Women In Trucking Association, Inc.
Women In Trucking Association, Inc. is a nonprofit association established to encourage the employment of women in the trucking industry, promote their accomplishments and minimize obstacles faced by women working in the trucking industry. Membership is not limited to women, as 17 percent of its members are men who support the mission. Women In Trucking is supported by its members and the generosity of Gold Level Partners: Amazon, Arrow Truck Sales, BMO Transportation Finance, Daimler Trucks North America, DAT Freight & Analytics, Expediter Services, FedEx Freight, Great Dane, J.B. Hunt Transport, Michelin North America, PACCAR, Penske Transportation Solutions, Ryder System, Walmart, and Waste Management. Follow WIT on Twitter, Facebook, or LinkedIn. For more information, visit www.womenintrucking.org or call 888-464-9482.
About Clean Harbors
Clean Harbors (NYSE: CLH) is North America's leading provider of environmental and industrial services. The Company serves a diverse customer base, including a majority of Fortune 500 companies. Its customer base spans a number of industries, including chemical, energy and manufacturing, as well as numerous government agencies. These customers rely on Clean Harbors to deliver a broad range of services such as end-to-end hazardous waste management, emergency spill response, industrial cleaning and maintenance, and recycling services. Through its Safety-Kleen subsidiary, Clean Harbors also is North America's largest re-refiner and recycler of used oil and a leading provider of parts washers and environmental services to commercial, industrial and automotive customers. Founded in 1980 and based in Massachusetts, Clean Harbors operates in the United States, Canada, Mexico, Puerto Rico and India. For more information, visit www.cleanharbors.com.