Women In Trucking Announces its 2019 February Member of the Month
by Women In Trucking Staff, on Feb 1, 2019 9:00:00 PM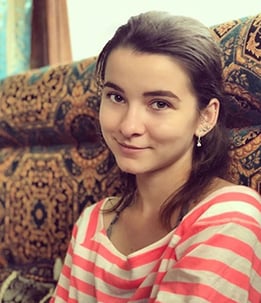 Plover, WI – February 1, 2019 – Women In Trucking Association (WIT) has announced Liuba Bulavynets as its February 2019 Member of the Month. Liuba is the project manager and developer for Amous International, located in Oak Brook, Illinois.
At the age of 12, Liuba entered a boarding school as an orphan. The school focused on using sports to give the children an opportunity to compete and flourish. Even though this school looked stable from the outside, Liuba went through many hardships with her peers and teachers. Going against all of the negativity being pushed her way, she powered through and began running. She competed in triathlons, winning gold medals in Ukraine multiple times. Doing this sealed in her mind that she is capable of accomplishing anything she wants as long as she puts the work in.
Once her athletic career came to an end, Liuba was left with little options. She began applying to a wide variety of jobs. When Amous came across her application, they were intrigued at how someone with almost nothing was able to accomplish so much by the age of 22. "After the first meeting with her, we understood Liuba would be an extraordinary addition to the team. She began aggressively learning how to code, using the willpower that made her a successful athlete, and learn the insides and out of the logistics world," said Mark Shevchuk. Within a couple of months, she was able to become an implementation lead. Not only did she work as a coder, she went further in helping train and manage new hires.
Liubas story shows exactly how ambition and drive can take one through many exciting avenues in life. Amous International began sponsoring and working with Liuba in late 2017. However, at that time, she had no knowledge and experience in logistics and computer science. What Amous did see in Liuba was incredible amounts of determination and willpower to achieve new goals in life, and from day one, Liuba exceeded every expectation.
Amous International was inspired by Liubas life and what she made of it. "We wanted to see more success stories of Women in the world of logistics and coding, which lead us to sponsor more women around the world. With the help of Women in Trucking and other organizations, we hope to be an example for others to follow as well," said Mark.
###
About Women In Trucking Association, Inc.
Women In Trucking Association, Inc. is a nonprofit association established to encourage the employment of women in the trucking industry, promote their accomplishments and minimize obstacles faced by women working in the trucking industry. Membership is not limited to women, as 17 percent of its members are men who support the mission. Women In Trucking is supported by its members and the generosity of Gold Level Partners: Michelin North America, Arrow Truck Sales,Bendix Commercial Vehicle Systems, Daimler Trucks North America, BMO Transportation Finance, Expediter Services, Great Dane, J.B. Hunt Transport, and Walmart. Follow WIT on Twitter, Facebook, or LinkedIn. For more information, visit http://www.womenintrucking.org or call 888-464-9482.