Women In Trucking Announces its 2019 January Member of the Month
by Women In Trucking Staff, on Jan 1, 2019 9:26:00 PM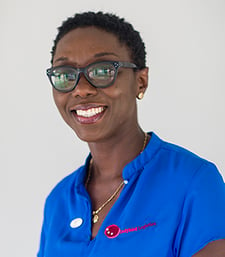 Plover, WI – January 1, 2019 – Women in Trucking (WIT) has announced Payin Marfo as its January Member of the Month. Payin is the Managing Director for Ladybird Logistics Limited.
Payin has over 10 years of project management experience in the Oil and Gas industry, but says the leadership of the Ladybird Logistics team has provided her immense satisfaction and challenge. Before 2018, the closest she ever got to working with trucks were the few times she went on field visits as a staff of Shell. Little did she know that her life in the downstream sector would involve working with such wonderful ladies and dealing with huge mechanical contraptions that are also now part of her team and fleet.
In November 2017, she bumped into an old Shell colleague who introduced her to Mr. William Tewiah, the CEO of Zen Petroleum Limited. William and his friend Mr. Yaw Koduah Sarpong had a dream of starting the first ever all female logistics company. When Payin met William, his proposal to her was simple: "I have a dream and I need someone to make it reality. Are you interested in helping to make this dream of an all-female company a reality?"
Payin's initial reaction to this request was, "Wow, what a radical and crazy idea. All female?" Fortunately for William, she found the idea radical and challenging enough to be interested. This, combined with her natural desire for the extraordinary ride in life, got her to embark on this adventure of starting the first company to employ only female truck drivers in Ghana West Africa.
"I knew next to nothing about trucks or the logistics industry but I believe in empowering women to venture into male dominated industries. Ghana has no female truck drivers and everyone considers trucking to be a male profession too difficult for women," said Payin. "Why can't we change this and would change be a good thing? I thought to myself and dived in deep."
On December 4, 2017, Payin took on the challenge and put together a strategy to set up the first logistics company that employs only female drivers. In the beginning, when asked what they do at Ladybird Logistics, she simply said, "We recruit and train ladies to drive trucks." Most people reacted with shock and would say, "Are there ladies in Ghana willing to drive trucks? That is a man's job."
"Honestly, initially when we only had one Ghanaian applicant and more than 40 South African applicants respond after a full month of advertising, I almost gave up and considered the option of relocating South Africans to Ghana to drive the trucks," said Payin.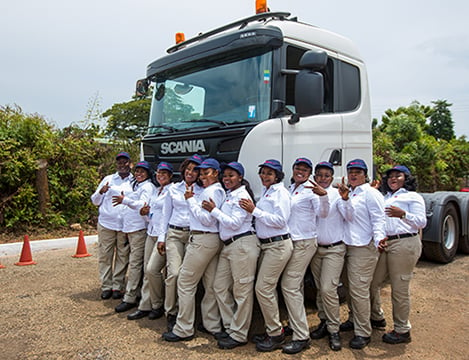 With much hard work and perseverance, she managed to recruit the first 12 Ghanaian potential future truck drivers to be trained by the Ghana Armed Forces Mechanical Training School (AFMTS) in partnership with the West Africa Training Academy (WATA). After three and half months of theory and practical training including physical training (PT) at the army base, Burma Camp, 11 of the ladies successfully graduated as truck drivers. "I remember joining them for some of the PT sessions and sharing videos with my sisters, only to be told, 'Payin, be careful the ladies don't quit before they even start driving,'" said Payin.
Today, Ladybird Logistics Limited is operational with 21 brave and courageous ladies driving trucks and delivering fuel to mining customers in the Western Region of Ghana. And they love what they do! They find joy and fulfilment breaking the glass ceiling in this field and starting a new, good concept in the area of logistics.
Payin's advice to her team is, "Always remember you are making and have made history! You have a responsibility not to disappoint all who believed in you as well as the future generation of female truck drivers, looking up to you to change the status quo."
"I can proudly say that what started as a dream is indeed reality. I thank God and all the people who contributed in diverse ways to make this possible. The future just started and by God's grace we shall shape it nicely for future generations of females who love trucks, logistics, driving, challenges and the joy of delivering good quality products to clients on time and with a smile. The Ladybird team is here and it is here to stay for good!" said Payin.
In Ghana, West Africa, Ladybird Logistics Limited is indeed "Redefining the Road!"
###
About Women In Trucking Association, Inc.
Women In Trucking Association, Inc. is a nonprofit association established to encourage the employment of women in the trucking industry, promote their accomplishments and minimize obstacles faced by women working in the trucking industry. Membership is not limited to women, as 17 percent of its members are men who support the mission. Women In Trucking is supported by its members and the generosity of Gold Level Partners: Michelin North America, Arrow Truck Sales,Bendix Commercial Vehicle Systems, Daimler Trucks North America, BMO Transportation Finance, Expediter Services, Great Dane, J.B. Hunt Transport, and Walmart. Follow WIT on Twitter, Facebook, or LinkedIn. For more information, visit http://www.womenintrucking.orgor call 888-464-9482.