Women In Trucking Announces its 2019 June Member of the Month
by Women In Trucking Staff, on Jun 3, 2019 5:38:00 PM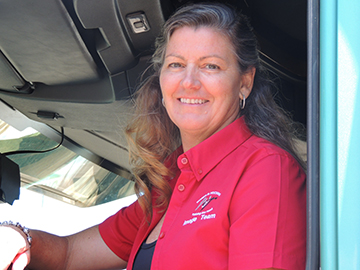 Plover, WI – June 3, 2019 – Women in Trucking (WIT) has announced Jo-Anne Phillips as its June Member of the Month. Jo-Anne is the COO of Jeramand Trucking Ltd based in Irishtown, NB, operating a fleet of 22 trucks. She and her husband Dan Boudreau, both successful New Brunswick-based entrepreneurs, also run a construction and building production facility and a Never Enuff Chrome & Detailing shop.
Jo-Anne's foray into trucking began as a 19-year-old university student, when she was encouraged by her father to help out a good family friend who needed a driver to move a truck and trailer across the country to summer fairs. She added a commercial driver's license to her growing list of qualifications and has been involved in the industry ever since.
Born in Manitoba into a military family, Jo-Anne lived in various parts of Canada and Europe before returning to Western Canada where she earned a degree in Kinesiology and Exercise Physiology from University of Calgary, and a Bachelor of Science, Dietetics, Nutrition degree from University of British Columbia.
While still a student, Jo-Anne opened a gym in the city of Calgary, and for the next few years, was heavily involved in the world of sport and fitness – back country guiding, cycling, rowing, coaching – and inspired by the Olympic Games in Calgary in 1988 was a member of Canada's National bobsled team for several years.
When a friend boasted that he could earn more in a week driving a truck in the oil patch than she could make in a month running a gym, Jo-Anne accepted the challenge and spent six years working in Alberta's crude oil pipeline system as a commercial driver, instructor, safety officer and a medic.
She relocated to Eastern Canada in 2006 where she and Danny grew Jeramand Trucking from a four-truck operation to the fleet it is today.
Jo-Anne has incorporated her knowledge and experience in sport and fitness into her trucking business, and Tozai Synergy, her fourth business, the wellness arm, plays a key role in bringing better health/wealth/lifestyle balance to her employees. She also works with sports and corporate clients providing nutritional consulting, personal training and lifestyle coaching services.
Jo-Anne sees this as a natural fit with the trucking industry. Spending long hours seated, doing repetitive work, with sometimes limited options for healthy food and adequate rest, puts drivers at risk. "We need to pay better attention to the health and wellness of our drivers and encourage them to make better choices," she says. "It's vitally important for both safety and longevity."
And Jo-Anne puts her money where her mouth is.
She has shared her leadership skills and endless energy over the past number of years organizing and developing the Convoy for Hope – Atlantic, which raises awareness and funds for breast, colorectal, lung and prostate cancers. The convoy has been a rewarding opportunity for truck drivers and the industry to support important research. Jo-Anne and her team have raised nearly $300,000 for cancer prevention, detection and treatment in Atlantic Canada, while celebrating the trucking industry.
Jo-Anne sits on the Advisory Board of Prostate Cancer Canada (PCC), Atlantic Division, is a chair on the organizing committee of the Wake Up Call Breakfast – Moncton, and is an active volunteer for the Greater Moncton Prostate Cancer Support Group, with a very personal connection. In 2014, Jo-Anne's husband Danny was diagnosed and successfully treated for prostate cancer. In 2017 she received PCC's Local Hero Award.
Jo-Anne also shares her expertise as a nutritionist with youth groups, sports teams and the Hemophiliac Society, offers ergonomic assessments and nutrition coaching to business clients, and she is a dedicated supporter of the Ride For Dad, the Irishtown Community Centre, and other fundraisers for those affected by disease or cancer. In 2017, she reinforced her hands-on involvement with the wellbeing of the people she works with by donating a kidney to one of her employees.
Jo-Anne has been recognized for her commitment to community building and fundraising with the Transportation Club of Moncton Humanitarian Award, and this year was nominated for the Club's Woman of the Year.
Last year, Jo-Anne was named one of the Top Women to Watch in the industry by WIT's Redefining the Road and was selected for WIT's first Canadian Image Team. She is honoured to be in a forum of influential women. "I love the industry, and I love the impact females have in the industry," she says. "Women have so much to offer, and I am thrilled to share my experiences and to advocate on behalf of the group."
Jo-Anne's advice for other women in the industry, or those considering trucking as a career choice? "Don't feel afraid of being judged, embrace who you are and what you do. Yes, it's a tough industry, but you don't have to accept the bad to enjoy the good. If you feel that something's not working, speak up," she says. "Trust yourself and believe that you can make a positive impact."
###
About Women In Trucking Association, Inc.
Women In Trucking Association, Inc. is a nonprofit association established to encourage the employment of women in the trucking industry, promote their accomplishments and minimize obstacles faced by women working in the trucking industry. Membership is not limited to women, as 17 percent of its members are men who support the mission. Women In Trucking is supported by its members and the generosity of Gold Level Partners: Arrow Truck Sales, Bendix Commercial Vehicle Systems, BMO Transportation Finance, Daimler Trucks North America, Expediter Services, FedEx Freight, Great Dane, J.B. Hunt Transport, Michelin North America, Peterbilt Motors Company, Ryder System, Inc., and Walmart. Follow WIT on Twitter, Facebook, or LinkedIn. For more information, visit http://www.womenintrucking.org or call 888-464-9482.