Women In Trucking Announces its 2020 January Member of the Month
by Women In Trucking Staff, on Jan 2, 2020 3:01:00 PM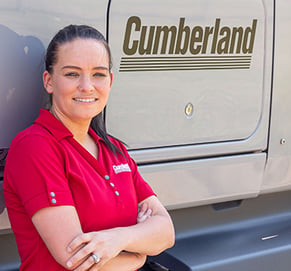 Plover, WI – January 2, 2020 – Women In Trucking Association (WIT) has announced Samantha Johnson as its January 2020 Member of the Month. Johnson is the service manager for Cumberland International Trucks.
Johnson grew up in the construction industry, working in a family-owned business. She has always had a love for diesels and recalls always working on snow and paving equipment with diesel engines.
Johnson started at Cumberland International Trucks (International Truck Dealer in Nashville, TN) in early 2015 as a service advisor. Within a few months, she was promoted to shop foreman. In October 2017, Johnson was promoted to assistant manager. In this position, she made it her personal mission to handle their Fire & App customers as the division was struggling. In the last year managing the Fire & App team, on top of her normal responsibilities, she's turned the department around. She is forming relationships with Fire Departments across Tennessee and has been working with her team winning back former customers.
Johnson was recently promoted to service manager in August of 2019. She's been a consistent positive force in regards to shop morale and has continuously improved shop efficiency.
"By being a woman in the industry, the biggest obstacle is always having to prove to everyone you are the right person for the job," said Johnson. "But don't let the industry scare you because it's male dominated. Push through and prove you have what it takes."
Johnson definitely pushed through the ranks at Cumberland. She credits each step of her journey in preparing her for where she is today.
###
About Women In Trucking Association, Inc.
Women In Trucking Association, Inc. is a nonprofit association established to encourage the employment of women in the trucking industry, promote their accomplishments and minimize obstacles faced by women working in the trucking industry. Membership is not limited to women, as 17 percent of its members are men who support the mission. Women In Trucking is supported by its members and the generosity of Gold Level Partners: Amazon, Arrow Truck Sales, BMO Transportation Finance, Daimler Trucks North America, Expediter Services, FedEx Freight, Great Dane, J.B. Hunt Transport, Michelin North America, Penske Transportation Solutions, Peterbilt Motors Company, Ryder System, and Walmart. Follow WIT on Twitter, Facebook, or LinkedIn. For more information, visit www.womenintrucking.org or call 888-464-9482.