Women In Trucking Announces its April 2021 Member of the Month
by Women In Trucking Staff, on Apr 1, 2021 6:30:00 AM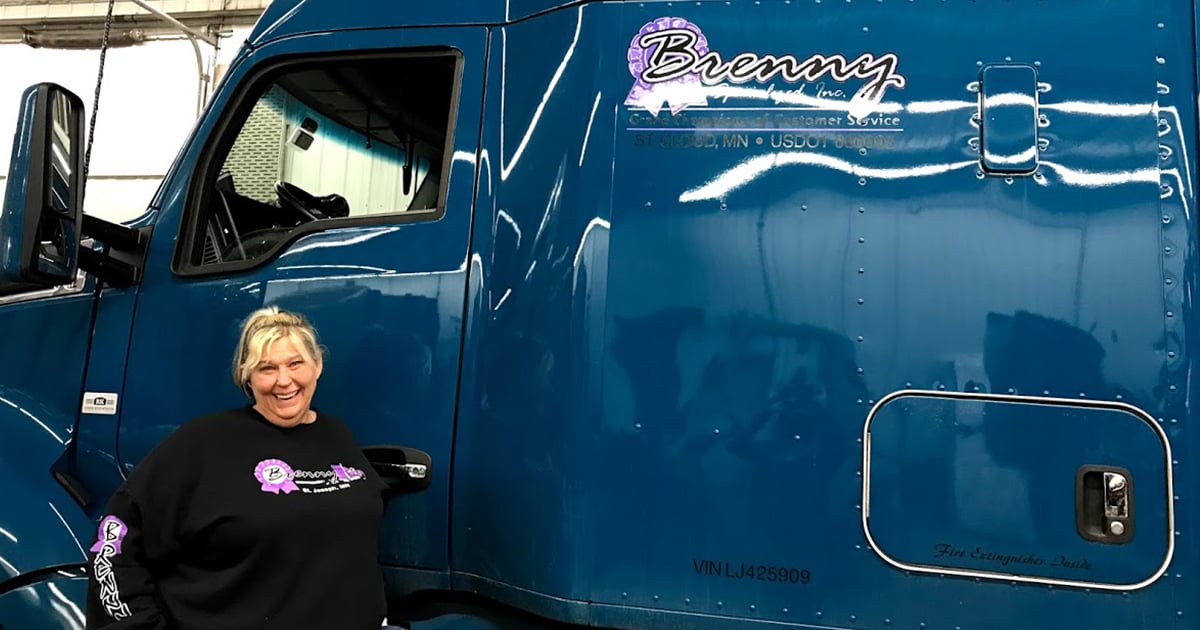 Plover, WI – Apr. 1, 2021 – The Women In Trucking Association (WIT) has announced Reanee Swiger-Gray as its April Member of the Month. Reanee is a professional driver for Brenny Specialized, Inc.
Reanee has been driving since 2012 and is well over a million miles as an OTR driver. She is consistently one of Brenny's highest mileage drivers with an impeccable safety record. She is always looking for ways to improve skills and be a safer driver.
A few months ago, Reanee was taking some home time near Austin, TX. During this particular rainy day, she and her mother had taken her father to the hospital for a check-up. As they were finishing up with the doctor, Reanee couldn't help but notice a scene unfolding at the bus stop nearby. There was a man trying to get on the bus and was told "no" over and over. The man was shouting, "I don't have shoes." She could hear the desperation in the man's voice that he just wanted to get on the bus, take a load off and get out of the rain. Well, the bus zoomed off, leaving the man in the cold rain.
Reanee turned to her mother and said, "Momma, that man has no shoes! I need to find him!" So up and down the blocks near the hospital she went. When she finally located this man, Reanee shouted out her window, "Hey Bubba, what size shoe do you wear?" The man sheepishly replied, "8 or 9." Reanee called the man to the truck and said, "Take these!" Her mother said later, "You gave that man your new fancy blue tennis shoes?" Reanee said without hesitation, "That man can't walk around in the rain without shoes, Momma!" They smiled at each other knowing that man could now get out of the rain.
This is just one of many stories Reanee will share with her co-workers when she is in the office. She is a trucking angel. She is always working to make sure someone that needs a hot meal, a cold bottle of water, a listening ear, and on that day— a pair of shoes.
She is one of the drivers that will leave a legacy as an angel, keeping this industry looking and acting professional.
###
About Women In Trucking Association, Inc.
Women In Trucking, Inc. is a nonprofit association established to encourage the employment of women in the trucking industry, promote their accomplishments and minimize obstacles faced by women working in the trucking industry. Membership is not limited to women, as 17 percent of its members are men who support the mission. Women In Trucking is supported by its members and the generosity of Gold Level Partners: Amazon, Arrow Truck Sales, Daimler Trucks North America, Expediter Services, FedEx Freight, Great Dane, J.B. Hunt Transport, Michelin North America, PACCAR, Penske Transportation Solutions, Ryder System, Walmart, and Waste Management. Follow WIT on Twitter, Facebook, LinkedIn, Instagram, and YouTube. For more information, visit www.womenintrucking.org or call 888-464-9482.