Women In Trucking Announces its August 2020 Member of the Month
by Women In Trucking Staff, on Aug 3, 2020 12:00:00 AM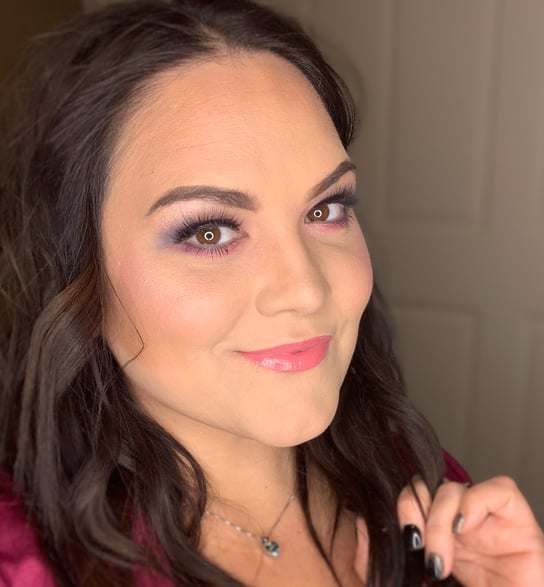 Plover, WI – Aug 3, 2020 – The Women In Trucking Association (WIT) has announced Rochelle Montes as its August Member of the Month. She is the Chief Import Operations Officer for Terminal Transfer, a proud military wife and mother of two beautiful boys.
Montes grew up in southeastern Alaska on a commercial fishing boat. She remembers anxiously seeing the barge as her curiosity of logistics sparked in wonder. Awaiting supplies seemed so mysterious as the only access they had to the outside world was by boat or plane. Her hometown of Yakutat, AK is not a frequented location by much more than fisherman and locals. You grow up to do one of a few things if you are lucky enough; work for the cannery, the K-12 school, logging, the local native corporation and a few other limited opportunities. The chance at any of these opportunities seemed slim and her mother wanted more for her at a young age.
After relocating to Oregon, a whole new world was before her. Montes is Native and looking different was an obstacle, but she found comfort in being a tomboy. She feels that was an advantage while pursuing her career in a "man's industry." At the age of 17, while still attending high school, she began her first logistical job in distribution. She learned the basics about inventory, discrepancies, shipping, receiving, dock doors, and trucks. In 2000, she started as an entry-level employee at Terminal Transfer, the company she ultimately would circle back to years later and find her lifetime career. Pushing paper, answering phones, checking in drivers were part of her daily tasks and soon became more. Moving into the international side of transportation working hand in hand with Customs and Border Protection (CBP) for inspections and compliance on ocean import cargo was her new found passion.
Montes was recruited by Nike World Headquarters at the age of 21 and it was there she gained a lifetime of experience and appreciation for logistics. Working nationwide with distribution centers, routing guides, transportation providers and retailers was an incredible insight on the true behind the scenes consumer products timeline. "Not only was it a privilege to be a part of the Nike culture and surrounded by top athletes of the world, but Nike also helped me to embrace my heritage and feminism in a way I never had before. Something I had often felt ashamed of had now become some of my strongest attributes," she said.
In 2006, Montes had her first child, who was born with several medical complications requiring multiple operations. This forced her to leave her dream job to be home with him during this trying time. She tried to find her identity and a way to repurpose her career path to one that would be more in line with her new lifestyle as a mother of a child with special needs, so she became a massage therapist. Upon completion, she struggled to connect with this new industry.
She helped her father get his trucking company established and before she knew it, she was running a full trucking operation out of her home in Spokane, WA. Dispatching four over-the-road trucks, processing oversize permits, accounting, payroll, mileage, taxes and the works. She couldn't get enough and here she was back in trucking. Once she got his operation rolling, he was ready to take over the reins.
Shortly after in 2011, she was contacted by Terminal Transfer to see if she could come back and assist because one of the owners was ill with breast cancer. She relocated her family back to Portland to get re-established. "Given this huge new array of knowledge from the many new perspectives I had the blessing to obtain, I brought a significant piece of the puzzle with me and quickly moved up the ladder," she said.
Montes is celebrating nine years back with the company and has been an Officer since 2017. "I am blessed to have found a company who embraces and celebrates women in the industry," she said. She has had the privilege of taking part in regular speaking engagements at the Columbia River Customs Brokers & Forwarders Association (CRCBFA), Agriculture Transportation Coalition (AgTC) and Western Cargo Conference (WESCCON) annual conferences.
"I have been blessed to help inspire other women, women of minority and women without college education that you can make something of yourself in the trucking industry. You can be a success if you have the right drive, mindset and willingness to do what it takes to do what others won't. Be willing to get out on a forklift, lump boxes, ride with drivers, get all the certifications you can. Soak up every piece, even if you don't think it would be of value, do it anyway. Get dirty, because that willingness to be a team player and show your integrity may just stand out amongst people who aren't willing," she said.
Women bring such an added value and perspective to this industry. Organization, precision, nurturing, undying strength are some of a few attributes Montes and many other women bring to the table. Our obstacles we are given in life can do one of two things for us; it can define us, make us bitter, make us angry for the inequality we may have experienced. Or, it can fuel us to grow, learn, become all we want to be and use these lessons to benefit ourselves and others around us.
"It is our duty as women to help bring up the next generation of women leaders, coach them, prepare them and most of all change the stigma that this is a man's industry," she said.
###
About Women In Trucking Association, Inc.
Women In Trucking, Inc. is a nonprofit association established to encourage the employment of women in the trucking industry, promote their accomplishments and minimize obstacles faced by women working in the trucking industry. Membership is not limited to women, as 17 percent of its members are men who support the mission. Women In Trucking is supported by its members and the generosity of Gold Level Partners: Amazon, Arrow Truck Sales, BMO Transportation Finance, Daimler Trucks North America, Expediter Services, FedEx Freight, Great Dane, J.B. Hunt Transport, Michelin North America, Penske Transportation Solutions, PACCAR, Ryder System, Walmart, and Waste Management. Follow WIT on Twitter, Facebook, or LinkedIn. For more information, visit www.womenintrucking.org or call 888-464-9482.