Women in Trucking Assoc. Wins Top Industry Award for Championing Women
by Women In Trucking Staff, on May 18, 2020 8:41:00 PM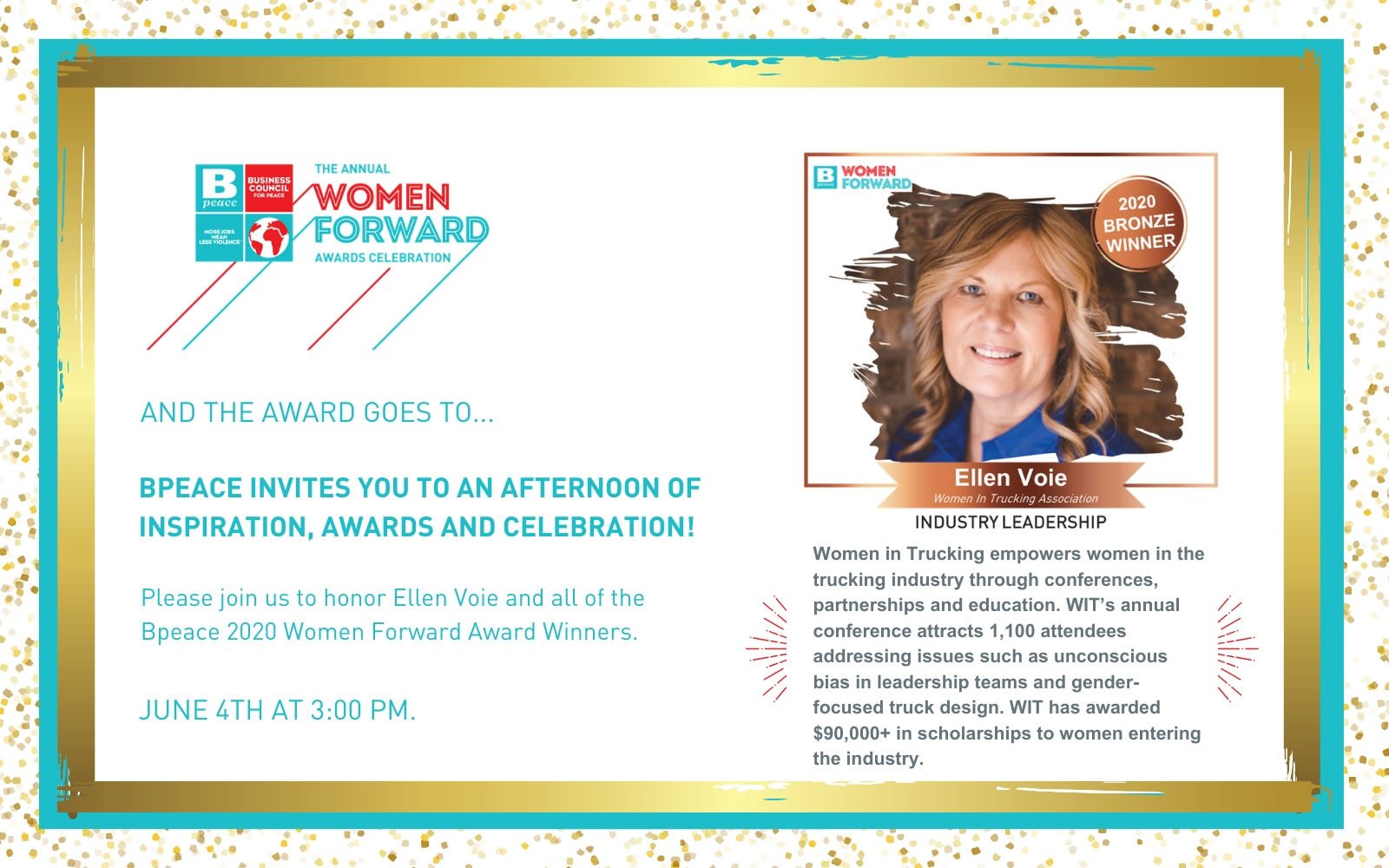 New York, NY May 18, 2020 – Women in Trucking is one of 10 top global organizations championing the future of women according to a global competition conducted by the nonprofit Business Council for Peace (#Bpeace).
The Bpeace Women Forward Awards recognize 10 trailblazing organizations that are leading change and providing mentorship, capital and support for women to thrive in the workplace and in society.
Women in Trucking empowers women in the trucking industry through conferences, partnerships and education.
WIT's annual conference attracts 1,100 attendees addressing issues such as unconscious bias in leadership teams and gender-focused truck design. A partnership with the Girl Scouts resulted in a Transportation Badge and the book Scouting for Cookies, about the role trucks play in the supply chain. WIT has awarded $90,000+ in scholarships to women entering the industry.
On June 4, 2020, Bpeace will recognize the Gold, Silver and Bronze Women Forward winners with a virtual award celebration. Registration for the event is available here. Following a global call for nominations, a blue-ribbon panel of CEO-level judges selected from among 51 finalists representing a range of industries and geographies.
Bpeace CEO, Toni Maloney noted, "We conduct the annual Women Forward competition to shine a light on these champions and set them up as role models on a global stage. The businesswomen that Bpeace advises in crisis-affected countries are hungry to learn how to crack the gender code. This year's winners generously shared what they do that give women a quantum leap."
About Women In Trucking Association, Inc.
Women In Trucking, Inc. is a nonprofit association established to encourage the employment of women in the trucking industry, promote their accomplishments and minimize obstacles faced by women working in the trucking industry. Membership is not limited to women, as 17 percent of its members are men who support the mission. Women In Trucking is supported by its members and the generosity of Gold Level Partners: Amazon, Arrow Truck Sales, BMO Transportation Finance, Daimler Trucks North America, Expediter Services, FedEx Freight, Great Dane, J.B. Hunt Transport, Michelin North America, PACCAR, Penske Transportation Solutions, Ryder System, Walmart, and Waste Management. Follow WIT on Twitter, Facebook, or LinkedIn. For more information, visit www.womenintrucking.org or call 888-464-9482.
About the nonprofit Bpeace
Bpeace is an award-winning nonprofit that provides impactful business advice to companies in conflict-affected communities, where women are underemployed and where we believe more jobs can cut the oxygen to violence.