Women In Trucking Association Announces 2020 Top Women to Watch in Transportation
by Women In Trucking Staff, on Mar 20, 2020 9:29:00 PM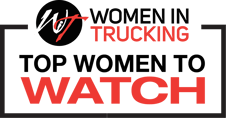 Plover, WI – March 20, 2020 – The Women In Trucking Association (WIT) announced today its third annual list of Top Women to Watch in Transportation. The editorial staff of WIT's Redefining the Road magazine selected these individuals for their significant career accomplishments in the past 12 to 18 months as well as their efforts to promote gender diversity.
"This year, we've identified 51 talented, resourceful women who stand out as top performers in a field of highly qualified nominees," said Brian Everett, group editorial director and publisher of Redefining the Road magazine. "This accomplished group of women represent a wide range of skill sets and expertise, and underscore how women bring diverse thought, value and results to businesses in the transportation market."
Those listed on the 2020 Top Women to Watch in Transportation work for motor carriers, third-party logistics companies, equipment manufacturers, retailer truck dealers, professional services companies, technology innovators, and private fleets. Their job functions include corporate management (32 percent), operations/safety (32 percent), sales/marketing (9 percent), human resources/talent management (6 percent), customer service (5 percent), engineering/product development (5 percent), finance (6 percent), and professional drivers (5 percent).
"This impressive group of women leaders is not only pushing the envelope in their own careers but also for women in the industry," said Ellen Voie, WIT president and CEO. "We are thrilled to recognize and celebrate their accomplishments."
The 2020 Top Women to Watch in Transportation:
Stevi Alexander, Program Management Director, Peterbilt Motors Co.
Heather Allen, Distribution Center Manager, YRC Worldwide
April Bassett, Director of Safety, Venture Logistics, LLC
Rosie Berkemeier, Director of Finance, YRC Worldwide
Niki Bolton, Senior Truck Auditor & Executive Projects Officer, American Truck & Rail Audits, Inc.
Alexis Burns, Controller, Veriha Trucking
Carolyn Chaplin, Director of Final Operations, Mack Trucks
Megan Cheney, Director of Pricing & Revenue Manager, Veriha Trucking
Rachel Christensen, Vice President of Intermodal Operations, J.B. Hunt Transport Services, Inc.
Shonda Claborn, Driver Relations Manager, Carter Express
Misty Darnell, Vice President of Corporate Development, Paschall Truck Lines, Inc
Bree Davern, Director of Business Development, RFX Inc.
Leah Dawson, Assistant General Counsel, YRC Worldwide
Eve Drinis, Learning & Development Director, Herc Rentals
Charlynn Driscoll, Director, Meetings & Education, Consumer Healthcare Products Association
Angela Eliacostas, President and Founder, AGT Global Logistics
Jessie Essman, Co-Founder and COO, Forager
Mary Jane Evans, CEO, Veritable Vegetable
Susan Fall, President and Founder, LaunchIt Public Relations
Gabby Francisco, Digital Marketing Strategist, CFI
Tammy Gerdes, Service Center Manager, Old Dominion Freight Line, Inc.
Tisha Gropp, Safety Manager, Crete Carrier Corporation
Arelis Gutierrez, CEO and President, Aria, Logistics LLC
Dana Hall, Director of Transportation Procurement, Transplace
Jennifer Hammond, Professional Driver, Dixon Bros. Inc.
Amy Ilyes, Vice President Logistics Engineering, Penske Logistics
Kristen Johnson, Partner, Taylor & Associates
Mauryo Jones, Sr. Director, Safety, Health & Security, Ryder, Inc.
Kristy Knichel, CEO, Knichel Logistics
Katerina Koutska-Jones, Senior Director of Marketing and Business Development, Fleet Advantage
Marybeth Mack, Director Accountability, Performance, & Operational Excellence, YRC Worldwide
Laura Manning, Director of Safety & Fleet Services, National Van Lines
Jessica Mock, Sr. Transportation Manager, Dot Transportation, Inc.
Ann Mary Myers, Engineering Supervisor, Kenworth Truck Co.
Shelly Moore, VP Technology Services, YRC Worldwide
Beth Potratz, President & CEO, Drive My Way
Jill Quinn, President, Centerline Drivers, TrueBlue
Sharon Reynolds, Chief Information Security Officer, Omnitracs
Mari Roberts, Transportation Sr. Director, Frito-Lay (a division of PepsiCo)
Diana Rossi, COO, RFX Inc.
Gina Ryan, Sales Manager, Mid-Market, KeepTruckin
Cheryl Saxton, VP Terminal Network Solutions, YRC Worldwide
Susan Schmerheim, Professional Driver, Ecclestone Horse Transport
Amanda Schuier, Senior Vice President, Quality Transport
Lily Shen, CEO, Transfix
Ashley Shomin, Assistant Treasurer, YRC Worldwide
Sarah Statlander, VP Human Capital & Talent Acquisition, YRC Worldwide
Melissa Tomlen, VP Accountability & Performance, YRC Worldwide
Julie Van de Kamp, Vice President of Customer Experience, U.S. Xpress
Stacey VandeVusse, Director Field Human Resources, YRC Worldwide
Elaine White, Regional Sales Manager, YRC Worldwide
The women will be featured in the upcoming edition of WIT's Redefining the Road magazine and online at https://www.womenintrucking.org/womentowatch2020.
###
About Women In Trucking Association, Inc.
Women In Trucking, Inc. is a nonprofit association established to encourage the employment of women in the trucking industry, promote their accomplishments and minimize obstacles faced by women working in the trucking industry. Membership is not limited to women, as 17 percent of its members are men who support the mission. Women In Trucking is supported by its members and the generosity of Gold Level Partners: Amazon, Arrow Truck Sales, BMO Transportation Finance, Daimler Trucks North America, Expediter Services, FedEx Freight, Great Dane, J.B. Hunt Transport, Michelin North America, PACCAR, Penske Transportation Solutions, Ryder System, Walmart, and Waste Management. Follow WIT on Twitter, Facebook, or LinkedIn. For more information, visit www.womenintrucking.org or call 888-464-9482.