Women In Trucking Association Announces 2022 Content Advisory Council
by Women In Trucking Staff, on Apr 6, 2022 9:46:37 AM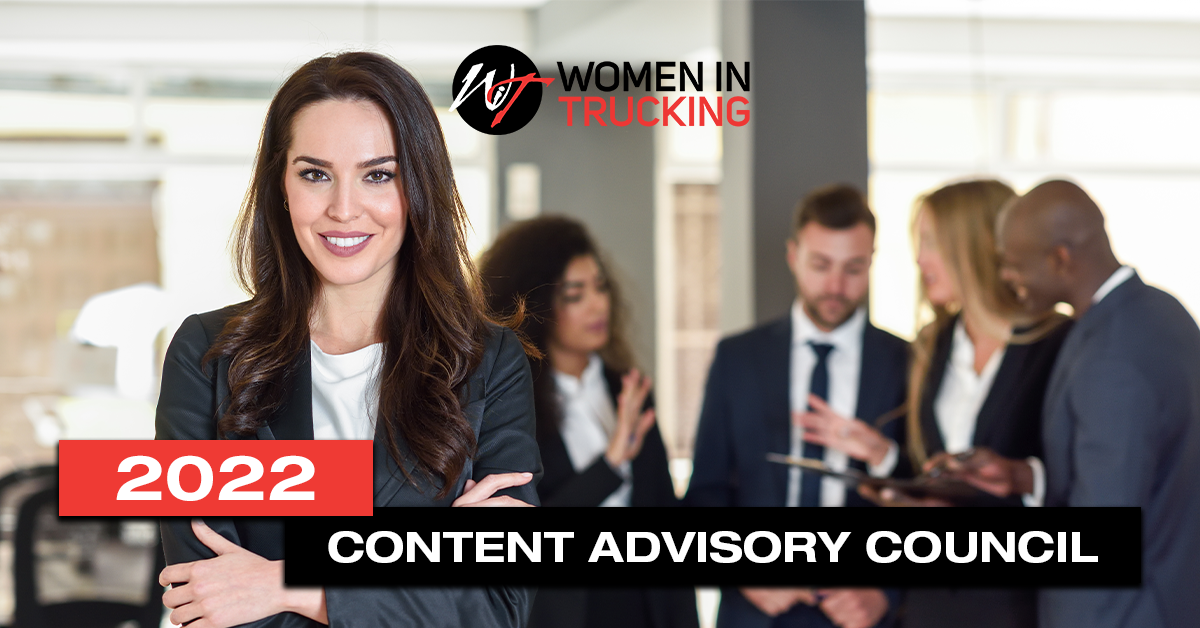 Plover, WI – April 6, 2022 – The Women In Trucking Association (WIT) announced today its 2022 Content Advisory Council, a volunteer group comprised of high-level executives or professionals who have vast knowledge and experience in transportation and logistics, as well as a passion for the mission of the association: to encourage the employment of women in the trucking industry, promote their accomplishments, and minimize the obstacles they face.
The goal of the Content Advisory Council is to provide guidance and counsel regarding relevant and meaningful content for WIT's annual Accelerate! Conference & Expo, as well as various communication channels, such as its Redefining the Road magazine, weekly e-newsletter, and social media platforms.
"We are thrilled by the willingness of so many insightful industry professionals to volunteer their valuable time," said Brian Everett, group editorial director and publisher of Redefining the Road magazine. "We look forward to utilizing the wisdom each of the members of this council have to further the mission of the Women In Trucking Association."
The 2022 Women In Trucking Content Advisory Council is comprised of the following industry leaders:
Dana Achartz, Director of Safety & Compliance, Commercial Transport, Inc.
Diana Anderson, VP of Talent Management & CSS Human Resources, Ryder System, Inc.
April Bassett, Director of Safety, Venture Transport, LLC
Shelley Becker, Director of Procurement, Concept Logistics
Niki Bolton, Senior Truck Auditor & Executive Projects Officer, American Truck & Rail Audits
Carrie Bosanec, Director of Logistics, Ruan Transportation Management Systems
Ingrid Brown, CEO/Independent Owner-Operator/FreightWaves HOST/FMCSA Voice of Safety, Rollin' B LLC
Laura Duryea, Manager of Recruiting, Retention & Driver Development, Boyle Transportation
Melanie Graf CTP, Strategic Sales Executive, Drivewyze
Vanessa Hernandez, Director of Carrier Resources, J.B. Hunt Transport, Inc.
Malaina Hudson, CPIM, Director of Supply Chain Systems, Hillebrand
Jeana Hysell, Senior Safety Consultant, J.J. Keller & Associates
Jerri Jarvis, Safety Analyst, Cheeseman
Kristen Johnson, Partner/Attorney, Taylor & Associates, Attorneys at Law, PL
Kesha Jones, Senior Director of HR, Total Transportation of Mississippi
Deb LaBree, Owner-Operator, Castle Transport LLC (Leased to Landstar)
Angelika Mangino, Driver Recruitment & Engagement Manager, Clean Harbors
Josh Mecca, Director of Recruiting, American Central Transport
Ashley Newman, Director of Brand, TruNorth Global
Kristin Oftedahl, Marketing Communications Manager, Rihm Kenworth
Martha Payne, Attorney, Benesch, Friedlander, Copland & Aronoff LLP
Sandra Richards, Regional Vice President, NFI Industries
Jafi Roskey, Senior Manager of Military Programs, Werner Enterprises, Inc.
Amber Roy, Executive Vice President & Chief Operating Officer, Triumph Business Capital
Heidi Staub, Sr. Content Marketing Manager, Amazon Freight Partner
Mary Zahorsky, ACC, CDS, Safety Consultant & Success Coach, ZVision Coaching
The members of the 2022 Women In Trucking Content Advisory Council can be found online at https://www.womenintrucking.org/content-advisory-council
###
About Women In Trucking Association, Inc.
Women In Trucking Association, Inc. is a nonprofit association established to encourage the employment of women in the trucking industry, promote their accomplishments and minimize obstacles faced by women working in the trucking industry. Membership is not limited to women, as 17 percent of its members are men who support the mission. Women In Trucking is supported by its members and the generosity of Gold Level Partners: Amazon, Arrow Truck Sales, Daimler Trucks North America, Expediter Services, FedEx Freight, Great Dane, J.B. Hunt Transport, Michelin North America, PACCAR, Penske Transportation Solutions, Ryder System, Walmart, and Waste Management. Follow WIT on Twitter, Facebook, LinkedIn, Instagram, TikTok, and YouTube. For more information, visit www.womenintrucking.org or call 888-464-9482.