Women In Trucking Association Announces 2022 Distinguished Woman in Logistics Award Finalists
by Women In Trucking Staff, on Mar 21, 2022 5:00:00 AM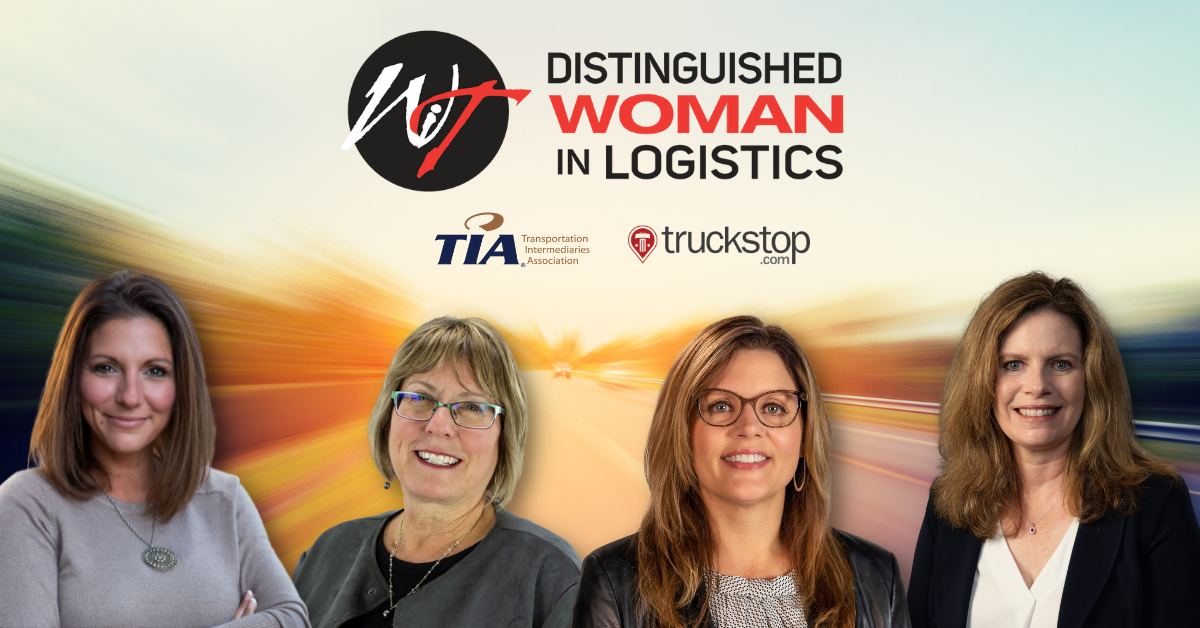 Plover, WI – March 21, 2022 – The Women In Trucking Association (WIT) announced today four finalists for the 2022 Distinguished Woman in Logistics Award (DWLA). Sponsored by the Transportation Intermediaries Association (TIA) and Truckstop.com, the award promotes the achievements of women employed in the North American transportation industry.
Finalists for the 2022 DWLA have demonstrated superior leadership within their company as well as with other professional, educational or philanthropic organizations. This year's finalists are: LeAnne Coulter, vice president, freight management for Penske Logistics; Erin Gattis, chief human resources officer, ArcBest; Nicole Glenn, president and CEO, Candor Expedite; and Kim Littlejohn, senior vice president and chief information officer, USA Truck.
LeAnne Coulter is vice president of freight management for Penske Logistics. She is responsible for the strategic vision, growth, and product development for all 4PL, freight management and brokerage services, as well as third-party carrier sourcing, acquisition, and management. During her first four years with Penske, she held full P&L and growth responsibility for Penske's freight brokerage and international services.
Prior to joining Penske in 2018, Coulter spent 24 years with Schneider Logistics, most recently as vice president of supply chain solutions. She has been honored by Supply & Demand Chain Executive's 2021 Women in Supply Chain Award, the Schneider National Presidential Award, and the Chrysler Director Award.
Coulter is a member of the Council of Supply Chain Management Professionals (CSCMP) and the Association for Operations Management (APICS). She is also a member of the Wayne State University Supply Chain Management Program Advisory Board and the Steering Committee for Penske's Women in Logistics organization.
Erin Gattis is the chief human resources officer of ArcBest. With over 20 years of experience, she has created an exceptional workplace where logistics professionals with diverse experiences and perspectives can grow and make a lasting impact. Gattis boldly guides the teams responsible for the company's award-winning training and succession planning programs, talent acquisition, benefits and compensation, and employee engagement. She also champions the company's wellness programs for a healthier workforce and is one of the drivers behind ArcBest's Environmental, Social and Governance efforts — including the critical work of implementing a strategic DEI roadmap — building a more inclusive workplace for all.
Under Gattis' leadership, the people at ArcBest have an opportunity to achieve tremendous growth, and the company's customers, partners and other stakeholders benefit. Her dedication to building a values-driven culture — rooted in creativity, integrity, collaboration, growth, excellence and wellness — has made ArcBest one of the best companies to work for in the nation.
Nicole Glenn founded Candor Expedite in 2017 after more than two decades in the transportation brokerage business. Today, Candor is recognized as a leading certified women-owned business headquartered in Texas – with offices in Illinois and Kansas. Logistics is in Glenn's DNA having held several operational positions for a variety of transportation brokerage companies over the years. Through these roles, she learned the nuts and bolts of moving freight along with the biggest challenges both shippers and carriers face each day.
Glenn has received numerous accolades including being named one of the Top Women-Owned Businesses by Women In Trucking, and a 2021 Enterprising Women of the Year Champion, an annual tribute to the world's top female entrepreneurs. Additionally, she is one of the founders of The Ladies Leadership Coalition (LLC), a new podcast hosted by female business leaders to profile successful business women.
Kim Littlejohn serves as senior vice president and chief information officer for USA Truck, a logistics capacity solutions provider. Littlejohn collaborates with members of the executive team to develop and implement a data analytics-centric strategy that is proving to be a competitive differentiator. USA Truck was awarded the CCJ 2021 Innovator of the year award for their custom load board that allows drivers to decide their workflow. This has improved efficiency in load planning and driver home time and, in turn, reduced driver turnover. She also serves as the executive sponsor for U-NOW (USA Truck -Network of Women), a Diversity Equity and Inclusion group, whose mission is to inspire and elevate the influence of women throughout the organization. Previous logistics experience includes information technology director roles at Interstate Distributor and NYK Business Systems Americas.
Finalists for the eighth annual DWLA were selected from a group of high-performing women representing third-party logistics, supply chain management and related functional disciplines. Members of the judging panel include: Brent Hutto, chief relationship officer, Truckstop.com; Anne Reinke, president and CEO, TIA; Dr. Stephanie S. Ivey, associate dean for research and professor, Herff College of Engineering; and Ellen Voie, president and CEO, WIT.
The award highlights the crucial roles of leading women in the dynamic and influential field of commercial transportation and logistics, which encompasses logistics service providers as well as motor carriers.
The winner of the 2022 award will be announced during the TIA Capital Ideas Conference and ExhibitionThursday, April 7, 2022.
###
About Women In Trucking Association, Inc.
Women In Trucking Association, Inc. is a nonprofit association established to encourage the employment of women in the trucking industry, promote their accomplishments and minimize obstacles faced by women working in the trucking industry. Membership is not limited to women, as 17 percent of its members are men who support the mission. Women In Trucking is supported by its members and the generosity of Gold Level Partners: Amazon, Arrow Truck Sales, Daimler Trucks North America, Expediter Services, FedEx Freight, Great Dane, J.B. Hunt Transport, Michelin North America, PACCAR, Penske Transportation Solutions, Ryder System, Walmart, and Waste Management. Follow WIT on Twitter, Facebook, LinkedIn, Instagram, TikTok, and YouTube. For more information, visit www.womenintrucking.org or call 888-464-9482.
About Truckstop.com
Truckstop.com is a trusted partner for carriers, brokers and shippers – empowering the freight community through a platform of innovative solutions for the entire freight lifecycle to increase efficiency, automate processes, and accelerate growth. As one of the industry's largest neutral freight marketplaces, Truckstop.com provides the customer service as well as scale of quality loads and trucks to give customers of all sizes, whether on the road or in the office, the transparency and freedom to build lasting relationships and grow their businesses. To learn how Truckstop.com is helping move the freight community forward, visit www.truckstop.com.
About Transportation Intermediaries Association (TIA)
Transportation Intermediaries Association (TIA) is the professional organization of the $214 billion third-party logistics industry. TIA is the only organization exclusively representing transportation intermediaries of all disciplines, doing business in domestic and international commerce. TIA is the voice of the 3PL industry to shippers, carriers, government officials and international organizations. TIA is the United States member of the International Federation of Freight Forwarder Associations (FIATA). To learn more, visit tianet.org.