Women In Trucking Association Announces 2023 Driver of the Year Finalists
by Women In Trucking Staff, on Feb 28, 2023 5:00:00 AM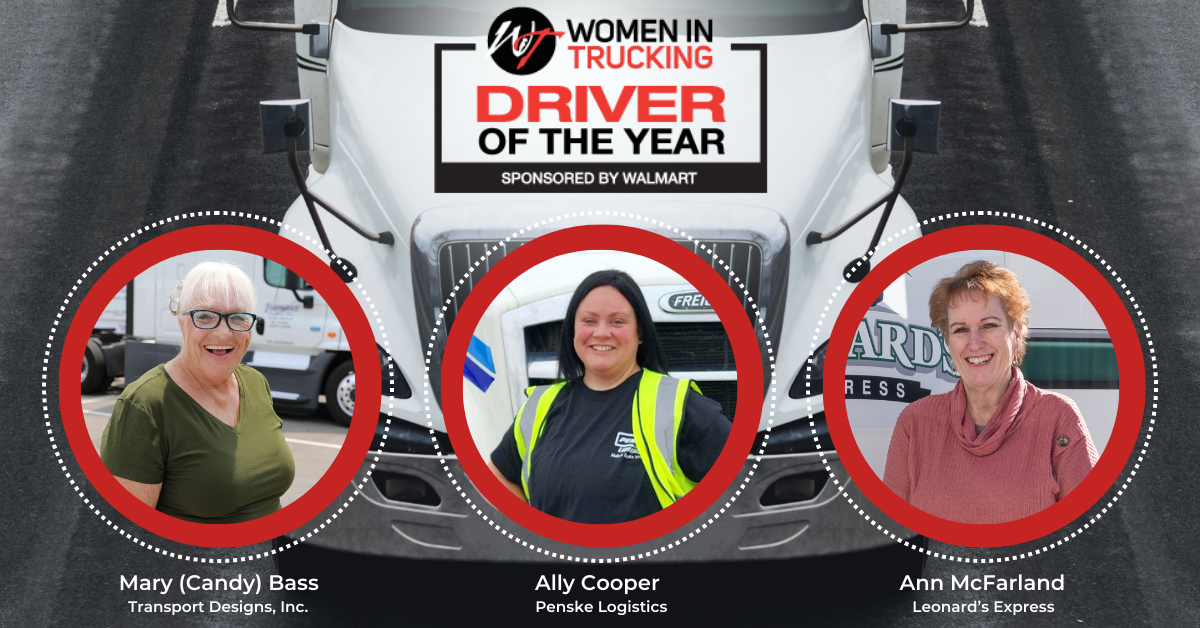 PLOVER, Wisc. – Feb. 28, 2023 – The Women In Trucking Association (WIT) announced today three finalists for the 2023 Driver of the Year award sponsored by Walmart. The fourth annual award recognizes outstanding female professional drivers who lead the industry in safety standards while actively enhancing the public image of the trucking industry.

The 2023 Driver of the Year finalists are:

Mary (Candy) Bass is a company driver for Transport Designs, Inc., based out of Burnsville, Minnesota. Bass has been a long-haul professional driver for 50 years, accumulating 6 million accident-free miles.

In 2016, Bass was awarded the TA Petro Citizen Driver award. Recipients of this award exhibit citizenship, safety, community involvement and leadership. A Nashville, Tennessee TA truck stop is named the Candy Bass Travel Center in honor of her. In 2023, she was named a Top Woman to Watch in Transportation by Redefining the Road, WIT's official magazine.

Bass is a lifetime member of WIT and Owner/Operator Independent Drivers Association (OOIDA). She is involved in numerous charities including St. Christopher Foundation, Hats for Heroes, Special Olympics, Trucker Buddy, and Charities for troops. At 78, she is still driving long haul across the United States while encouraging and mentoring other women in the trucking industry.

Ally Cooper is a professional driver for Penske Logistics. The daughter of an owner/operator, she enlisted in the military upon graduating high school and served as a lead convoy driver in Iraq and Afghanistan in the mid-2000s. She then ran her own LLC as an owner/operator for six years before transitioning to driver roles with Midwest Logistics and Penske Logistics. Cooper supports her fellow drivers as a ride-along trainer, certified Worklete Champion and role model.

A passionate advocate for working moms, Cooper played a key role in the implementation of nursing policies that improve the experience of new moms behind the wheel. Supervisors and colleagues praise Cooper's positive attitude, dedication to safety, and commitment to work-life balance. "I absolutely love trucking and can't imagine doing anything else in life," she said. "I hope to show women that you don't have to do the normal 9-to-5 job—you can do anything you set your mind to and be proud of it."

Ann McFarland is a consummate driving professional with an expert knowledge of the transportation industry. She exudes pride in her profession through her unshakeable dedication to safety and customer service. Her current position is with Leonard's Express, but she also honed her talents previously with Holman Transportation and Apex, where she achieved the Hard Work & Dedication Award, Excellent Performance Award (Holman), and the Safe Driver Award twice (Apex). This year, McFarland will be honored with Leonard's Express Million Mile Award for more than one million safe miles with the company.

McFarland is an active trainer for women entering the industry and mentors both men and women in the career she believes in so strongly. She has a passion for helping new women drivers set up for career success.

McFarland takes that same level of work ethic and integrity to her home life as a wife, mother, grandmother, and sole provider for her household. Through hardship and family illness, she doesn't falter, balancing family needs with professional reliability and responsibility. She currently lives in Fruitland, Idaho with her husband, Richard.

The judging panel includes: Erin Bergman, senior manager, talent acquisition, Walmart; Tim Ridley, talk radio show host; and Ellen Voie, president and CEO, WIT.

The winner will be announced at the Salute to Women Behind the Wheel event hosted by WIT on Friday, March 31 at the Mid-America Trucking Show (MATS) in Louisville, Kentucky.
###
About Women In Trucking Association, Inc.
Women In Trucking Association, Inc. is a nonprofit association established to encourage the employment of women in the trucking industry, promote their accomplishments and minimize obstacles faced by women working in the trucking industry. Membership is not limited to women, as 17 percent of its members are men who support the mission. Women In Trucking is supported by its members and the generosity of Gold Level Partners: Amazon, Arrow Truck Sales, Daimler Truck North America, DAT Solutions, FedEx Freight, Great Dane, J.B. Hunt Transport, Michelin North America, PACCAR, Penske Transportation Solutions, Ryder System, Walmart, and WM. Follow WIT on Twitter, Facebook, LinkedIn, Instagram, TikTok, and YouTube. For more information, visit www.womenintrucking.org or call 888-464-9482.