Women In Trucking Association Announces 2023 Top Women to Watch in Transportation
by Women In Trucking Staff, on Mar 13, 2023 5:00:00 AM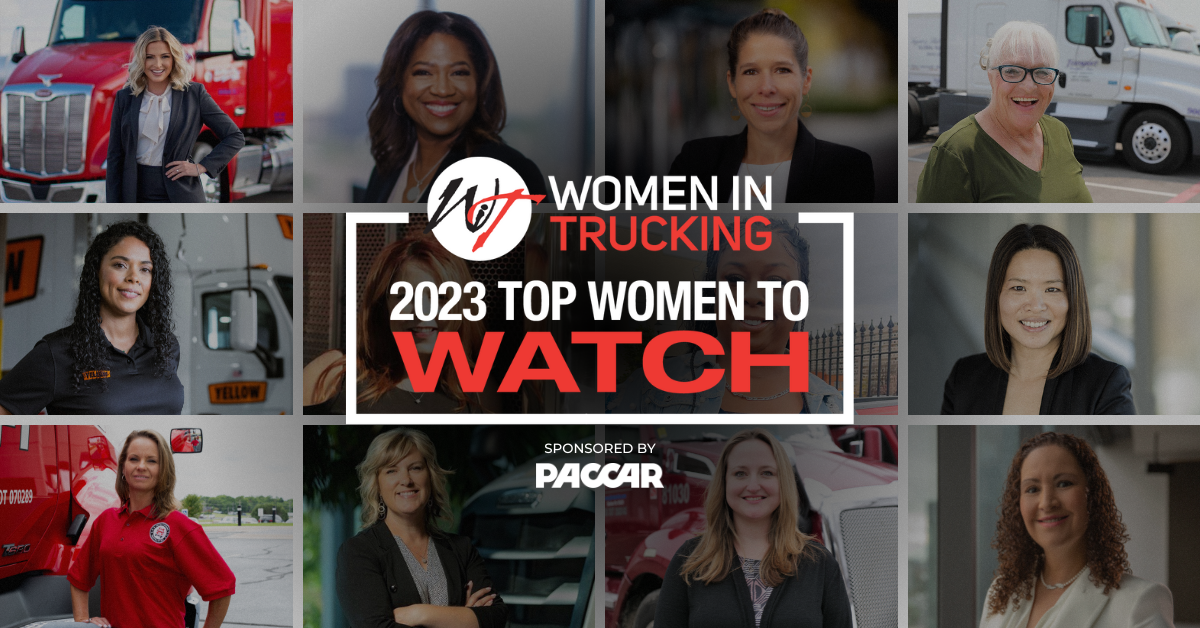 ARLINGTON, Va. – March 13, 2023 – The Women In Trucking Association (WIT) announced today its sixth annual list of Top Women to Watch in Transportation. The editorial staff of WIT's Redefining the Road, WIT's official magazine, selected these individuals for their significant career accomplishments in the past 12 to 18 months, as well as their efforts to promote gender diversity.

"We were thoroughly impressed this year with the sheer number of nominations we received for highly qualified and outstanding women who have excelled in a male-populated industry," said Brian Everett, group editorial director and publisher of Redefining the Road magazine. "We are pleased to take this opportunity to highlight the achievements of more than 80 incredibly talented and valuable women."


"Countless women in transportation are making significant strides in their careers while having a positive impact on their company's success," said Jennifer Hedrick, WIT president and CEO. "As part of WIT's mission to recognize the achievements of individuals, for the past six years our official magazine Redefining the Road has used this recognition program to acknowledge the accomplishments of impressive female professionals who work in our industry."

Those recognized on the 2023 Top Women to Watch in Transportation list work for a broad range of company types, including motor carriers, third-party logistics companies, equipment manufacturers, retailer truck dealers, professional services companies, technology innovators and private fleets. Their job functions include corporate management (23%), operations/safety (36%), human resources/talent management (8%), sales/marketing (20%) and engineering/product development (8%). Another 5% are professional drivers.

Individuals recognized as 2023 "Top Women to Watch in Transportation" are:

Lina Acosta, chief marketing officer, GLT Logistics
Marcela Barreiro, president & CEO, Daimler Truck Mexico
Candy Bass, professional driver, Transport Designs
Mingshu Bates, chief analytics officer, AFS Logistics
Genevieve Bekkerus, director of marketing, Kenworth Truck Co.
Soona Bernstein, partner program lead, Kodiak Robotics
Gina Billings, vice president, marketing & communications, Averitt Express
Christine Brown, associate vice president, technology delivery, Day & Ross
Joanna Buttler, head of global autonomous technology, Daimler Truck AG
Desiree Caldwell, director of operations, people & culture, Elite HR Logistics, Inc.
Mary Clarke, enterprise digital media manager, CDLLife
Jamie Creekmore, VP of Midwest region for CHESI, Clean Harbors
Endrea Davisson, professional driver, CFI
Monique de Boer, reliability manager, Peterbilt Motors Company
Janice Delvecchio, senior vice president, human resources, PLM Fleet
Donna Deyo, vice president operations, PACCAR Winch
Leanne Drummond, business development manager, CPC Logistics
Vontyna Durham, president, Xcelente Trucking & Logistics
Jennifer Edwards, senior director of sales, The Evans Network Companies
Nina Eiland, vice president of people, Alabama Motor Express
Angela Eliacostas, president & founder, AGT Global Logistics
Sara Ellis, operations team leader, Fraley & Schilling
Madison Eschle, chief people officer, Andrews Logistics
Elizabeth Gomez, marketing manager, Fleet Advantage
Lisa Gonnerman, president of trucking, Bay & Bay Transportation
Amy Graves, senior driver manager, May Trucking Company
Vicki Green, marketing & sales director – Global Connected Services, PACCAR
Teri Greenwood, chief underwriting officer, Northland Insurance
Katie Griffin, director of fleet safety, Leonard's Express
Carrie Hall, director of client services, Inflection Poynt
Jessica Hart, VP, government services management, TRAFFIX
Karen Hines, senior national sales director, Conversion Interactive Agency
Jill Hostetter, vice president of product management, Zonar
Joanna Hutton, director of sales, Ryder System, Inc.
Stormie Janzen, vice president of safety & recruiting, Total Transportation of Mississippi
Jessica Jasso, director of customer experience, U.S. Xpress
Leslie Karr, group director, customer success, Ryder System, Inc.
Mary Kearney, director of business development, Tucker Freight Lines
Margaret Kennie, lead driver, Bob's Discount Furniture
Samka Keranovic, vice president & COO, U.S. Truck Driver Training School
Jessica Kim, head of marketing, Pitstop
Ashley Kordish, CEO, Ralph Moyle, Inc.
Amanda Kremer, senior program manager, Kenworth Truck Co.
Lauren Kwan, VP of marketing, Plus
Candace Latnie, technical project manager, advanced driver assistance systems, Navistar
Lori Lederman, director of warranty, Peterbilt Motors Company
Angela Lentz, chief people officer, Daimler Truck North America
Alana Long, executive administration & HR, Candor Expedite
Tori Longan, senior director of sales, J.B. Hunt
Annie Lowery, director of financial planning & analytics, Saia LTL Freight
Molly Mangan, SVP of sales, Echo Global Logistics
Loan Mansy, EVP of CHESI sales & services, Clean Harbors
Samantha McCartt, executive director commercial supply chain, Bridgestone Americas
Elizabeth McMillan, district parts manager, Volvo Group North America
Laura Mendoza, senior director of customer solutions, DAT Freight & Analytics
Lauren Meneau, director of customer service, R.E. Garrison
Christiane Meyer, director of strategic accounts, Penske Logistics
Lisa Mitchell, regional vice president, Western Territories, TransForce
Claire Mules, president, Assurance Resources, Inc. (ARI)
Sarah Newman, president, BM2 Freight Services, Inc.
Misti Olszewski, VP, enterprise safety, Covenant Logistics
Lisa Owens, training manager, UPS
Virginia Palafox, district manager, Waste Connections
Kelly Parish, director technologies, Yellow
Esther Parsons, road driver, Yellow
Rachael Partridge, transportation safety and compliance analyst, Gordon Food Service
Priscilla Peters, vice president of marketing & training, Conversion Interactive Agency
Denise Plumb, feeder division manager, UPS
Antonia Popova, director, customer accounts, RXO
Chelsey Reynolds, VP, finance, Envase Technologies
Kristin Ridley, marketing communications manager, Rihm Family Companies
Michele Rodgers, resident engineering manager, Peterbilt Motor Company
Ivelise Rodriguez, corporate accounts business development director, Yellow
Angie Schneider, regional sales administration manager, Premier Truck Group
Sara Shah, director of recruiting & HR, Tri-National, Inc.
Emily Soloby, founder & CEO, Juno Jones
Kate Speer, VP of marketing, engagement & investor relations, JLE Industries
Marilyn Surber, transportation advisor, Tenstreet
Mardi Tagmeyer, senior manager of customer operations, Emerge
Kimberly Torres, senior service center manager, XPO
Erin Van Zeeland, chief commercial officer & group senior vice president/general manager, logistics, Schneider
Rose VanWey, director of van services, Atlantic Logistics
Azra Walter, director of safety, Artur Express, Inc.
Brooke Weeks, senior manager II, fleet sustainability engineering, Walmart
Pam Wills-Ward, chief people & strategy officer, MW Logistics, LLC
Sherryann Wilson, recruiter, Trimac Transportation

This year's recognition program is sponsored by PACCAR. The women will be featured in the upcoming edition of WIT's Redefining the Road magazine and online at womenintrucking.org/top-women-to-watch.
###
About Women In Trucking Association, Inc.
Women In Trucking Association, Inc. is a nonprofit association established to encourage the employment of women in the trucking industry, promote their accomplishments and minimize obstacles faced by women working in the trucking industry. Membership is not limited to women, as 17% of its members are men who support the mission. Women In Trucking is supported by its members and the generosity of Gold Level Partners: Amazon, Arrow Truck Sales, Bridgestone Americas, Daimler Truck North America, DAT Solutions, FedEx Freight, Great Dane, J.B. Hunt Transport, Michelin North America, PACCAR, Penske Transportation Solutions, Ryder System, Walmart, and WM. Follow WIT on Twitter, Facebook, LinkedIn, Instagram, TikTok, and YouTube. For more information, visit www.womenintrucking.org or call 888-464-9482.