Women In Trucking Association Announces Continued Gold Partnership with Great Dane
by Women In Trucking Staff, on Feb 7, 2022 5:00:00 AM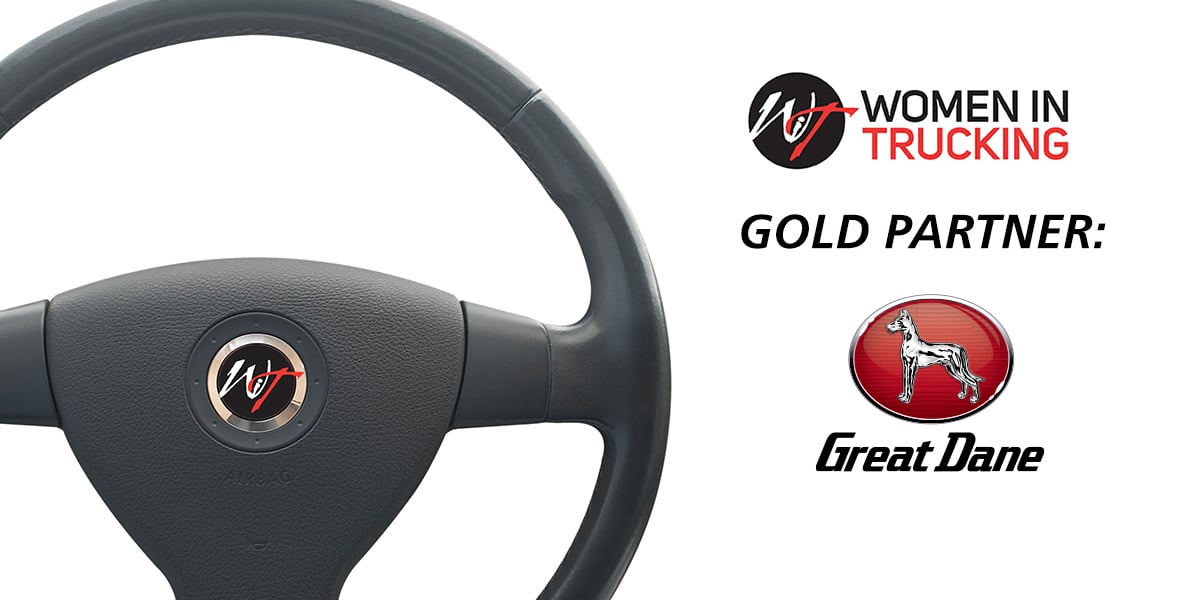 Plover, WI – February 7 2022 – The Women In Trucking Association (WIT) announced today the renewal of Great Dane's Gold Level Partnership for 2022. This partnership is crucial to the advancement of the non-profit organization's mission to encourage the employment of women in transportation and logistics, celebrate their success and minimize the obstacles they face.
This is the eighth consecutive year that Great Dane has supported WIT as a gold level partner. In addition to providing financial support, the company actively participates in the association. Laura Roan Hays, Regional Sales Manager at Great Dane, serves as Chair on the board of directors.
"At Great Dane, we are proud to support programs like WIT which empower those in the trucking industry to find new opportunities for growth," Roan Hays said. "My love and passion for the mission of WIT is shared by our Great Dane family, and is reflected by our core values of leadership and integrity."
"We are honored to partner with an influential industry leader like Great Dane and look forward to the continuation of the expertise and leadership Hays brings to our board of directors," said Ellen Voie, WIT president and CEO. "Their commitment and passion for supporting the issue of gender diversity in the trucking industry is incredibly valuable to our association."
With a history dating back to 1900, Great Dane has established itself as a transportation solutions leader – delivering innovative products and exceptional services that help move America forward. Great Dane not only engineers durable and high-quality trailers and truck bodies, but also fosters relationships with customers and industry partners that last the long haul.
Founded in 2007, Women In Trucking Association is a resource for more than 5,500 corporate and individual members located in the United States, Canada, and Mexico, as well as Japan, Australia, Sweden, South Africa and New Zealand. Recent accomplishments include the association's participation in White House and FMCSA roundtables; the launch of its driver ambassador expo trailer, which promotes truck driving as a career; a mentorship program with LeadHERalliance to support new female drivers; and more than 800 registered attendees at the 2021 Accelerate! Conference and Exhibition.
###
About Women In Trucking Association, Inc.
Women In Trucking Association, Inc. is a nonprofit association established to encourage the employment of women in the trucking industry, promote their accomplishments and minimize obstacles faced by women working in the trucking industry. Membership is not limited to women, as 17 percent of its members are men who support the mission. Women In Trucking is supported by its members and the generosity of Gold Level Partners: Amazon, Arrow Truck Sales, Daimler Trucks North America, Expediter Services, FedEx Freight, Great Dane, J.B. Hunt Transport, Michelin North America, PACCAR, Penske Transportation Solutions, Ryder System, Walmart, and Waste Management. Follow WIT on Twitter, Facebook, LinkedIn, Instagram, TikTok, and YouTube. For more information, visit www.womenintrucking.org or call 888-464-9482.
About Great Dane
Great Dane is the leading manufacturer of high-performance commercial transportation equipment, including dry and refrigerated trailers and truck bodies, as well as steel, aluminum, and combo platform trailers. Great Dane has a storied history in the commercial trucking industry and is a driving force in trailer technology, innovation, quality, and customer service. Headquartered in Chicago, Illinois, and with additional corporate offices in Savannah, Georgia, Great Dane has 11 manufacturing plants strategically located throughout the United States. The company's network of corporate-owned branches, and full-line independent dealers offers a broad range of distribution points for new and pre-owned trailers as well as aftermarket services across North and South America. Visit Great Dane online at GreatDane.com.