Women In Trucking Association Announces Continued Partnership with Michelin North America, Inc.
by Women In Trucking Staff, on Aug 18, 2021 5:30:00 AM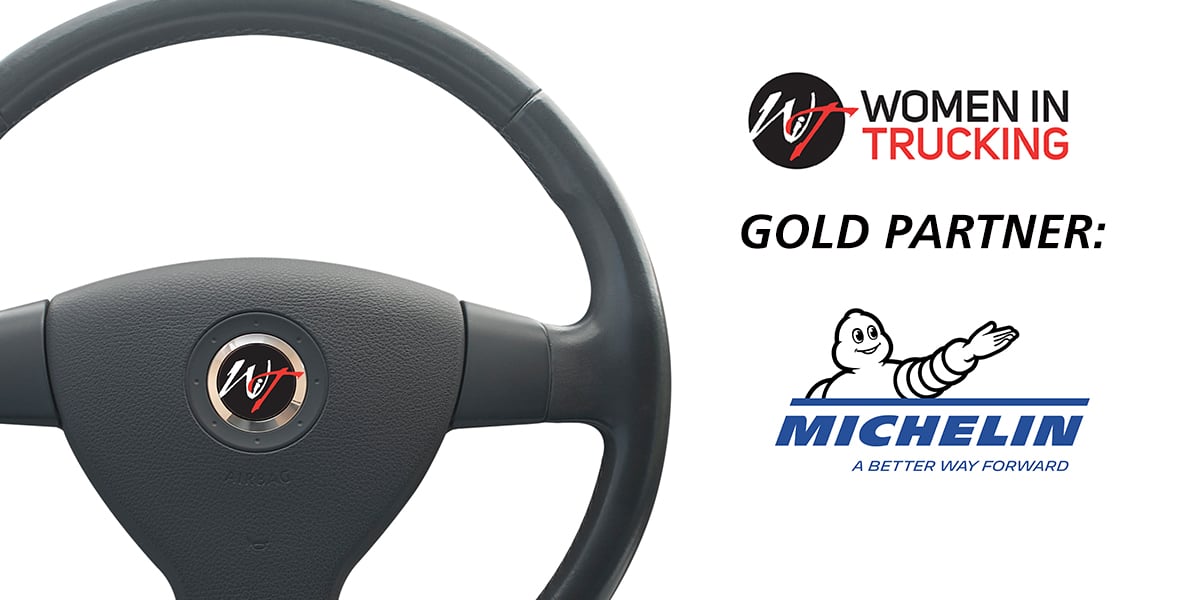 Plover, WI – August 18, 2021 – The Women In Trucking Association (WIT) announced today that Michelin North America, Inc. has renewed its Gold Level Partnership to continue supporting the nonprofit's mission of increasing the number of women in transportation and logistics, minimizing the challenges they face, and celebrating their successes.
Michelin has supported WIT at the Gold Level since 2018. In addition to providing financial support, the company actively participates in the association. Adam Murphy, Vice President of Business-to-Business Marketing, serves on the board of directors.
"Michelin North America is proud to support the great work Women In Trucking is doing to promote and advance the tremendous contribution women are making to the trucking industry," said Murphy. "This mission is more important than ever, and we look forward to continuing to partner with WIT to even further accelerate the significant progress we are making."
"Women belong in the trucking industry. Whether they want to design, build, sell, own, fix or drive the truck, the opportunities are endless for a successful and fulfilling career in transportation," said Ellen Voie, WIT president and CEO. "We're grateful for Michelin's continued commitment to advancing gender diversity in the industry."
Since 2007, WIT has worked to educate and raise awareness for women's issues and served as a valuable resource to its members. Recent accomplishments include launching a Diversity & Inclusion Index, a program aimed at collecting and recognizing best practices in diversity and inclusion efforts; unveiling its Driver Ambassador expo trailer that introduces the career of truck driving; and providing driver members with free health support programs during the COVID-19 pandemic.
###
About Women In Trucking Association, Inc.
Women In Trucking, Inc. is a nonprofit association established to encourage the employment of women in the trucking industry, promote their accomplishments and minimize obstacles faced by women working in the trucking industry. Membership is not limited to women, as 17 percent of its members are men who support the mission. Women In Trucking is supported by its members and the generosity of Gold Level Partners: Amazon, Arrow Truck Sales, Daimler Trucks North America, Expediter Services, FedEx Freight, Great Dane, J.B. Hunt Transport, Michelin North America, PACCAR, Penske Transportation Solutions, Ryder System, Walmart, and Waste Management. Follow WIT on Twitter, Facebook, LinkedIn, Instagram, TikTok, and YouTube. For more information, visit www.womenintrucking.org or call 888-464-9482.
About Michelin North America, Inc.
Dedicated to the improvement of sustainable mobility, Michelin designs, manufactures and sells tires for every type of vehicle, including airplanes, automobiles, bicycles, earthmovers, farm equipment, heavy-duty trucks and motorcycles. Michelin also offers a full range of innovative services and solutions that help make mobility safer, more efficient and more environmentally friendly. To create unique mobility experiences, Michelin publishes travel guides, hotel and restaurant guides, maps and road atlases. Headquartered in Greenville, S.C., Michelin North America employs more than 20,000 people and operates 19 major manufacturing plants in the U.S. and Canada.