Women In Trucking Association Announces FMCSA Administrator Meera Joshi to Keynote Annual Conference
by Women In Trucking Staff, on Sep 22, 2021 9:23:35 AM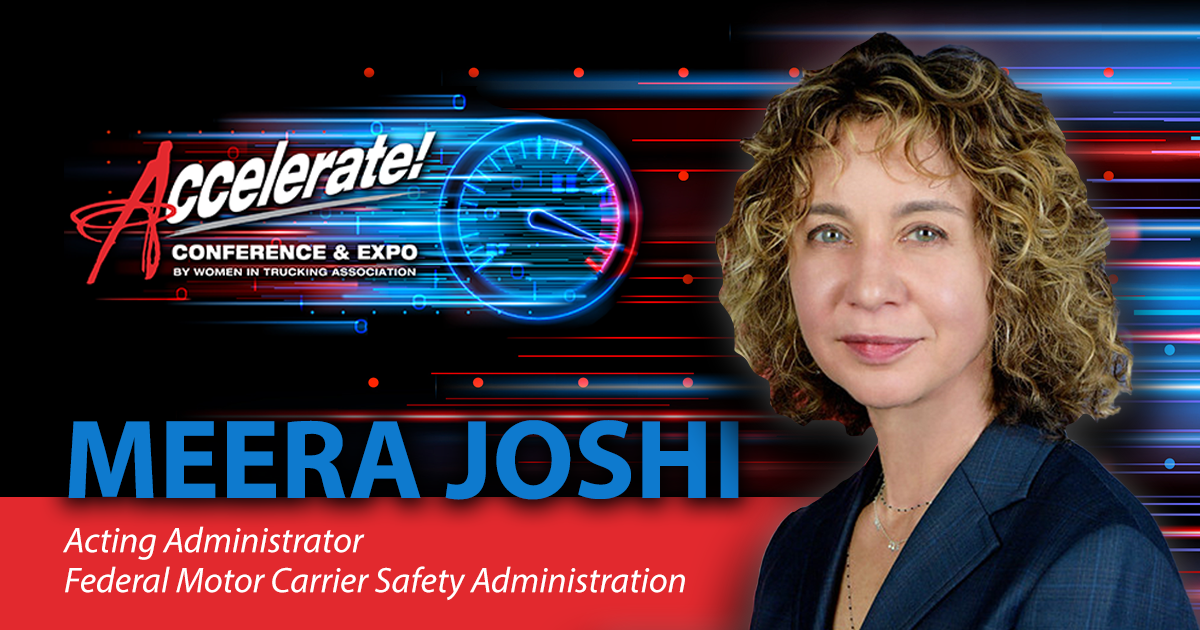 Plover, WI – Sept. 22, 2021 – The Women In Trucking Association (WIT) announced today that Meera Joshi, acting administrator of the Federal Motor Carrier Safety Administration (FMCSA), will be the closing keynote speaker at its upcoming in-person Accelerate! Conference & Expo Nov. 7-9 in Dallas and virtual Accelerate! Conference Nov. 17-18. Administrator Joshi will be addressing critical safety and productivity issues and opportunities facing the trucking industry.
This will be WIT's seventh annual in-person Accelerate! Conference & Expo and the second year the association has held a virtual version of the event. The conferences will feature more than 40 educational sessions on critical transportation and logistics issues through the lens of gender diversity. Topics will be relevant to professionals involved in leadership, human resources/talent management, operations, safety, sales, marketing, and driver recruiting and engagement. Featured speakers are from leading companies such as Amazon, Penske, J.B. Hunt, Yellow, Volvo, Daimler, Prime, Garner Trucking, Tenstreet, TruNorth Warranty Plans, Convoy, TuSimple, Waymo, and Gatik.
"We bring these conferences to the marketplace because of the importance of workforce diversity," said Ellen Voie, WIT president and CEO. "Diversity in experience, skills and perspective is proven to be critical to the success of any company in transportation, and gender diversity is a critical path to this goal. The Accelerate! Conference is one way for our industry to share new ideas and best practices that encourage the employment of women, recognize their accomplishments and success stories, and ultimately minimize obstacles faced by women in this industry."
The in-person conference will feature a wide variety of products and services through an expo with more than 80 exhibiting and sponsoring companies, including ABF Freight, Landstar, Yellow, C.H. Robinson, Panther Premium Logistics, FASTPORT, CDLLife, Driver IQ, Openforce, SambaSafety, Clean Harbors, Espyr, J.J. Keller & Associates, Omnitracs, Great Dane, PACCAR, Volvo Trucks, TruNorth Global, and TVC Pro-Driver.
For more details and to registration for either the in-person or the virtual conference, visit womenintrucking.org/accelerate-conference.
###
About Women In Trucking Association, Inc.
Women In Trucking Association, Inc. is a nonprofit association established to encourage the employment of women in the trucking industry, promote their accomplishments and minimize obstacles faced by women working in the trucking industry. Membership is not limited to women, as 17 percent of its members are men who support the mission. Women In Trucking is supported by its members and the generosity of Gold Level Partners: Amazon, Arrow Truck Sales, Daimler Trucks North America, Expediter Services, FedEx Freight, Great Dane, J.B. Hunt Transport, Michelin North America, PACCAR, Penske Transportation Solutions, Ryder System, Walmart, and Waste Management. Follow WIT on Twitter, Facebook, LinkedIn, Instagram, TikTok, and YouTube. For more information, visit www.womenintrucking.org or call 888-464-9482.