Women In Trucking Association Announces Gold Level Sponsorship through FedEx Freight
by Women In Trucking Staff, on May 15, 2019 5:48:00 PM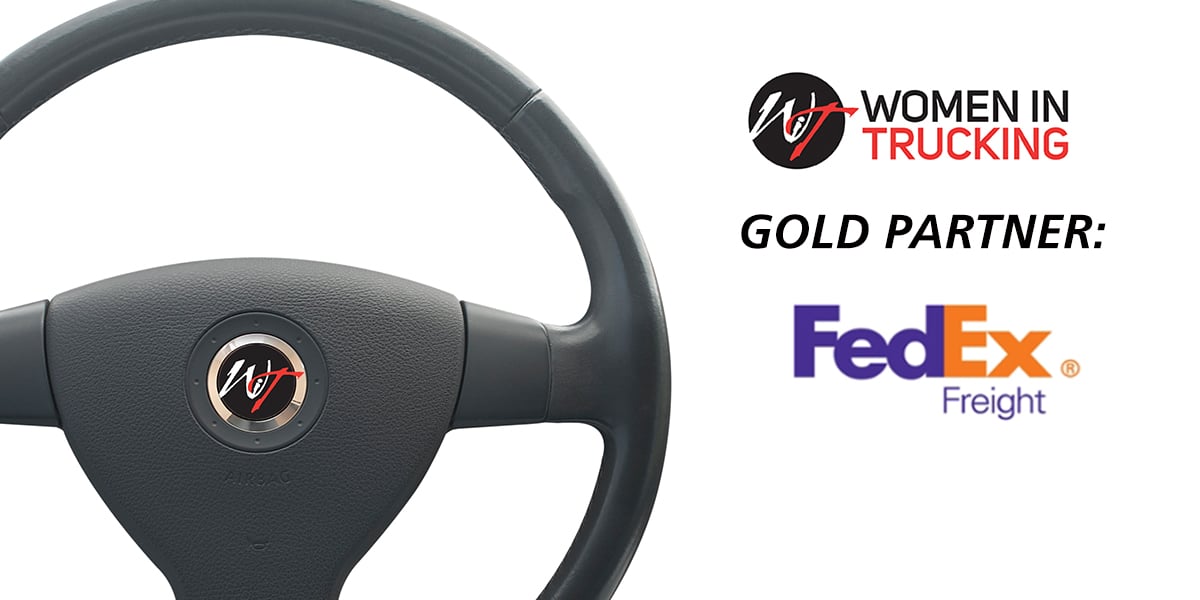 Plover, WI – May 15, 2019 – The Women In Trucking Association (WIT) welcomes FedEx Freight as its newest Gold Level Sponsor, helping the organization empower more women to develop careers in transportation. Tracci Schultz, senior vice president, Strategic Planning, Engineering, Operational Solutions at FedEx Freight, will serve on the WIT Board of Directors.
FedEx Freight has actively participated in the association as a Bronze Level Sponsor. Now supporting WIT at the Gold Level, the company is furthering its commitment to advancing gender diversity in the industry.
"FedEx Freight recognizes the value of a diverse workforce and we are grateful for their support as an influential industry leader," said Ellen Voie, president and CEO of WIT. "Relationships like these will help us to continue to encourage employment, promote accomplishments, and minimize obstacles faced by women working in the industry."
Since 2007, with the support of its members and partners, WIT has significantly impacted transportation and logistics in its efforts to advance gender diversity. A few recent accomplishments include a transportation doll, Clare, that introduces the next generation to the trucking industry, a record-breaking attendance at the 2018 Accelerate! Conference and Exhibition, and a weekly SiriusXM radio show called Women In Trucking that addresses critical industry issues and pushes for more women to consider trucking.
###
About Women In Trucking Association, Inc.
Women In Trucking Association, Inc. is a nonprofit association established to encourage the employment of women in the trucking industry, promote their accomplishments and minimize obstacles faced by women working in the trucking industry. Membership is not limited to women, as 17 percent of its members are men who support the mission. Women In Trucking is supported by its members and the generosity of Gold Level Partners: Arrow Truck Sales, Bendix Commercial Vehicle Systems, BMO Transportation Finance, Daimler Trucks North America, Expediter Services, FedEx Freight, Great Dane, J.B. Hunt Transport, Michelin North America, Peterbilt Motors Company, Ryder System, Inc., and Walmart. Follow WIT on Twitter, Facebook, or LinkedIn. For more information, visit http://www.womenintrucking.org or call 888-464-9482.
About FedEx Freight
Since 2001, connecting customers with opportunity has motivated the people of FedEx Freight, a subsidiary of FedEx Corp. and a leading provider of LTL freight services. We revolutionized the LTL industry with the priority and economy model, and we offer our customers both fast-transit delivery of time-sensitive freight (FedEx Freight Priority has the fastest published transit times of any nationwide LTL service) or cost-effective delivery when they can trade time for savings. Through more than 370 service centers and 25,000 motorized vehicles, FedEx Freight moves more than 115,000 LTL shipments each day throughout the U.S, Canada and Mexico. With a steadfast focus on Safety Above All, our 45,000 team members are driven to innovate for our customers and give back to the communities where we live and work. To learn more, please visit about.fedex.com.