Women In Trucking Association Announces its April 2022 Member of the Month
by Women In Trucking Staff, on Apr 1, 2022 5:30:00 AM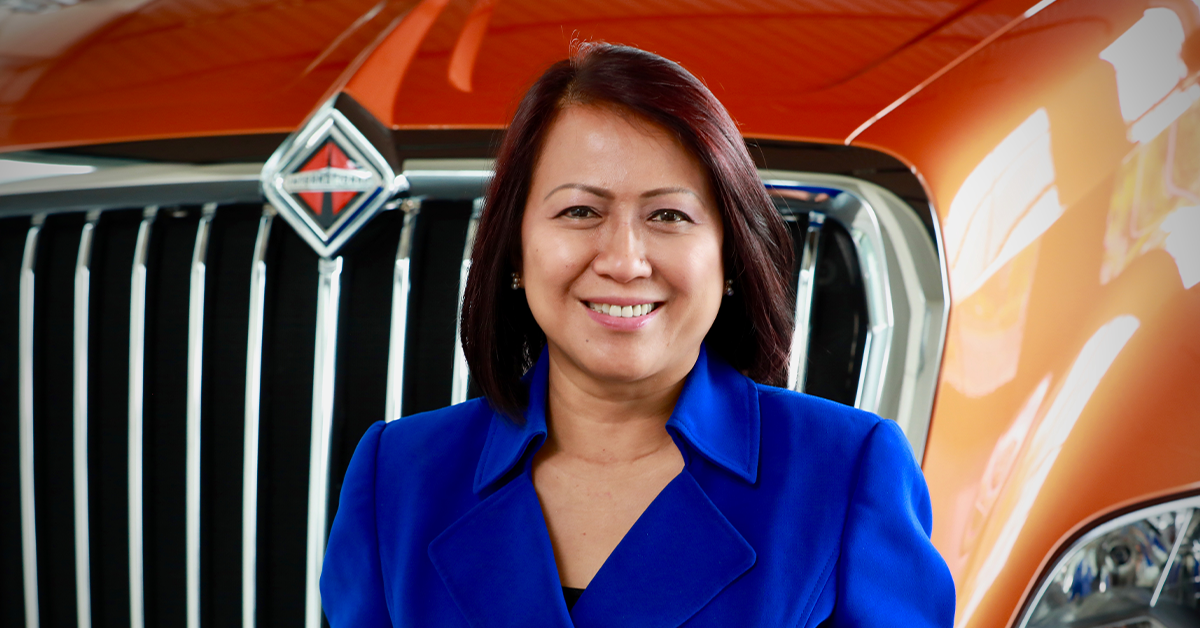 Plover, WI – Apr. 1, 2022 – The Women In Trucking Association (WIT) has announced Jennifer Macalaguin as its April 2022 Member of the Month. Jennifer is vice president of engineering at Navistar, Inc. in Lisle, Illinois.
Growing up, Jennifer loved math and science. She is a curious person who loves to design mechanical things, such as interaction of gear systems. She was raised in the Philippines and completed an engineering degree there. Then, she received a scholarship in the U.S. and completed her Master Degree in Industry Technology. Later, she also completed a Master of Business Administration (MBA) while working at Ford Motor Companies.
The commercial vehicle industry has always excited Jennifer because of the vital role it plays in our economy and the massive impact it has on every single one of our lives. "Knowing that everything I'm working on is making people's lives easier, more enjoyable, and safer is one of the biggest reasons I love working in this industry," she said.
As a female engineer at Navistar, Jennifer brings a different perspective to designing trucks. "I represent women and their unique needs and requirements that need to be considered when designing our vehicles. There are concerns and variables that I'm more acutely aware of because I am a woman. So, I make sure that my perspective and insights are expressed and heard," she said.
As the industry has evolved, so too has the equipment. With the increasing number of female drivers in the trucking industry, the designs of trucks are continuing to advance and become compatible with the specific needs of women.
Jennifer is passionate about innovation and application of Design Thinking that resulted in her being recognized with numerous awards. She continues to explore her interests, stays committed to her passions, and embraces opportunities to explore new ideas. She completed an executive program at Stanford University focused on customer innovation and INSEAD at France focused on global leadership.
Jennifer's advice for women in the industry is to seek a mentor throughout your career to gain wisdom. "By working with a mentor, you can learn from their past experiences and gain a support system as you determine your career goals. A mentor doesn't need to have the same professional background as you, but should be someone that you can speak openly with and someone who shares your same definition of success," she said.
Persistence, determination and a positive perspective on challenges is also crucial to success. "It is important not to be intimidated or discouraged by challenges. You should think of obstacles as opportunities to grow rather than roadblocks. There will always be roadblocks on the journey to success. The key to success is to have persistence in the face of challenges," said Jennifer.
###
About Women In Trucking Association, Inc.
Women In Trucking Association, Inc. is a nonprofit association established to encourage the employment of women in the trucking industry, promote their accomplishments and minimize obstacles faced by women working in the trucking industry. Membership is not limited to women, as 17 percent of its members are men who support the mission. Women In Trucking is supported by its members and the generosity of Gold Level Partners: Amazon, Arrow Truck Sales, Daimler Trucks North America, Expediter Services, FedEx Freight, Great Dane, J.B. Hunt Transport, Michelin North America, PACCAR, Penske Transportation Solutions, Ryder System, Walmart, and Waste Management. Follow WIT on Twitter, Facebook, LinkedIn, Instagram, TikTok, and YouTube. For more information, visit www.womenintrucking.org or call 888-464-9482.