Women In Trucking Association Announces its January 2023 Member of the Month
by Women In Trucking Staff, on Jan 2, 2023 5:00:00 AM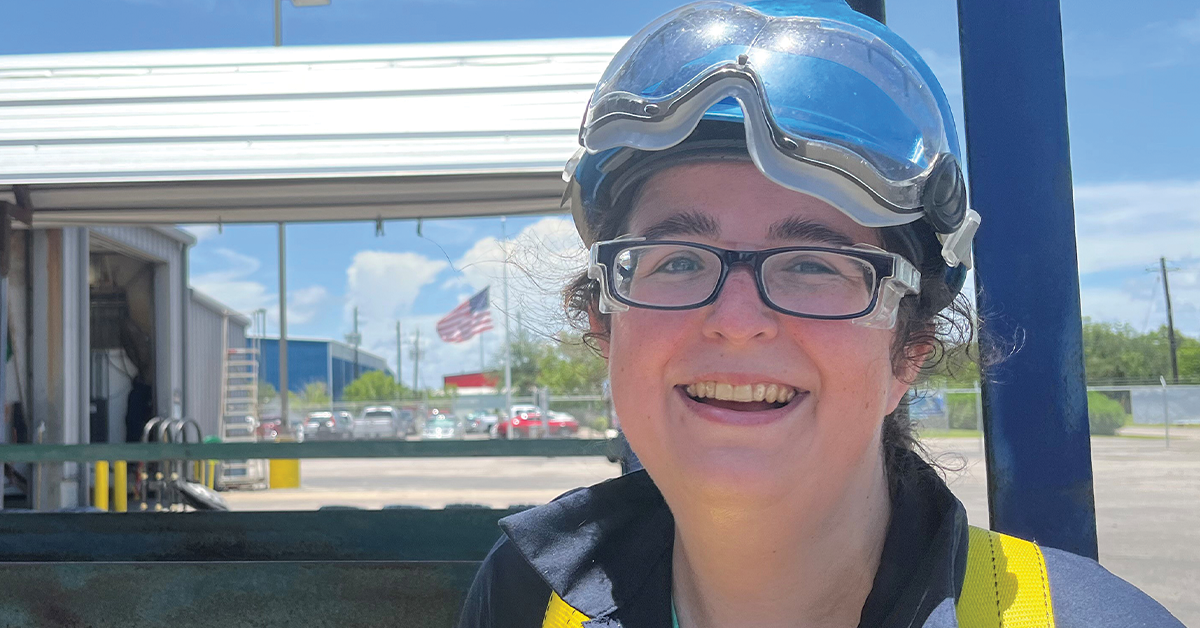 Plover, WI – Jan. 2, 2023 – The Women In Trucking Association (WIT) has announced Alicia Wilson as its January 2023 Member of the Month. Wilson is an equipment cleaning technician at Highway Transport, a Knoxville, Tennessee-based company providing bulk transportation of specialty chemicals.

Growing up, Wilson's father would take the family on long road trips, usually an 8-hour trip to the Rockies or drives from Colorado to California.

"There's nothing quite like randomly finding new mom-and-pop restaurants and watching the scenery change," Wilson said.

Wilson learned to drive on one of the California trips driving across Donner Pass. These cherished experiences served as her driving force to pursue a career in the transportation industry. In 2018, Wilson started her professional driving career in the tanker division at a large logistics company. From there, a truck breakdown in Houston, Texas, led to some unexpected friendships and a big career change.

In 2020, Wilson became a professional tanker driver at Highway Transport and in 2022, she transferred to her current role to remain closer to home. As an equipment cleaning technician, she is responsible for performing all aspects of tank trailer and International Standard Organization (ISO) cleaning, including inspecting trailers for residual product and conducting post-cleaning inspections. She is one of the few women to have held this position at Highway Transport, and the work-life balance affords her time to care for an aging parent while remaining active in the industry she loves.

Wilson is not afraid of going after any job and highly encourages other women to continue or pursue careers in the transportation industry. If there's any doubt or intimidation, she advises: "take what the guys say with a grain of salt. With the understanding of what you yourself can do, plan your day with that in mind and ignore the words of people who don't think you can do it. You do you!"

Wilson holds a bachelor's degree in accounting and finance as well as a master's in library science, and she also maintains her CDL. She enjoys the freedom of driving a tanker and hopes to return to that passion soon. In her spare time, Wilson enjoys reading and baking.
###
About Women In Trucking Association, Inc.
Women In Trucking Association, Inc. is a nonprofit association established to encourage the employment of women in the trucking industry, promote their accomplishments and minimize obstacles faced by women working in the trucking industry. Membership is not limited to women, as 17 percent of its members are men who support the mission. Women In Trucking is supported by its members and the generosity of Gold Level Partners: Amazon, Arrow Truck Sales, Daimler Truck North America, DAT Solutions, FedEx Freight, Great Dane, J.B. Hunt Transport, Michelin North America, PACCAR, Penske Transportation Solutions, Ryder System, Walmart, and WM. Follow WIT on Twitter, Facebook, LinkedIn, Instagram, TikTok, and YouTube. For more information, visit www.womenintrucking.org or call 888-464-9482.
About Highway Transport
Highway Transport is a Knoxville, Tennessee-based company providing bulk transportation of specialty chemicals. The tanker fleet operates from 20-plus service centers in major chemical manufacturing areas across the U.S. with a fleet of 500+ tanker trucks and more than 1,000 stainless steel trailers. Highway Transport has service centers in the following U.S. markets: Knoxville, Chattanooga, and Kingsport TN; Chicago and Kankakee in Illinois; Detroit; Charlotte; Atlanta and McDonough, GA; Bridgeport, NJ; Pittsburgh and Philadelphia, PA; Cincinnati and Toledo, OH; Baton Rouge and Lake Charles, LA; Houston, Dallas, Freeport and Garland, TX.

Highway Transport received the Responsible Care® Partner of the Year Award in 2019, 2021 and 2022. The Responsible Care® organization recognizes partners with companies that have superb performance and safety records involved in the transportation of chemicals. Discover more in-depth information about Highway Transport by visiting HighwayTransport.com.