Women In Trucking Association Announces its May 2022 Member of the Month
by Women In Trucking Staff, on May 2, 2022 11:57:26 AM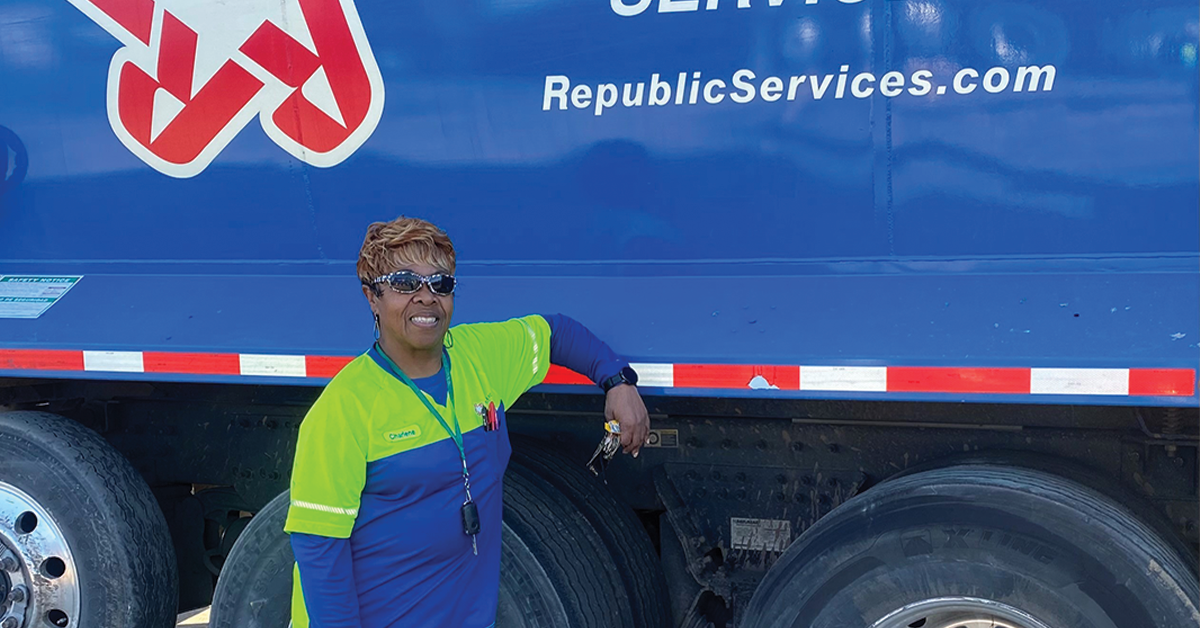 Plover, WI – May 2, 2022 – The Women In Trucking Association (WIT) has announced Charlene Frelix Johnson as its May 2022 Member of the Month. Charlene is a professional driver for Republic Services and has been with the company for more than four years.

Charlene is one of the few women in her division at Republic Services, the East Mesa yard. She hauls loads of trash and hazardous materials across her service area five days a week, provides exceptional service and stops at nothing to succeed within her role. She is a shining star on the team, highly respected and serves as the go-to for many operational challenges on within the field.

Growing up in Mesa, Arizona, Charlene is a family-oriented woman and very grounded within her faith. She is the mother of two children and takes every opportunity to show them the value of hard work and dedication. She decided to enter a male-populated industry and take on all challenges that are associated with her role. Her wittiness, strategic mindset and personable attitude brings her success within the workplace.

Charlene is well known by the customers within her service areas and does an outstanding job of building positive rapport and relationships with the customers on route. Her customers look forward to her service on a weekly basis. For example, one day a young child was admiring her truck as she drove down the street collecting the containers for service. After completing the street, Charlene circled back to the location of the child, stopped, and allowed him to look at the inside of the "big blue truck." He was amazed and thoroughly enjoyed his time looking at all the controls and buttons in the truck.

Within her leadership, Charlene is a great teacher. She jumps at the opportunity to lead and teach her fellow drivers. Her positive energy is contagious, and she has a soft touch in communicating with her colleagues. When she's not at work, Charlene is enjoys spending quality family time with her five beautiful grandchildren.
###

About Women In Trucking Association, Inc.



Women In Trucking Association, Inc. is a nonprofit association established to encourage the employment of women in the trucking industry, promote their accomplishments and minimize obstacles faced by women working in the trucking industry. Membership is not limited to women, as 17 percent of its members are men who support the mission. Women In Trucking is supported by its members and the generosity of Gold Level Partners: Amazon, Arrow Truck Sales, Daimler Trucks North America, Expediter Services, FedEx Freight, Great Dane, J.B. Hunt Transport, Michelin North America, PACCAR, Penske Transportation Solutions, Ryder System, Walmart, and Waste Management. Follow WIT on Twitter, Facebook, LinkedIn, Instagram, TikTok, and YouTube. For more information, visit www.womenintrucking.org or call 888-464-9482.