Women In Trucking Association Announces Winner of 2023 Distinguished Woman in Logistics Award
by Women In Trucking Staff, on Apr 20, 2023 11:00:00 AM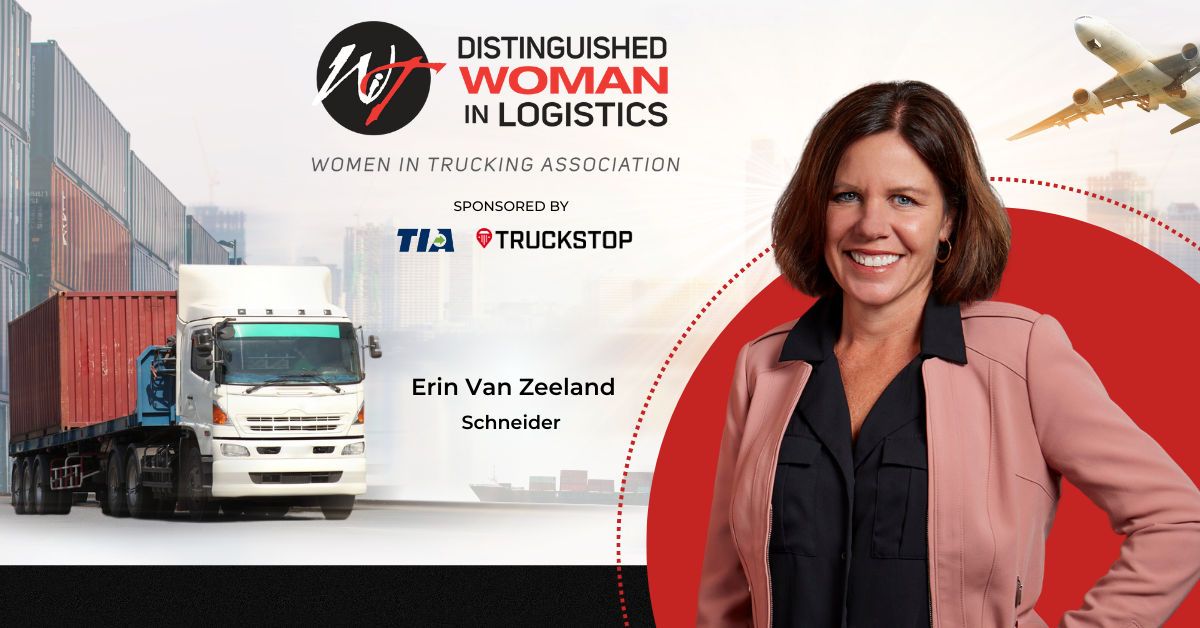 Orlando, FL – Apr. 20, 2023 – The Women In Trucking Association (WIT), Truckstop, and Transportation Intermediaries Association (TIA) announced today Erin Van Zeeland, senior vice president and general manager of logistics and serves as the chief commercial officer for Schneider, as the winner of the ninth annual Distinguished Woman in Logistics Award (DWLA).

Van Zeeland was chosen among three finalists for the award. The other finalists include Katerina Jones, chief marketing officer for Fleet Advantage, and Nanette Malebranche, managing director of the Tri-State District for FedEx Express. The finalists and winner were recognized today during the TIA 2023 Capital Ideas Conference & Exhibition.

"We're pleased to recognize Erin with the honor of Distinguished Woman in Logistics," said Jennifer Hedrick, president and CEO of WIT. "Throughout her career at Schneider, as well as in her volunteer work, she has shown exceptional talent, leadership, and mentorship of others – three of the key characteristics of this award."

Van Zeeland is accountable for the strategy, execution, and growth/profitability of Schneider's fastest growing division, which includes brokerage, supply chain, and distribution management, as well as the power-only service offerings. Additionally, Van Zeeland is the company's chief commercial officer. In this capacity, she is responsible for overall organizational strategy including activities relating to marketing, sales, sales force effectiveness, product development, and services that drives business growth and expanded market share.

"All three finalists are incredible leaders in the transportation community," says Anne Reinke, president and CEO of TIA. "Van Zeeland's dedication to bettering the industry is a true inspiration. She and the other finalists are outstanding role models for other women interested in the trucking sector."

Van Zeeland started her career at Schneider in 1993 and has subsequently held several leadership roles in a variety of positions with increasing responsibility for customer growth and business expansion throughout operations, tech, business transformation, human resources, enterprise/global customer engagement, and logistics.

"Erin, Katerina, and Nanette truly embody the leadership qualities that the Distinguished Woman in Logistics recognition celebrates," said Kendra Tucker, chief executive officer, Truckstop. "We congratulate Erin on this prestigious honor as she continues her commitment to bettering the freight transportation industry and her community."

Van Zeeland holds a bachelor's degree from Pennsylvania State University and an MBA from Silver Lake College in Manitowoc, Wis. She also received a Corporate Governance certificate from the Harvard Business School and was the recipient of Supply & Demand Chain Executive's first-ever Women in Supply Chain Award. Van Zeeland currently serves on the board of directors for the United Way – Green Bay and the Transportation Intermediaries Association (TIA). She also co-leads the Schneider Women's Network and various other women in leadership and business programs.

Members of the judging panel include Brent Hutto, chief relationship officer for Truckstop, Anne Reinke, president and CEO of TIA, Dr. Stephanie S. Ivey, associate dean for research and professor at Herff College of Engineering, Ellen Voie, founder of WIT, and Jennifer Hedrick, president and CEO of WIT.
###
About Women In Trucking Association, Inc.
Women In Trucking Association, Inc. is a nonprofit association established to encourage the employment of women in the trucking industry, promote their accomplishments and minimize obstacles faced by women working in the trucking industry. Membership is not limited to women, as 17 percent of its members are men who support the mission. Women In Trucking is supported by its members and the generosity of Gold Level Partners: Amazon, Arrow Truck Sales, Bridgestone Americas, Daimler Truck North America, DAT Solutions, FedEx Freight, Great Dane, J.B. Hunt Transport, Michelin North America, Navistar International, Inc., PACCAR, Penske Transportation Solutions, Ryder System, UPS, Walmart, and WM. Follow WIT on Twitter, Facebook, LinkedIn, Instagram, TikTok, and YouTube. For more information, visit www.womenintrucking.org or call 888-464-9482.
About Truckstop
Truckstop is a trusted partner for carriers, brokers, and shippers, empowering the freight community through a platform of innovative solutions for the entire freight lifecycle to increase efficiency, automate processes, and accelerate growth. As one of the industry's largest neutral freight marketplaces, Truckstop provides the customer service as well as scale of quality loads and trucks to give customers of all sizes, whether on the road or in the office, the transparency and freedom to build lasting relationships and grow their businesses. To learn how Truckstop is helping move the freight community forward, visit https://truckstop.com.


About Transportation Intermediaries Association (TIA)

Transportation Intermediaries Association (TIA) is the professional organization of the $214 billion third-party logistics industry. TIA is the only organization exclusively representing transportation intermediaries of all disciplines, doing business in domestic and international commerce. TIA is the voice of the 3PL industry to shippers, carriers, government officials and international organizations. TIA is the United States member of the International Federation of Freight Forwarder Associations (FIATA). To learn more, visit tianet.org.