Women In Trucking Association Hails Inclusion of Gender Diversity Measures in Infrastructure Package
by Women In Trucking Staff, on Aug 5, 2021 9:23:53 AM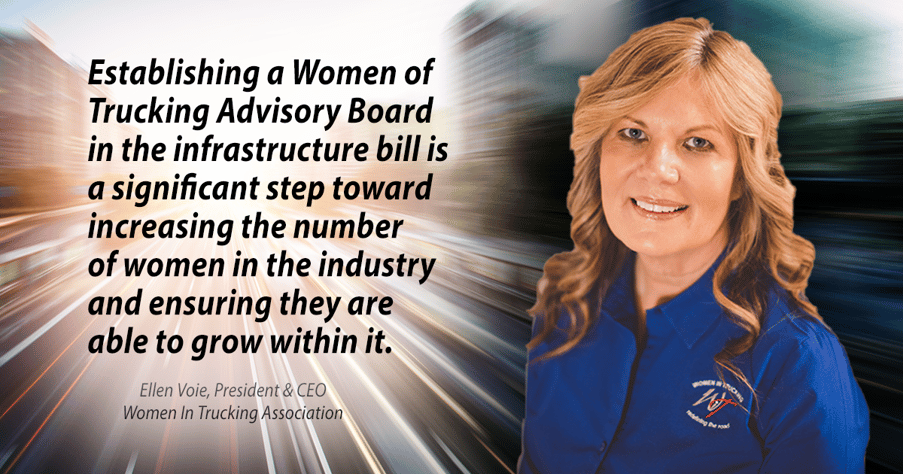 Plover, WI – Aug. 5, 2021 – Ellen Voie, president and CEO of the Women In Trucking Association (WIT), an organization dedicated to promoting and protecting women in the transportation and logistics industry, released the following statement thanking senators for including gender diversity measures in the bipartisan infrastructure legislation:
"We believe that women can contribute much more to the trucking world and have worked tirelessly to increase gender diversity in the industry. We are excited that language in the bill will establish a transportation workforce outreach program that will help realize this vision by investing in a broad campaign to encourage more women to consider careers in trucking, aviation, rail and maritime.
WIT has also strongly advocated for legislation that directs the Federal Motor Carrier Safety Administration to establish and facilitate a Women of Trucking Advisory Board promoting organizations and programs that provide education, training, mentorship, or outreach to women in the trucking industry. The inclusion of this legislation in the larger infrastructure bill is a significant step toward not only growing the number of women in the industry, but also helping ensure they are able to grow within it.
We have long worked with leaders on both sides of the aisle to promote gender diversity in the trucking industry and are thankful to the members of Congress and their staffs who have listened to the needs of women in the industry. While the road is long yet, we view the inclusion of these measures as a major accomplishment and are optimistic about the chances for their passage."
###
About Ellen Voie
Ellen Voie is an internationally recognized speaker and authority on gender diversity and inclusion for women working in non-traditional careers in transportation. She has been invited to speak to audiences in Sweden, Australia, New Zealand, Viet Nam, France, Mexico, and Canada in addition to being a popular speaker at conferences throughout the United States. As founder of WIT in March of 2007, Voie currently serves as the nonprofit organization's president and CEO. WIT was formed to promote the employment of women in the trucking industry, to remove obstacles that might keep them from succeeding, and to celebrate the successes of its members. Ellen Voie is available for comment on a wide array of issues related to diversity in the transportation industry.
For comment or to schedule an interview, email ellen@womenintrucking.org or 920-312-1350.
About Women In Trucking Association, Inc.
Women In Trucking, Inc. is a nonprofit association established to encourage the employment of women in the trucking industry, promote their accomplishments and minimize obstacles faced by women working in the trucking industry. Membership is not limited to women, as 17 percent of its members are men who support the mission. Women In Trucking is supported by its members and the generosity of Gold Level Partners: Amazon, Arrow Truck Sales, Daimler Trucks North America, Expediter Services, FedEx Freight, Great Dane, J.B. Hunt Transport, Michelin North America, PACCAR, Penske Transportation Solutions, Ryder System, Walmart, and Waste Management. Follow WIT on Twitter, Facebook, LinkedIn, Instagram, TikTok, and YouTube. For more information, visit www.womenintrucking.org or call 888-464-9482.