Women In Trucking Association Names Arnold as 2022 Driver of the Year
by Women In Trucking Staff, on Mar 25, 2022 5:04:24 PM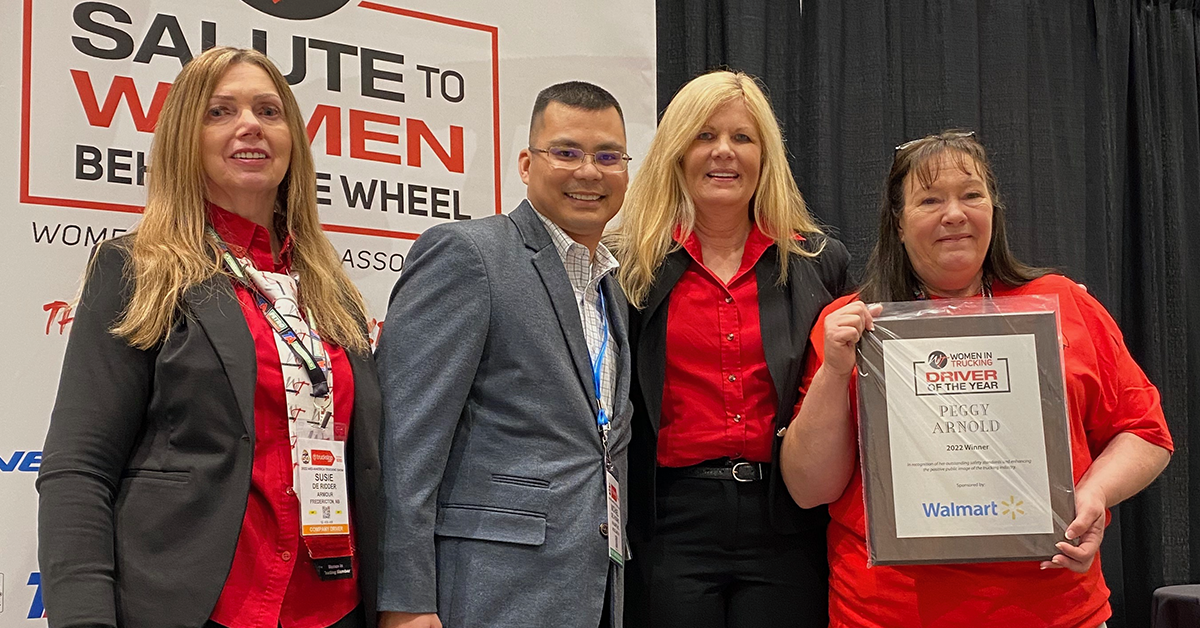 L to R: Susie DeRidder, 2020 Driver of the Year, Michael Del Rosario, Walmart, Ellen Voie, Women In Trucking Association, Peggy Arnold, Yellow Corporation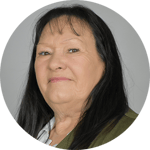 Louisville, KY – March 25, 2022 – The Women In Trucking Association (WIT) announced today Peggy Arnold, company driver at Yellow Corporation, as the winner of the third annual Driver of the Year award sponsored by Walmart.

Arnold was among three finalists for the award. The other finalists include Francis Hernandez, a professional driver with Waste Management, Inc. and Courtney Ohlandt, company driver for FedEx Freight.

Arnold has been a company driver at Yellow Corporation for nearly 30 years. She received Yellow's Million Mile Safe Driving Award with nearly 1.9 million accident-free miles. Arnold is proud to serve on Yellow's leadership team, the Women's Inclusion Network Employee Resource Group and is also part of the safety team.
"Our safety team spends countless hours helping our fellow drivers prevent on the job injuries and with a goal to be accident free. I am a part of our new drivers training program and take my job straight to the heart. Every day I do my best to train and teach to the best of my ability," she said.
Arnold was named as a 2022 Top Women to Watch in Transportation by WIT, American Trucking Associations America's Road Team Captains Finalist 2022, Yellow's Road to Excellence Award 2021, and Certified Safety Trainer 2021.
The announcement was made during the Salute to Women Behind the Wheel event, hosted by WIT at the Mid America Trucking Show (MATS) in Louisville, KY. The event honors female commercial drivers for their efforts and successes in the trucking industry.
"Peggy is the first driver of the year we've been able to honor in-person and we are truly thrilled to meet her and celebrate this accomplishment with her," said Ellen Voie, president and CEO of WIT.
Sponsored by Walmart, the annual award was established to promote the achievements of female professional drivers who lead the industry in safety standards while actively enhancing the public image of the trucking industry.
"At Walmart we believe we can best help our associates, customers and the communities we serve live better when we really know them. That means understanding, respecting and valuing diversity - our unique experiences, identities, ideas and opinions, while being inclusive of all people," said Michael Del Rosario, general transportation manager, Walmart. "It is in this same spirit that we are honored to sponsor WIT's Driver of the year award, recognizing an outstanding driver who is making a positive impact in the Transportation industry. We congratulate Peggy and each of the finalists for their examples of safety and service."
Members of the judging panel were: Tricia Tullis, general transportation manager, Walmart Transportation; Jeana Hysell, senior safety consultant, J. J. Keller & Associates, Inc.; Ellen Voie, WIT president and CEO.
###
About Women In Trucking Association, Inc.
Women In Trucking Association, Inc. is a nonprofit association established to encourage the employment of women in the trucking industry, promote their accomplishments and minimize obstacles faced by women working in the trucking industry. Membership is not limited to women, as 17 percent of its members are men who support the mission. Women In Trucking is supported by its members and the generosity of Gold Level Partners: Amazon, Arrow Truck Sales, Daimler Trucks North America, Expediter Services, FedEx Freight, Great Dane, J.B. Hunt Transport, Michelin North America, PACCAR, Penske Transportation Solutions, Ryder System, Walmart, and Waste Management. Follow WIT on Twitter, Facebook, LinkedIn, Instagram, TikTok, and YouTube. For more information, visit www.womenintrucking.org or call 888-464-9482.