Women In Trucking Association Names Eliacostas the 2021 Distinguished Woman in Logistics
by Women In Trucking Staff, on May 12, 2021 10:45:00 AM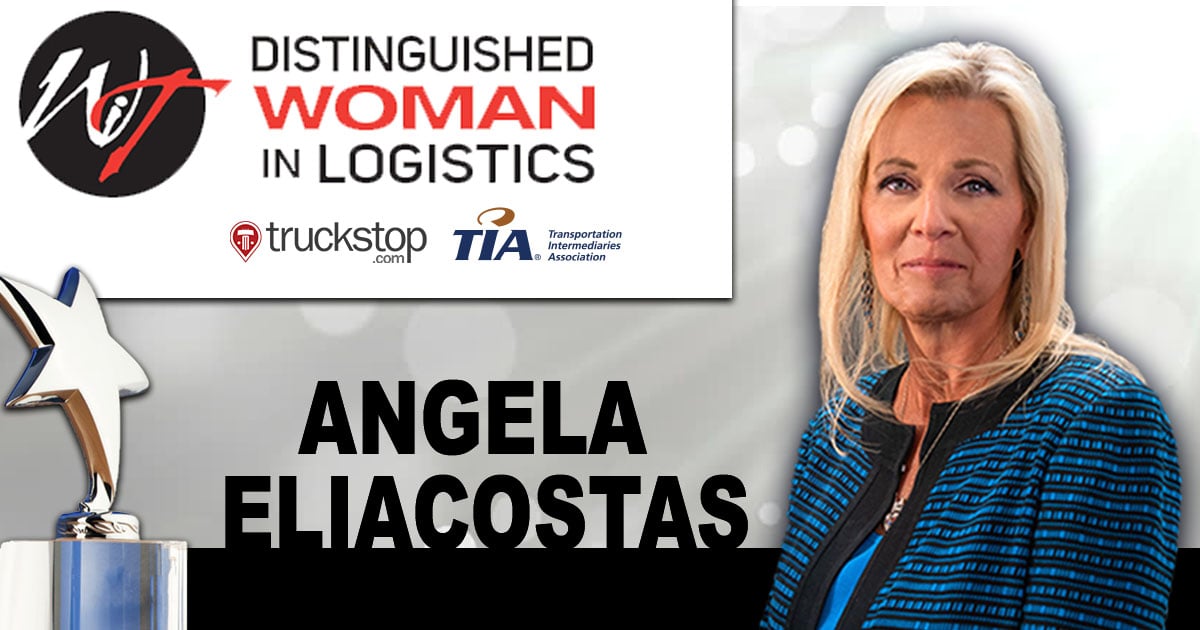 Plover, WI – May 12, 2021 – The Women In Trucking Association (WIT), Truckstop.com and Transportation Intermediaries Association (TIA) announced today Angela Eliacostas, president and founder of AGT Global Logistics, as the winner of the seventh annual Distinguished Woman in Logistics Award (DWLA).
Eliacostas was chosen among three finalists for the award. The other finalists include Nicole Glenn, president and CEO, Candor Expedite and Jeana Hysell, senior safety consultant, J. J. Keller & Associates, Inc. The finalists and winner were recognized today during the 2021 TIA "Capital Ideas" Virtual Conference.
"Angela Eliacostas has become more than just a member of Women In Trucking Association, she has become a mentor, a speaker and a writer who shares her passion for our mission every chance she gets," said Ellen Voie, president and CEO of WIT. "We love to honor those who help support and encourage women in the industry."
Eliacostas has more than thirty years of transportation management experience. In this time, she has built a business based on honesty, integrity, and diligence. She has developed a proprietary three-tier carrier-rating system designed to reward drivers and companies who perform at the highest standards. She has also carved out a niche for herself in the energy and utilities sector as a 3PL with 24/7/365 access and service. Her employees are not only experienced with trucking – several holding commercial driver's licenses, many also are HazMat certified.
"Winning this award is such an honor. I hope to represent Women In Trucking and this award by sharing encouragement and advice. To all of the women steering their ways in the world of transportation and logistics - remember, achievement isn't reaching a final destination. Achievement doesn't stop, it means realizing your dreams and then striving to do more. There will be frustrating times. Always keep pushing. Believe in what you're doing, whether in a male-dominated industry or otherwise. Have faith in yourself and your abilities. Be confident. Then, you will succeed," said Eliacostas.
The personalized, small-business care, coupled with advanced technology, sets her company apart from not only other tier-II 3PLs but also from the "big guys." Angela notes that sometimes her Minority and Women-owned Business Enterprises (MWBE) status is why AGT received an RFP, but getting the job often takes more than non-MWBE companies offer. Keeping the account requires that her company perform better in all aspects. Fortunately, once these accounts are won – they stay.
In-house, Eliacostas has established a committed team of team members. Sixty percent of her employees are women, and many have been with her since before she started AGT in 2005. In 2019, she brought to life a new internship program that trains people who show promise, determination, and the ability to learn even if they do not have experience in third-party logistics. This has provided an opportunity for people who have driven in the past, and it also brings new people into the transportation world from other backgrounds.
As a certified MWBE, Angela promotes first and second-tier spends by using as many MWBEs as she can in her own vendors and contracts.
"Angela, Nicole and Jeana exemplify all the leadership qualities that our industry and their companies need to help America lead the world in freight transportation," said Brent Hutto, chief relationship officer at Truckstop.com. "We admire their dedication to providing example and opportunity for women in the freight industry to continue to succeed in all that they pursue. Congratulations to Angela as she continues the long line of excellence as the winner of this year's award."
Sponsored by Truckstop.com and TIA, the DWLA was established to promote the achievements of women employed in the North American transportation industry. It highlights the vital roles of women in the dynamic and influential field of commercial transportation and logistics.
"Angela, Jeanna, and Nicole exemplify leadership, passion, and civic values. All three are deserving of the Distinguished Woman in Logistics Award," said Anne Reinke, president and CEO, TIA. "Angela has spent 30 years promoting women in transportation and has committed to serving her customers ethically, efficiently, and with unmatched determination. We congratulate her for this prestigious honor."
Members of the judging panel include: Brent Hutto, chief relationship officer, Truckstop.com; Anne Reinke, president and CEO, TIA; Dr. Stephanie S. Ivey, associate dean for research and professor, Herff College of Engineering; and Ellen Voie, president and CEO, WIT.
###
About Women In Trucking Association
Women In Trucking, Inc. is a nonprofit association established to encourage the employment of women in the trucking industry, promote their accomplishments and minimize obstacles faced by women working in the trucking industry. Membership is not limited to women, as 17 percent of its members are men who support the mission. Women In Trucking is supported by its members and the generosity of Gold Level Partners: Amazon, Arrow Truck Sales, Daimler Trucks North America, Expediter Services, FedEx Freight, Great Dane, J.B. Hunt Transport, Michelin North America, PACCAR, Penske Transportation Solutions, Ryder System, Walmart Transportation, and Waste Management. Follow WIT on Twitter, Facebook, LinkedIn, Instagram, and YouTube. For more information, visit www.womenintrucking.org or call 888-464-9482.
About Truckstop.com
For 25 years, Truckstop.com has been a trusted partner for carriers and brokers in the spot market, giving them tools to be successful and efficient through the entire freight lifecycle. As the internet's largest neutral freight marketplace, Truckstop.com provides the scale of quality loads and trucks to give customers the freedom to build lasting relationships and grow their business. Whether on the road or in the office, Truckstop.com is the single source for products and solutions for the entire freight lifecycle. To learn how Truckstop.com is helping move our industry forward, visit: www.truckstop.com.
About Transportation Intermediaries Association (TIA)
Transportation Intermediaries Association (TIA) is the professional organization of the $214 billion third-party logistics industry. TIA is the only organization exclusively representing transportation intermediaries of all disciplines, doing business in domestic and international commerce. TIA is the voice of the 3PL industry to shippers, carriers, government officials and international organizations. TIA is the United States member of the International Federation of Freight Forwarder Associations (FIATA). To learn more, visit tianet.org.