Women In Trucking Association Names New Director of Driver Engagement
by Women In Trucking Staff, on Apr 13, 2022 5:30:00 AM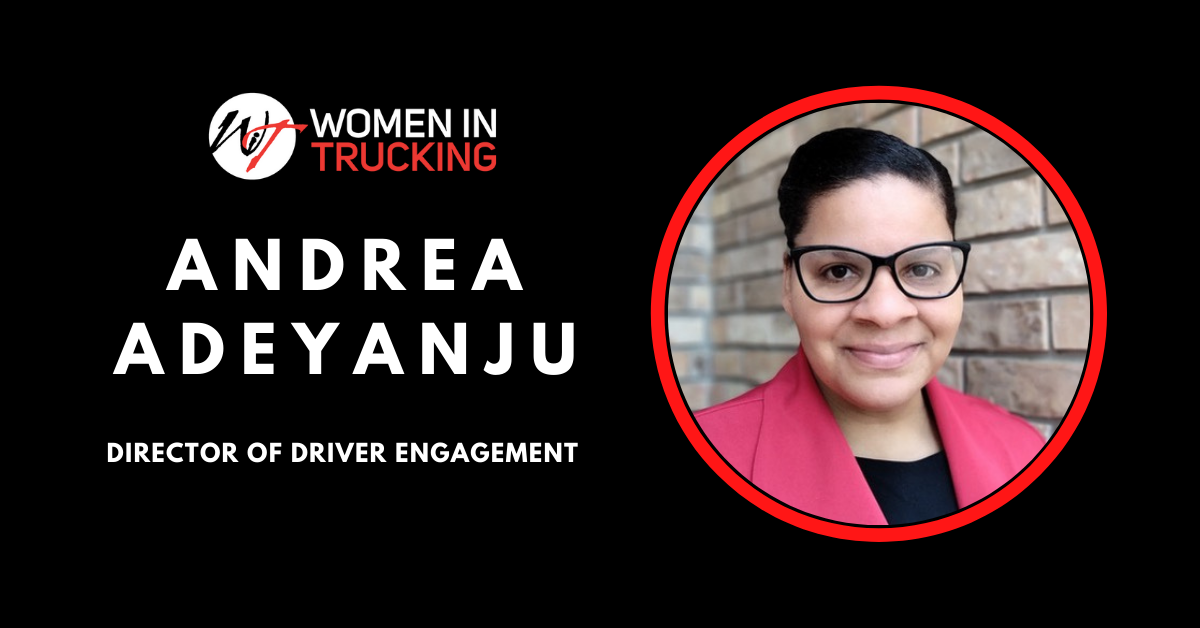 Plover, WI – April 13, 2022 – The Women In Trucking Association (WIT) has named Andrea Adeyanju as its new director of driver engagement. Adeyanju will be responsible for deploying and managing programs and services that enable WIT to encourage more women as professional drivers, promote their accomplishments, and minimize obstacles they face in the trucking industry.
Adeyanju will be responsible for managing existing programs that engage new and existing driver members of WIT. She also will oversee the association's LeadHERtrucking driver mentoring program, the Girl Scout Patch Program, the Driver Ambassador Program, WITney (the educational trailer that encourages career awareness of professional female drivers), the WIT Image Team, and orchestrating ride-alongs of key stakeholders in government policymaking and the overall industry.
Adeyanju has more than 10 years' experience in the commercial freight transportation industry. Most recently, Adeyanju was safety director for FMCSA compliance and human resources manager for Bulkley Trucking; vice president of administration for Sudbury Transportation; and safety administrator for ACI Motor Freight. Adeyanju holds a Bachelor of Science degree in occupational safety and health from Columbia Southern University and holds safety certifications from the North American Transportation Management Institute (NATMI) and OSHA's Safety Training Institute.
"WIT has created this new director of driver engagement position to support our goal to effectively serve our professional drivers," said Ellen Voie, president and chief executive officer for WIT. "Andrea's comprehensive background in the trucking industry and her passion for creating a better, safer work environment for female drivers aligns with WIT's goal to support this segment of our membership. We are excited for Andrea in the coming months to apply her expertise that will enable WIT to create a more driver-inclusive association that brings value to this critical segment of our industry."
###
About Women In Trucking Association, Inc.
Women In Trucking Association, Inc. is a nonprofit association established to encourage the employment of women in the trucking industry, promote their accomplishments and minimize obstacles faced by women working in the trucking industry. Membership is not limited to women, as 17 percent of its members are men who support the mission. Women In Trucking is supported by its members and the generosity of Gold Level Partners: Amazon, Arrow Truck Sales, Daimler Trucks North America, Expediter Services, FedEx Freight, Great Dane, J.B. Hunt Transport, Michelin North America, PACCAR, Penske Transportation Solutions, Ryder System, Walmart, and Waste Management. Follow WIT on Twitter, Facebook, LinkedIn, Instagram, TikTok, and YouTube. For more information, visit womenintrucking.org or call 888-464-9482.