Women In Trucking Association Names Trina Norman of UPS as 2022 Influential Woman in Trucking
by Women In Trucking Staff, on Nov 15, 2022 11:28:46 AM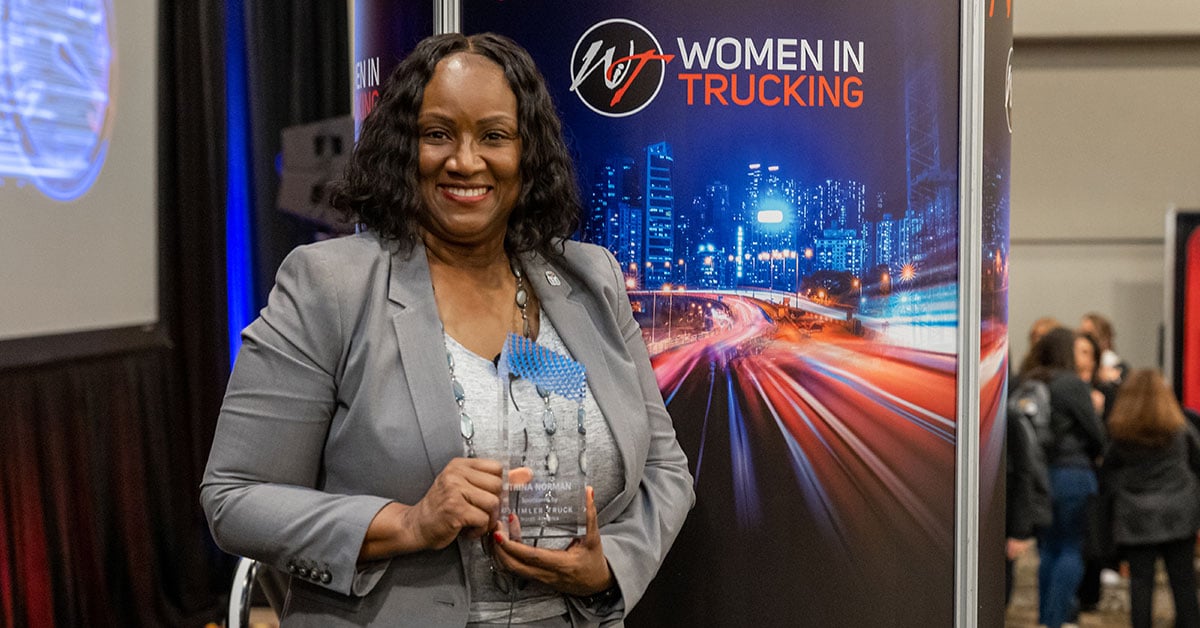 Dallas, TX – Nov. 15, 2022 – The Women In Trucking Association (WIT) presented Trina Norman, Southern California Feeder Operations Manager, UPS, with the 2022 Influential Woman in Trucking award. The award is sponsored by Daimler Truck North America (DTNA) and recognizes the achievements of female role models and trailblazers in the trucking industry.
The winner was announced during the WIT Accelerate! Conference & Expo in Dallas, Texas. The announcement came after the panel discussion, "When Remarkable Women Do Remarkable Things." Panelists consisted of the finalists for the 2022 award: Jill Quinn, President, Centerline Drivers, Mari Roberts, Vice President of Transportation, Frito-Lay, and Lindsey Trent, President & Co-Founder, Next Generation in Trucking Association. The panel discussion was facilitated by Kelley Martin, Director of Strategic Pricing, Daimler Truck North America.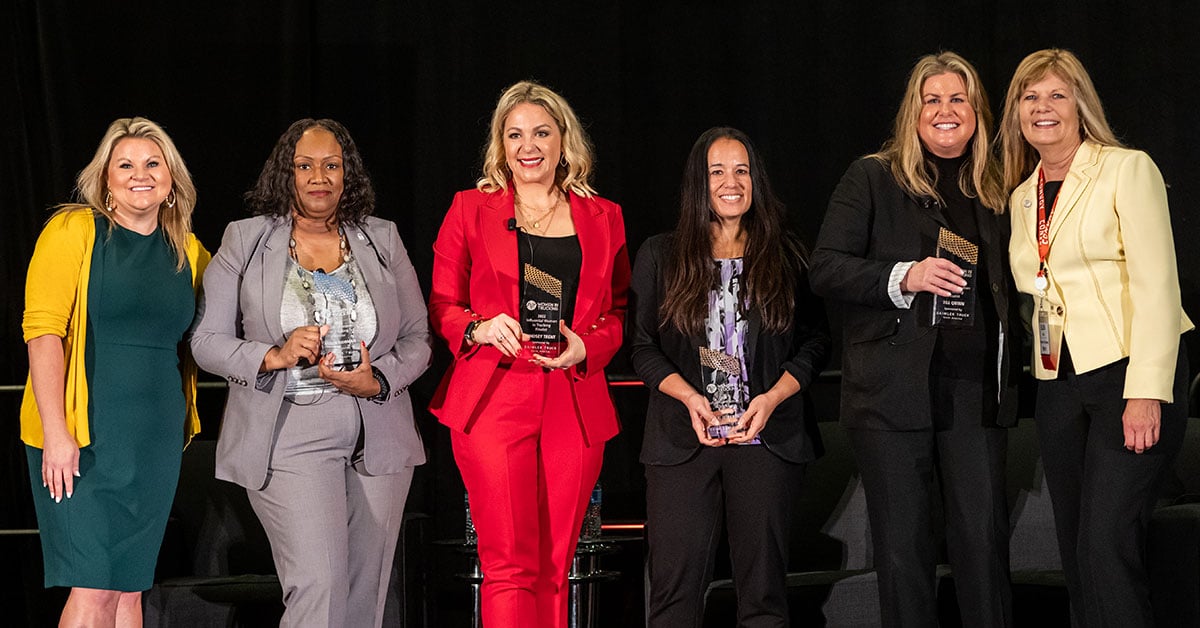 "While all four finalists were exceptional, Trina Norman stood out due to her passion in giving back to her community while supporting her team and her company as she leads them toward success," said Ellen Voie, WIT president and CEO.
Norman's employment with UPS spans three decades where she has proven to be a well-rounded leader and a global citizen. She is a member of Delta Sigma Theta Sorority, Incorporated, where she has served as an activity member for 24 years. She also mentors and sponsors young college students to achieve their academic goals while attending college.
Her mission is to recruit, empower, mentor, and encourage women to join the elite women behind the wheels at UPS. In 2019, Norman helped to lead the charge and was instrumental in charting the first Women in Operations business resource group in South Cal. In honor of her leadership and game-changing methodology, she was granted the game-changer award in March of 2022. In April of 2022, she was the recipient of the corporate trailblazer award for both Diversity, Equity and Inclusion, and Women In Operations. In July of 2022, she was the recipient of the Visionary Leader Award for excellence in undertaking extraordinary efforts to enhance the operational experience.
"On behalf of Daimler Truck North America, a hearty 'congratulations' to Trina Norman for earning the recognition as the 2022 Influential Woman in Trucking," said Kary Schaefer, chief engineer, cab systems and entire vehicle engineering at DTNA and WIT board member. "It was a remarkable field of nominees for this year's award and all share the distinction of driving the trucking industry forward for all women."
###
About Women In Trucking Association, Inc.



Women In Trucking Association, Inc. is a nonprofit association established to encourage the employment of women in the trucking industry, promote their accomplishments and minimize obstacles faced by women working in the trucking industry. Membership is not limited to women, as 17 percent of its members are men who support the mission. Women In Trucking is supported by its members and the generosity of Gold Level Partners: Amazon, Arrow Truck Sales, Daimler Trucks North America, DAT Solutions, FedEx Freight, Great Dane, J.B. Hunt Transport, Michelin North America, PACCAR, Penske Transportation Solutions, Ryder System, Walmart, and Waste Management. Follow WIT on Twitter, Facebook, LinkedIn, Instagram, TikTok, and YouTube. For more information, visit www.womenintrucking.org or call 888-464-9482.
About Daimler Truck North America
Daimler Truck North America LLC, headquartered in Portland, Oregon, is a leading provider of comprehensive products and technologies for the commercial transportation industry. Daimler Truck North America designs, engineers, manufactures and markets medium- and heavy-duty trucks, school buses, vehicle chassis and their associated technologies and components under the Freightliner, Western Star, Thomas Built Buses, Freightliner Custom Chassis Corp and Detroit brands. Daimler Truck North America is a subsidiary of Daimler Truck Holding AG (DTG), one of the world's leading commercial vehicle manufacturers.