Women In Trucking Association Partners With OneDigital Health and Benefits
by Women In Trucking Staff, on Aug 21, 2019 2:57:00 PM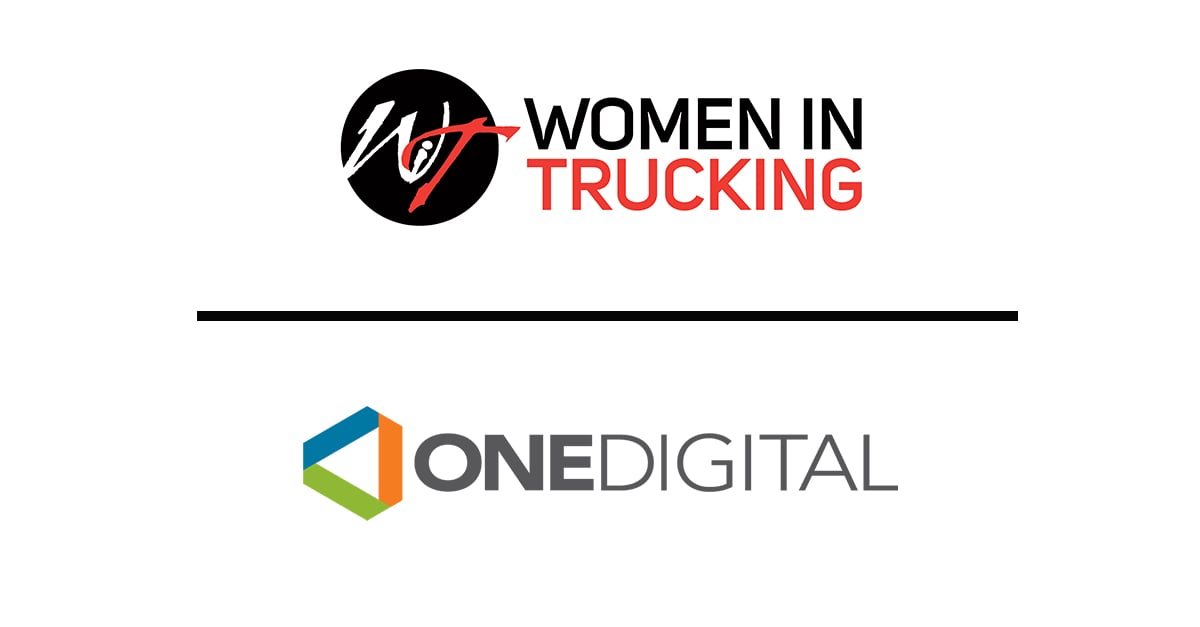 Plover, WI – August 21, 2019 – The Women In Trucking (WIT) Association recently endorsed a health insurance and employee benefits portfolio of options now available to members with two or more employees.

The organization is working with insurance broker, OneDigital Health and Benefits, an industry-leading provider of employee benefits and human resource solutions to provide sales and service for its members. Services include highly rated, well-recognized insurance carriers, to include; Group life, dental, vision, local doctors and hospitals, as well as additional options for voluntary benefits.
Payroll administration options through Zenefits are now available as well to all interested WIT member companies though this relationship.
"We know that many of our members do not have access to affordable insurance providers and others are looking for a resource that offers many options in one place. We've spent three years looking for ways to offer these benefits working with our insurance broker-consultants Aon, who led us to a nationally recognized insurance platform and industry leader, OneDigital," said WIT President/CEO Ellen Voie.
The Women In Trucking Association will now offer its members a resource to provide viable employee benefits and related administrative options at a high-quality level. "Women In Trucking Association is not in the insurance business, we are in the member representation business. We see employee insurance benefits solutions like this as a direct way to help our members succeed." Voie added.
Member companies have the option at any point in the year to learn more about these new benefits by requesting a quote from One Digital.
WIT will also be hosting a free webinar on the topic on September 19 at 11:00am Central. Register at https://www.womenintrucking.org/wit-webinar-series.
For more information about the Women In Trucking insurance benefits options contact Cheryl Blake at cblake@onedigital.com or, Joe Simon at joe.simon@aon.com.
###
About Women In Trucking Association, Inc.
Women In Trucking Association, Inc. is a nonprofit association established to encourage the employment of women in the trucking industry, promote their accomplishments and minimize obstacles faced by women working in the trucking industry. Membership is not limited to women, as 17 percent of its members are men who support the mission. Women In Trucking is supported by its members and the generosity of Gold Level Partners: Arrow Truck Sales, Bendix Commercial Vehicle Systems, BMO Transportation Finance, Daimler Trucks North America, Expediter Services, FedEx Freight, Great Dane, J.B. Hunt Transport, Michelin North America, Peterbilt Motors Company, Ryder System, Inc., and Walmart. Follow WIT on Twitter, Facebook, or LinkedIn. For more information, visit http://www.womenintrucking.org or call 888-464-9482.
About OneDigital Health and Benefits
OneDigital Health and Benefits, the nation's largest company focused exclusively on employee benefits, combines people and technology to power your people with exceptional benefits and HR. Serving companies of all sizes, OneDigital offers employers a sophisticated combination of strategic benefit advisory services, analytics, compliance support, human resources management tools and comprehensive insurance offerings. Headquartered in Atlanta, OneDigital has over 2,000 employees throughout the country, serves 50,000 clients and manages nearly $4.5 billion in premiums. OneDigital has been named to the Inc. 5000 List of America's fastest-growing companies every year since 2007. Currently listed as 13th in EBA's Top 50 Brokers in the Large Employer Group, OneDigital's experience offers a fresh thinking and strategic perspective that will improve all aspects of plan design and performance.