Women In Trucking Association Provides Support for Promoting Women in Trucking Workforce Act
by Women In Trucking Staff, on Nov 18, 2019 3:58:00 PM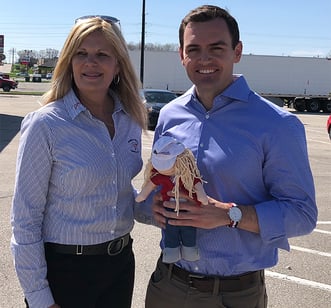 Plover, WI – November 18, 2019 – Women In Trucking Association (WIT) President and CEO Ellen Voie has been working with Senator Jerry Moran (R-KS) on legislation to create a "Women of Trucking Advisory Board" with the Federal Motor Carrier Safety Administration (FMCSA). Voie's Senator Baldwin (D-WI) is the co-sponsor of the bill.
The bill, announced November 14,, will create an advisory board of "not fewer than seven members … to contribute balanced points of view and diverse ideas regarding the strategies and objectives … to create new opportunities for women in the trucking industry."
The advisory board will be appointed by the FMCSA Administrator who will then report to the Committee on Commerce, Science, and Transportation of the Senate and the Committee on Transportation and Infrastructure of the House of Representatives.
Senator Moran co-sponsored similar legislation to create a Women in Aviation workforce bill which was passed in the FAA Reauthorization Act of 2018. "As the trucking industry continues to face a driver shortage, we need to examine new ways to recruit and retain drivers that are delivering Kansas goods across the country," said Sen. Moran. "Because women are substantially underrepresented in the trucking industry, Congress should explore every opportunity to encourage and support the pursuit of careers in trucking by women.
"We applaud Senator Moran's initiative in promoting a more diverse workforce in the transportation industry in both aviation and trucking," said Voie. "We are also pleased to make this a bi-partisan effort and when we approached Senator Baldwin to co-lead in this bill because of our state affiliation, she was quick to agree," Voie added.
The House bill will be initiated by Voie's U.S. Representative Gallagher who went for a ride along with one of the WIT Image Team members to better understand the challenges female drivers face in the industry. "Since WIT is based in Wisconsin, it is important for us to have our own Congressman and Senator supporting this opportunity which supports our mission," said Voie.
The Senate Promoting Women in Trucking Workforce Act can be found here (https://www.moran.senate.gov/public/_cache/files/e/4/e49f6ecf-fd69-4f1e-9db0-99392bcb704e/C9EDBE9DF6EE96598418821C6634F34B.women-in-trucking-summary.pdf).
Women In Trucking has invited Senators Moran and Baldwin to meet with one of the WIT Image Team member's female drivers in January. Voie stated, "We will leverage the Wisconsin connection and provide a ride along to Senator Baldwin in Madison in the coming weeks as her schedule permits."
"This bill exactly supports our mission to increase the ranks of women working in the trucking industry, to address obstacles, and to celebrate success," Voie added.
View the House version (H.R. 5145)
View the Senate version (S. 2858)
###
About Women In Trucking Association, Inc.
is a nonprofit association established to encourage the employment of women in the trucking industry, promote their accomplishments and minimize obstacles faced by women working in the trucking industry. Membership is not limited to women, as 17 percent of its members are men who support the mission. Women In Trucking is supported by its members and the generosity of Gold Level Partners: Arrow Truck Sales, BMO Transportation Finance, Daimler Trucks North America, Expediter Services, FedEx Freight, Great Dane, J.B. Hunt Transport, Michelin North America, Penske Transportation Solutions, Peterbilt Motors Company, Ryder System, and Walmart. Follow WIT on Twitter, Facebook, or LinkedIn. For more information, visit www.womenintrucking.org or call 888-464-9482.