Women In Trucking Association Renews Contract with Road Dog Trucking on SiriusXM
by Women In Trucking Staff, on Jan 19, 2022 5:00:00 AM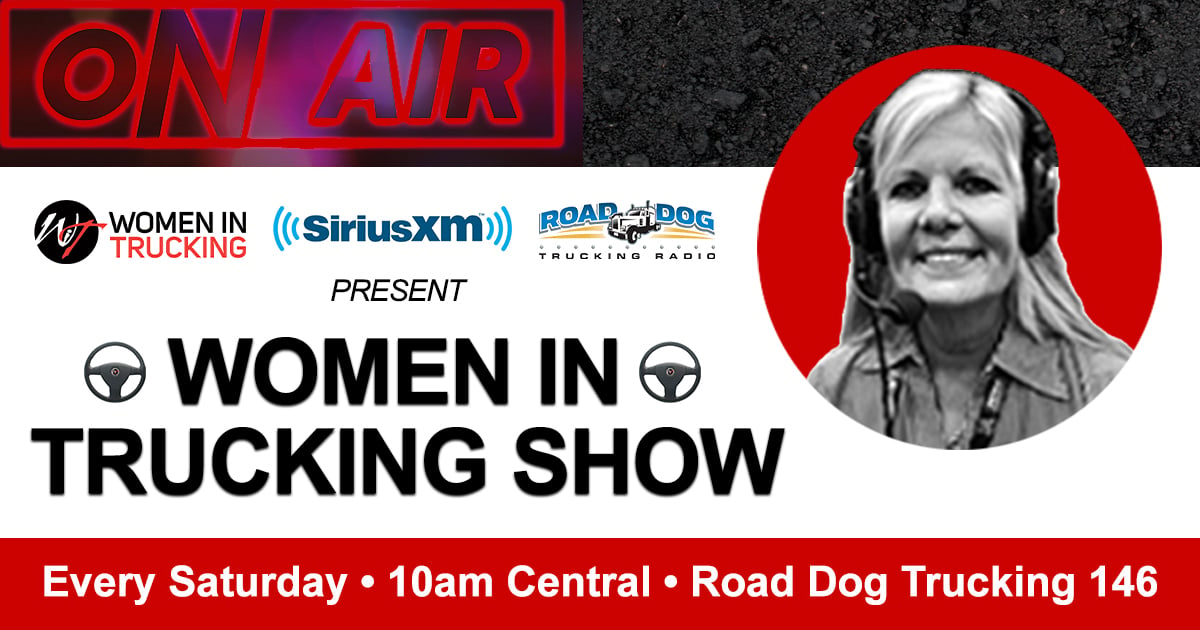 Plover, WI – Jan. 19, 2022 – The Women In Trucking Association (WIT) has renewed its contract with Road Dog Trucking (Channel 146) on SiriusXM Radio to continue hosting its Women In Trucking program, hosted by founder and CEO Ellen Voie.
In its fifth year in existence, the program features listener call-ins and interviews with professionals from the transportation industry – from professional drivers, technicians and engineers to executives and dispatchers. Topics have ranged from critical challenges and opportunities involving gender diversity in a male-dominated industry to more specific topics such as driver health and wellness, talent recruiting and retention, leadership, mentoring, autonomous trucks, emerging technology, human trafficking, same-gender training, legal issues, regulations and legislative developments.
"While the show is relevant to both women and men in transportation, we often explore gender diversity issues to encourage more women to consider a career in trucking." said Voie. "With women making up just 10 percent of the trucking industry workforce, SiriusXM's Women In Trucking show helps to promote the employment of more women by identifying and removing obstacles that keep them from entering the field, and ultimately recognizes companies and individuals who support the mission of the Women In Trucking Association."
Road Dog Trucking is a 24-hour channel devoted to the trucking industry and, along with Voie, features other industry thought leaders such as KC Phillips, Dave Nemo, George Noory, Tim Ridley, Mark Willis, Mark Reddig and Dan Ronan. SiriusXM currently has more than 35 million subscribers and more than 70 million listeners. This vast listenership is an excellent communication channel for WIT to advance awareness about gender diversity and its mission: to encourage the employment of women in the trucking industry, promote their accomplishments, and minimize obstacles the face, according to Voie.
The SiriusXM Women In Trucking show takes place live at 11:00 eastern on Saturday mornings and is rebroadcast at 2:00pm Eastern and 11:00 PM on Sundays and is available anytime on the SiriusXM app. This program is a call-in show and callers are encouraged to participate by calling 888-876-2336.
###
About Women In Trucking Association, Inc.
Women In Trucking Association, Inc. is a nonprofit association established to encourage the employment of women in the trucking industry, promote their accomplishments and minimize obstacles faced by women working in the trucking industry. Membership is not limited to women, as 17 percent of its members are men who support the mission. Women In Trucking is supported by its members and the generosity of Gold Level Partners: Amazon, Arrow Truck Sales, Daimler Trucks North America, Expediter Services, FedEx Freight, Great Dane, J.B. Hunt Transport, Michelin North America, PACCAR, Penske Transportation Solutions, Ryder System, Walmart, and Waste Management. Follow WIT on Twitter, Facebook, LinkedIn, Instagram, TikTok, and YouTube. For more information, visit www.womenintrucking.org or call 888-464-9482.