Women In Trucking Call for Nominations: 2023 Distinguished Woman in Logistics Award
by Women In Trucking Staff, on Jan 9, 2023 4:45:00 AM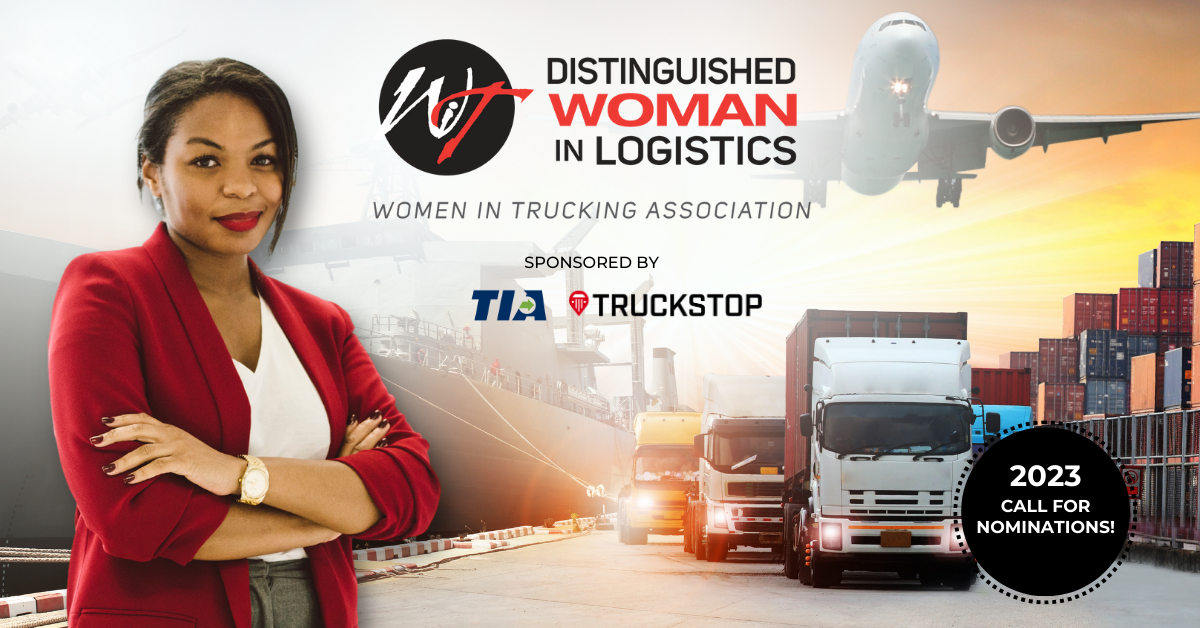 Plover, WI – January 9, 2023 – Women In Trucking Association (WIT), Truckstop, and Transportation Intermediaries Association (TIA) are seeking nominations for the 2023 Distinguished Woman in Logistics Award (DWLA). The award started in 2015 to recognize outstanding individuals for their achievements and leadership in logistics.
"Every year more women are entering the logistics industry, and this award will recognize and honor a leader who has demonstrated her passion for the supply chain as well as in advancing and empowering women along the way," said Ellen Voie, president and CEO of WIT.
Sponsored by Truckstop and TIA, the award is open to high-performing women in any field related to logistics, including supply chain management, third-party logistics, and trucking.
"We at TIA appreciate the opportunity to recognize and empower women working in the 3PL industry and support the 2023 Distinguished Women in Logistics Award. We are looking forward to announcing the winner at TIA 2023 Capital Ideas Conference & Exhibition April 19-22 in Orlando," said Anne Reinke, president, and CEO of TIA.
Previous DWLA winners are:
2022: Nicole Glenn, president and CEO of Candor Expedite

2021: Angela Eliacostas, president and founder of AGT Global Logistics

2020: Sue Spero, president of Carrier Services of Tennessee, Inc.

2019: Judy McReynolds, chairman, president and CEO of ArcBest

2018: Renee Krug, CEO of Global Tranz

2017: Andra Rush, chair and CEO of Rush Trucking Corporation, CEO and president of Dakkota Integrated Systems, and chair, CEO and president of Detroit Manufacturing Systems

2016: Shelley Simpson, chief commercial officer; EVP People and HR, J. B. Hunt Transport Services, Inc.

2015: Kristy Knichel, president of Knichel Logistics
The award selection committee includes representatives from WIT, Truckstop, TIA and academia.
"The Women In Trucking Association continues to be one of the most instrumental organizations for the advancement of women in transportation and logistics," said Kendra Tucker, chief executive officer, Truckstop. "We are proud to support The Distinguished Woman in Logistics Award and look forward to highlighting the achievements of these inspiring leaders."
The winner of the 2023 DWLA will be announced during the TIA 2023 Capital Ideas Conference & Exhibition, on Friday, April 21 in Orlando, FL.
Anyone may nominate a candidate by completing and submitting the nomination form at womenintrucking.org/distinguished-woman-in-logistics. Nominations are due February 20, 2023.
For additional information regarding the nomination process, send an email to lana@womenintrucking.org.
###
About Women In Trucking Association, Inc.
Women In Trucking Association, Inc. is a nonprofit association established to encourage the employment of women in the trucking industry, promote their accomplishments and minimize obstacles faced by women working in the trucking industry. Membership is not limited to women, as 17 percent of its members are men who support the mission. Women In Trucking is supported by its members and the generosity of Gold Level Partners: Amazon, Arrow Truck Sales, Daimler Truck North America, DAT Solutions, FedEx Freight, Great Dane, J.B. Hunt Transport, Michelin North America, PACCAR, Penske Transportation Solutions, Ryder System, Walmart, and WM. Follow WIT on Twitter, Facebook, LinkedIn, Instagram, TikTok, and YouTube. For more information, visit www.womenintrucking.org or call 888-464-9482.
A

bout Truckstop
Truckstop is a trusted partner for carriers, brokers and shippers – empowering the freight community through a platform of innovative solutions for the entire freight lifecycle to increase efficiency, automate processes, and accelerate growth. As one of the industry's largest neutral freight marketplaces, Truckstop.com provides the customer service as well as scale of quality loads and trucks to give customers of all sizes, whether on the road or in the office, the transparency and freedom to build lasting relationships and grow their businesses. To learn how Truckstop.com is helping move the freight community forward, visit www.truckstop.com.
About Transportation Intermediaries Association (TIA)
Transportation Intermediaries Association is the professional organization of the $214 billion third-party logistics industry. TIA is the only organization exclusively representing transportation intermediaries of all disciplines, doing business in domestic and international commerce. TIA is the voice of the 3PL industry to shippers, carriers, government officials and international organizations. TIA is the United States member of the International Federation of Freight Forwarder Associations, FIATA. For more information, visit www.tianet.org or call 703.299.5700.