Women In Trucking Continues Partnership with Arrow Truck Sales
by Women In Trucking Staff, on May 27, 2020 8:39:00 PM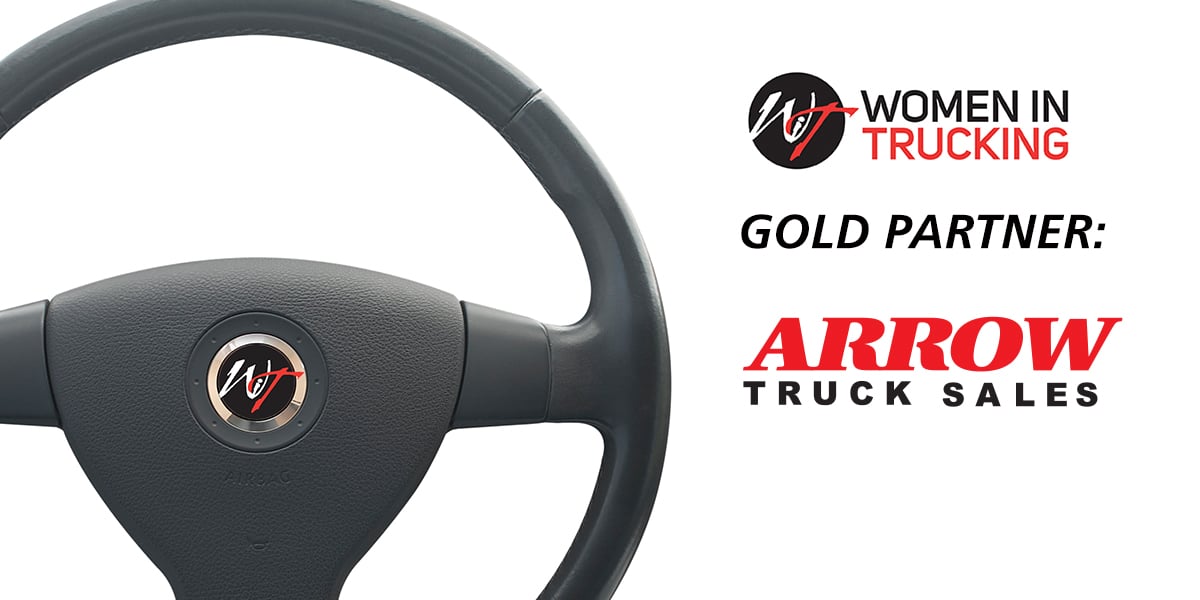 Plover, WI – May 27, 2020 – The Women In Trucking Association (WIT) announced today that Arrow Truck Sales has renewed its Gold Level Partnership, helping the association advance its mission: to encourage the employment of women in the industry, promote their accomplishments and minimize the obstacles they face.
Arrow Truck Sales has supported WIT at the highest level since 2017, with Jim Stevenson, Director of National Accounts division, serving on the WIT Board of Directors. Transitioning to a new term, Jim Taber, National Account Manager, will now represent Arrow Truck Sales on the board.
Furthering their commitment to advancing diversity efforts within the industry, the company donated a late model Volvo truck to WIT to give away to a deserving female driver during the 2018 Salute to Women Behind the Wheel event in Louisville, KY. Tiffany Hanna, a professional driver and trainer, was selected from the impressive applicants who submitted an essay on the importance of attracting more women into the trucking industry.
To continue their mission of supporting the success of female owner-operators, Arrow Truck Sales has again committed to donating a truck to WIT to give away at the 2022 Salute to Women Behind the Wheel event.
Additionally, WIT members have access to Arrow's PRIME program and receive exclusive free benefits when buying a truck.
"We are continually impressed at the work Women in Trucking is doing in this industry," said Taber. "This is a world class organization and we are proud to be a part of it."
"I look forward to the unique perspective and leadership Jim Taber will bring to our board," said Ellen Voie, WIT president and CEO. "We are grateful for their commitment to bringing greater opportunities for women in transportation and helping them succeed. I am thrilled to offer the chance of a lifetime to another one of our hard working and deserving members through their generous donation."
Since 2007, WIT has made significant strides in generating dialogue and action around the importance of gender diversity in transportation and logistics. A few recent accomplishments include a record-breaking attendance at the 2019 Accelerate! Conference and Exhibition; an award-winning magazine that explores gender issues in transportation; and the launch of recognition programs such as the Driver of the Year Award, Top Women to Watch in Transportation, Top Companies for Women to Work For in Transportation, and Top Woman-Owned Businesses in Transportation lists.
###
About Women In Trucking Association, Inc.
Women In Trucking, Inc. is a nonprofit association established to encourage the employment of women in the trucking industry, promote their accomplishments and minimize obstacles faced by women working in the trucking industry. Membership is not limited to women, as 17 percent of its members are men who support the mission. Women In Trucking is supported by its members and the generosity of Gold Level Partners: Amazon, Arrow Truck Sales, BMO Transportation Finance, Daimler Trucks North America, Expediter Services, FedEx Freight, Great Dane, J.B. Hunt Transport, Michelin North America, PACCAR, Penske Transportation Solutions, Ryder System, Walmart, and Waste Management. Follow WIT on Twitter, Facebook, or LinkedIn. For more information, visit www.womenintrucking.org or call 888-464-9482.
About Arrow Truck Sales
Founded in 1950, Arrow is North America's leading source of used heavy and medium-duty trucks with retail stores located across the U.S. and Canada. Arrow carries a large inventory of trucks and trailers including all makes and models. Arrow provides a one-stop shopping solution for truck buyers, including financing, insurance, extended warranties and other protection plans. Their national headquarters are in Kansas City, MO. For more information, visit http://www.arrowtruck.com.