Women In Trucking Association Named Best Female Truck Driver Support Organization
by Women In Trucking Staff, on Aug 16, 2021 10:29:53 AM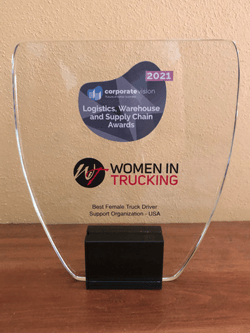 Plover, WI – Aug. 16, 2021 – The Women In Trucking Association (WIT) was named the 2021 "Best Female Truck Driver Support organization" as part of the Logistics Warehouse and Supply Chain Awards Program by Corporate Vision, which is published monthly to deliver insightful feature content in the business world. In its fifth year of this prestigious logistics recognition program, Corporate Vision recognized WIT for its initiatives that encourage the employment of female drivers in the industry, promote their accomplishments, and minimize obstacles they face.
"WIT has had an incredible impact on the way in which women are seen in the driver's cab," according to Steve Simpson, senior awards executive of Corporate Vision. "They've worked closely with truck cab manufacturers to ensure that the cab is able to accommodate a smaller frame, building in greater adaptability with the pedals, the seat and in the design of the dash as well as the ease in lifting the hood to access the engine."
Another example of meaningful action is that WIT has worked with truck stops to ensure that female truck drivers have the facilities they need in terms of safety, security and amenities, said Simpson.
In addition, WIT recently launched a pilot mentoring program designed for entry-level female drivers through a partnership with LeadHERalliance Mentoring, a structured mentorship program for women in various walks of life.
WIT also has been actively working with policymakers and legislators to advocate on issues important to women professional drivers. For example, WIT president and CEO Ellen Voie recently participated in a Trucking Industry Roundtable hosted by U.S. Secretary of Transportation Pete Buttigieg and U.S. Secretary of Labor Marty Walsh to address supply chain disruptions as well as female driver recruitment and retention challenges. In addition, Voie and three professional driver representatives on WIT's Image Team were appointed to safety groups of the Motor Carrier Safety Administration (FMCSA) to help provide advice and recommendations on motor carrier safety regulations that can impact female drivers. WIT's Image Team also participate in ride-along events for legislators, regulators and industry leaders to provide a deeper understanding of the obstacles professional female drivers face on the road.
###
About Women In Trucking Association, Inc.
Women In Trucking, Inc. is a nonprofit association established to encourage the employment of women in the trucking industry, promote their accomplishments and minimize obstacles faced by women working in the trucking industry. Membership is not limited to women, as 17 percent of its members are men who support the mission. Women In Trucking is supported by its members and the generosity of Gold Level Partners: Amazon, Arrow Truck Sales, Daimler Trucks North America, Expediter Services, FedEx Freight, Great Dane, J.B. Hunt Transport, Michelin North America, PACCAR, Penske Transportation Solutions, Ryder System, Walmart, and Waste Management. Follow WIT on Twitter, Facebook, LinkedIn, Instagram, TikTok, and YouTube. For more information, visit www.womenintrucking.org or call 888-464-9482.