Women In Trucking Advocates for Same-Gender Training Solutions During White House Listening Session
by Women In Trucking Staff, on Jan 18, 2022 4:30:00 AM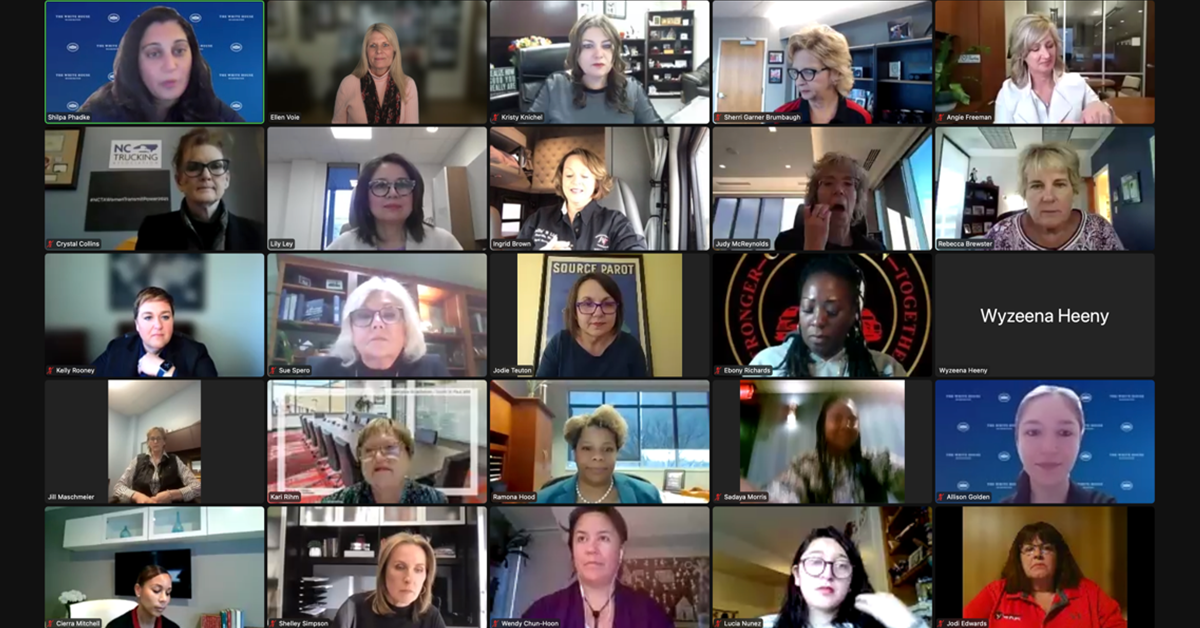 Plover, WI – Jan. 18, 2022 – The Women In Trucking Association (WIT) coordinated with the Biden-Harris administration to host a White House roundtable listening session on Jan. 13 involving critical gender diversity issues. Nearly 40 industry professionals participated in the session, and all but three were nominations by WIT. Participants also included seven female professional truck drivers. The purpose of the listening session was to hear perspectives on how to build a more inclusive and equitable workplace for women in the trucking industry.
A topic that was of high priority was focused around the same-gender training policies with asset-based trucking companies, according to Ellen Voie, president and CEO of WIT. "This is one of the issues that continues to plague our industry and is unique only to the trucking industry," she said during the 90-minute listening session.
"The industry continues to place women in an environment that has the potential to encourage sexual harassment and even rape by forcing them to sleep in a sleeper berth for days at a time with trainers who likely are males," she said. "There is no other market segment in transportation that mixes genders in a training situation where a bed is within inches of the trainer and trainee, and the two are expected to sleep in tight quarters of each other each night."
The same-gender training issue is of serious concern to professional drivers, said Voie. In fact, WIT recently conducted a survey of more than 400 professional drivers, which shows that 42 percent were aware of a female driver who has either experienced sexual assault or harassment when sharing a cab with a trainer who was a member of the opposite gender. Approximately 63 percent said they felt a same-gender training policy would encourage more women as drivers, which is significant given the seriousness of the current driver shortage and how more females are becoming professional truck drivers.
Voie cited several examples in which trucking companies have not been able or willing to accommodate the same gender trainer as the new employee. However, in one instance in which a large motor carrier implemented a same gender training policy, their cases of sexual harassment accusations dropped significantly.
Voie has been advocating trucking companies to adopt a same-gender training policy that enables female professional drivers to have the option for a same-gender trainer when involved in on-the-road training activities. When having a same-gender trainer isn't an option in instances involving female drivers, there also are alternatives to help reduce or eliminate issues, such as ensuring that when sleeping arrangements need to be made that one of the parties has the ability to have a paid hotel room available to avoid the need to sleep together in the same cab. Voie notes that she is aware of several companies already adopting this practice as a solution to the issue.
###
About Women In Trucking Association, Inc.
Women In Trucking Association, Inc. is a nonprofit association established to encourage the employment of women in the trucking industry, promote their accomplishments and minimize obstacles faced by women working in the trucking industry. Membership is not limited to women, as 17 percent of its members are men who support the mission. Women In Trucking is supported by its members and the generosity of Gold Level Partners: Amazon, Arrow Truck Sales, Daimler Trucks North America, Expediter Services, FedEx Freight, Great Dane, J.B. Hunt Transport, Michelin North America, PACCAR, Penske Transportation Solutions, Ryder System, Walmart, and Waste Management. Follow WIT on Twitter, Facebook, LinkedIn, Instagram, TikTok, and YouTube. For more information, visit www.womenintrucking.org or call 888-464-9482.