Women In Trucking Announces its 2019 August Member of the Month
by Women In Trucking Staff, on Aug 1, 2019 3:12:00 PM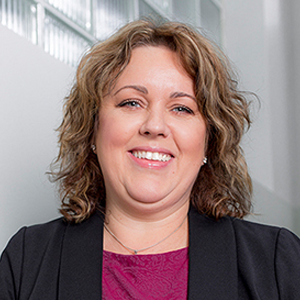 Plover, WI – August 1, 2019 – In announcing Stephanie Williamson from Dart Transit as the 2019 Women In Trucking (WIT) Member of the Month for August, the Association is recognizing an industry professional who has literally made the career journey from the driver's seat to the executive suite. Today, Stephanie serves as the Vice President of Revenue Management, overseeing all aspects of pricing with Dart. Stephanie's route to become a member of Dart's Executive Management Team began long before she joined the company as a fleet manager in 1994.
Stephanie was born into trucking, and a strong argument can be made that she has held a driver's perspective on the industry since her earliest days in the world. Stephanie's grandfather was a career driver. Stephanie's parents served as drivers and they even worked as a team for a number of years in the 1970s and 80s. In fact, to say that Stephanie was born into the trucking industry with a view from the driver's seat is not that great of an exaggeration. Stephanie's mother was working as a dump truck driver when she went into labor on the job and drove herself to the hospital.
"Trucking has always been a part of my life through my family. There are pictures of me when I'm like two or three years old helping my grandfather rebuild a diesel engine, and I'm covered head to toe in grease," recalls Stephanie. "My parents actually encouraged me to look at a career outside of the trucking industry. But, after graduating from college, I wanted to go into the trucking industry with the goal of helping to make things better for professional drivers – the men and women who are moving the American economy mile by mile."
Initially, Stephanie worked in the areas of driver recruiting and orientation before landing an opportunity to oversee a carrier's terminal in the Dallas area. While she was working with drivers on a daily basis, Stephanie still sought to have a first-hand perspective of what it meant to be in charge from the driver's seat.
"I wanted to learn everything I could about this industry," she explains. "You can't always make changes in any industry without gathering enough information. My initial input was in the recruiting process and the orientation process. But I wanted to do every job in a trucking company. With a wide range of experience, I thought I'd be qualified to help make those positive changes. At a certain point in working with drivers, I decided that I should get my CDL and drive. I knew it was the right thing to do for me, and I also knew that having a CDL would earn the respect of drivers who would see me in an office. So, I went out and earned my CDL."
Following her time as a team driver, Stephanie wanted to get back into the office side of trucking. She had just welcomed her first child and looked into working at Dart. At the time she applied for a job, the company did not have any open positions, but Stephanie remained persistent, checking with the Dallas office almost on a daily basis. One of those phone calls paid off in a job interview to fill a fleet manager spot. As the company was looking to coordinate mutual schedules, Stephanie was asked if she could interview for the position at 5:30 a.m., and she was promptly at the location ready to answer questions. She immediately impressed the terminal manager with one of her initial responses.
"He asked me, 'OK, where do you see yourself in five years?' And I told him, 'I want your job.' Looking back on things, I was actually shooting a little bit low with that response," recalls Stephanie with a smile. "I found a home at Dart because the company has a culture where everyone is given the opportunity to let their talents shine, and Dart has provided me with so many opportunities over 25 years."
During her tenure with Dart, Stephanie has held a series of positions within operations, customer service and pricing at the company. As Dart plans to take time this fall to commemorate the company's 85th anniversary, Stephanie appreciates the fact her career progression to an executive management position followed in the tradition of the important contributions that women have made to the growth of the Dart Network.
As the Vice President of Revenue Management for Dart, Stephanie has never lost touch with her experience in the driver's seat or the memories of the time both her parents and grandfather spent on the road. Stephanie continues to be part of a group of Dart executives who spend time with company drivers and owner-operators as they go through Orientation.
"Through the years, I have gained an appreciation for a driver's time. When you think about our industry and how we work with drivers, time is our greatest commodity. I am very sensitive to the fact that, for a driver, time literally is money," says Stephanie. "In the hours of service that they have to work with, when someone delays them or impedes their progress, that costs them money. I cannot allow the company to align ourselves with businesses that we know will cost our drivers money. Businesses that hold drivers up for loading or unloading, businesses that won't allow our drivers to use a bathroom, businesses that just generally disrespect the driver – I can't be a part of that.
"I look at it from the standpoint that we have to be careful who we do business with because the driver is the most treasured member of our team," she adds. "I believe if we take care of our drivers, they will take care of our customers."
Looking back, Stephanie is thankful she became involved with the Dart organization. "I'm so proud of what we do and who we are," observes Stephanie. "I'm proud as a woman. I'm proud as a member of this organization of who we are and what we do. I think that the Oren family has presented a great opportunity not only for me and everyone at all our facilities, but for every driver who has ever come through our doors. Through all these years and all the changes in the industry, Dart has always stood tall when it comes to the test of time and providing effective answers for the needs of the day."
###
About Women In Trucking Association, Inc.
Women In Trucking Association, Inc. is a nonprofit association established to encourage the employment of women in the trucking industry, promote their accomplishments and minimize obstacles faced by women working in the trucking industry. Membership is not limited to women, as 17 percent of its members are men who support the mission. Women In Trucking is supported by its members and the generosity of Gold Level Partners: Arrow Truck Sales, Bendix Commercial Vehicle Systems, BMO Transportation Finance, Daimler Trucks North America, Expediter Services, FedEx Freight, Great Dane, J.B. Hunt Transport, Michelin North America, Peterbilt Motors Company, Ryder System, Inc., and Walmart. Follow WIT on Twitter, Facebook, or LinkedIn. For more information, visit http://www.womenintrucking.org or call 888-464-9482.