Women In Trucking Announces its 2020 April Member of the Month
by Women In Trucking Staff, on Apr 1, 2020 9:23:00 PM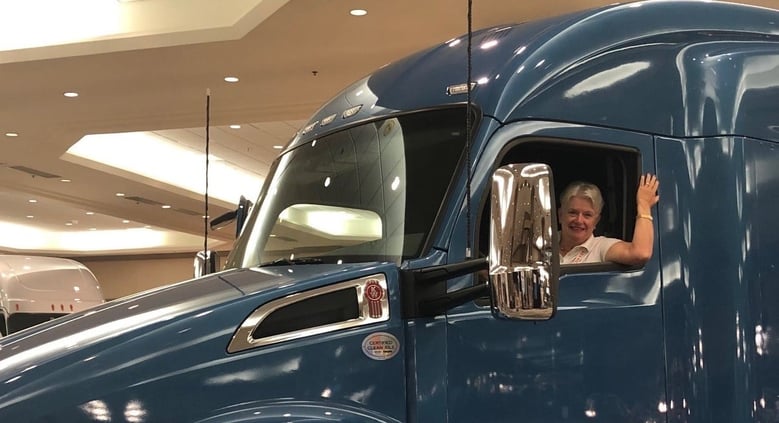 Plover, WI – April 1, 2020 – The Women In Trucking Association (WIT) announces that Cindy Reaves is its April Member of the Month. Reaves is the vice president of Gulf Coast sales and marketing for Linden Bulk Transportation LLC (Linden), a subsidiary of Odyssey Logistics & Technology, in Montgomery, Texas. After an impressive 40-year career in the trucking industry, she is retiring in April 2020.
Through the past four decades, Reaves rose through the ranks at several trucking companies, excelling in communication, negotiation and relationship building with many high-profile Fortune 50 companies. Along the way, she developed meaningful customer relationships by taking care of their freight with the utmost attention to quality and handling deliveries the way her customers would if they did it themselves. Today, Reaves manages more than 50 of the most prominent supply chain brands in the southwest.
"I'm most proud of the relationships I've made with my customers and the time I've had to get to know them – they've become my friends," said Reaves. "Most of them are asking for my personal phone number – if they don't have it already – so that they can keep in touch with me after I leave."
Throughout her career in trucking, Reaves has been devoted to providing outstanding customer service and went above and beyond to make sure her customers knew their business was valued. From monitoring police escorts for a forgotten load in the middle of the night to hand-delivering ice cream to the soccer game of a prospective client's children, she did whatever it took to make her customers feel appreciated.
"It never mattered what time of day or what day of the week, Cindy was always available for our customers to solve a problem, find an emergency truck or just answer some questions," said Michael Salz, president Linden. "Her dedication to Linden and her customers has always amazed us and exceeded our expectations for 18 years."
As she prepares to leave the trucking industry, Reaves has one hope for its future—to see more women in transportation and logistics. She's been a mentor to many women, an advocate for more diversity in leadership roles and has educated college women on career opportunities beyond driving a truck. While inroads are being made, Reaves also understands that equality is an industry-wide challenge.
"I've worked at six trucking companies in my career, including Linden, and too few leverage the incredible talents of women," Reaves recalls. "We need more women recruiting women. When a woman is considering a career in any industry, they want to see that they are respected and valued."
Reaves believes there are several keys to attracting more women to the trucking industry. First, upper management needs to buy into women being in leadership roles. Also, current women in trucking need to actively recruit other women and be advocates who lead the charge for more diversity. In addition, more representation is needed on high school and college campuses to expose young women to the industry. Lastly, the industry needs to communicate the wide variety of jobs that can be obtained at a transportation and logistics company—IT, sales, marketing, accounting, human resources, operations and more.
Throughout all of the miles she's traveled, Reaves has also been a catalyst for drivers. When the competition was high, she worked tirelessly to ensure there is a steady stream of work. "Drivers don't get paid if their wheels aren't rolling. It makes me nervous, seeing them sit idle in a terminal, so I work hard to find loads to get them back on the road." Reaves has also valued the opinion and experiences of dispatchers and drivers, encouraging leadership to consider the experiences of the people out in the field every day.
"It's going to be hard to leave Linden, but I'm looking forward to not checking emails so frequently and spending more time with family. I'll be watching my grandson play college hockey and my granddaughter playing volleyball. I'm also competing in two golfing tournaments this year."
On her way out, Reaves has the following advice for young women seeking employment in the logistics industry. "Make sure this is what you want to do, be sincere and honest, and always do the right thing to help the customer."
###
About Women In Trucking Association, Inc.
Women In Trucking, Inc. is a nonprofit association established to encourage the employment of women in the trucking industry, promote their accomplishments and minimize obstacles faced by women working in the trucking industry. Membership is not limited to women, as 17 percent of its members are men who support the mission. Women In Trucking is supported by its members and the generosity of Gold Level Partners: Amazon, Arrow Truck Sales, BMO Transportation Finance, Daimler Trucks North America, Expediter Services, FedEx Freight, Great Dane, J.B. Hunt Transport, Michelin North America, PACCAR, Penske Transportation Solutions, Ryder System, Walmart, and Waste Management. Follow WIT on Twitter, Facebook, or LinkedIn. For more information, visit www.womenintrucking.org or call 888-464-9482.