Women In Trucking Announces its October 2020 Member of the Month
by Women In Trucking Staff, on Oct 1, 2020 8:15:00 AM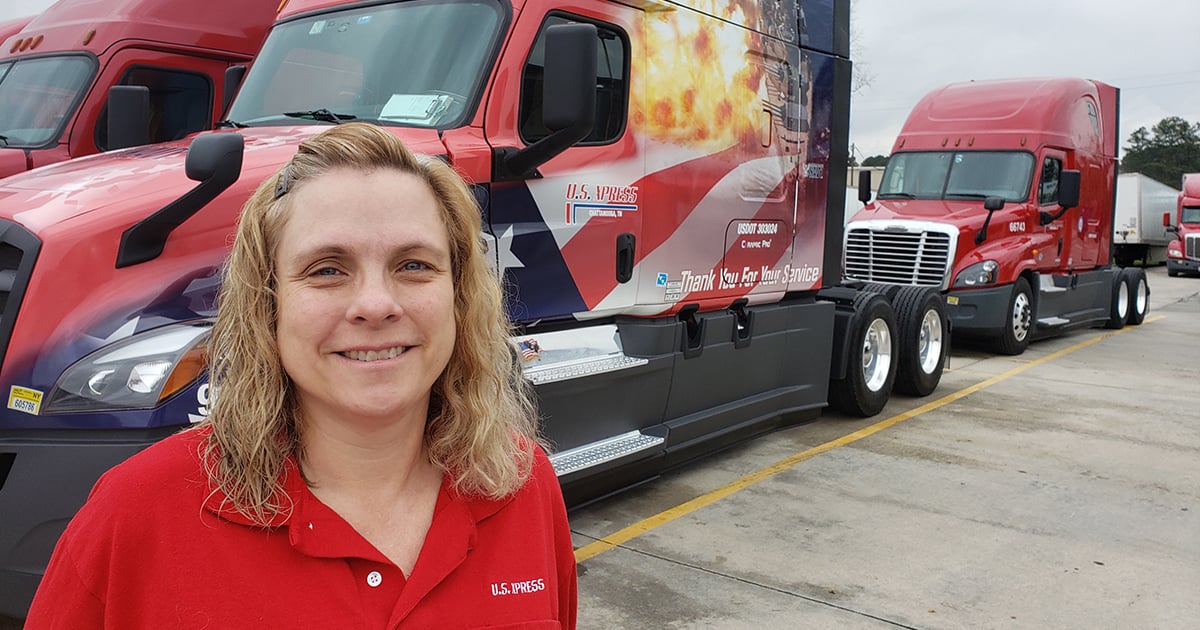 Plover, WI – Oct. 1, 2020 – The Women In Trucking Association (WIT) has announced Tracy Gaudette as its October Member of the Month. She is a professional team driver with US Xpress.
Gaudette's mother and step-father were team drivers in the late 1980s. She had always thought it would be the perfect career for her. However, as a single parent to a small child, she decided to put that dream on hold. After raising two daughters, she made that dream a reality just five years ago.
Being a professional driver allowed Gaudette to travel, something that was very important to her. As an Air Force Veteran, she proudly drives the Navy truck in US Xpress' military fleet. "There are only five trucks in the military fleet, so this is a huge honor," said Gaudette.
When Gaudette began her driving career, she was in a vulnerable situation. "I was beaten down emotionally and mentally and didn't believe in myself," she said. "By doing this job day after day for five years, I have built up my self-confidence, self-esteem and have realized how strong and capable I am and I will never let anyone take that from me again. I have gained so much, including the ability to finally love myself."
In June 2018, Gaudette was selected as US Xpress' Team Driver of the Month and overall Team Driver of the Year the same year. In 2019, she was selected to be a Wreaths Across America driver. She has also been a WIT Facebook group administrator for the past two years.
Her advice for other women drivers is to always be professional and keep your standards high. "Strive for excellence and never settle for 'the norm' or let yourself get lazy. Always treat others as you would like to be treated, even if they aren't treating you well. You are a professional woman driver so let that shine through always."
###
About Women In Trucking Association, Inc.
Women In Trucking, Inc. is a nonprofit association established to encourage the employment of women in the trucking industry, promote their accomplishments and minimize obstacles faced by women working in the trucking industry. Membership is not limited to women, as 17 percent of its members are men who support the mission. Women In Trucking is supported by its members and the generosity of Gold Level Partners: Amazon, Arrow Truck Sales, BMO Transportation Finance, Daimler Trucks North America, Expediter Services, FedEx Freight, Great Dane, J.B. Hunt Transport, Michelin North America, Penske Transportation Solutions, PACCAR, Ryder System, Walmart, and Waste Management. Follow WIT on Twitter, Facebook, or LinkedIn. For more information, visit www.womenintrucking.org or call 888-464-9482.