Women In Trucking Association Continues Partnership with Ryder System
by Women In Trucking Staff, on May 12, 2020 8:51:00 PM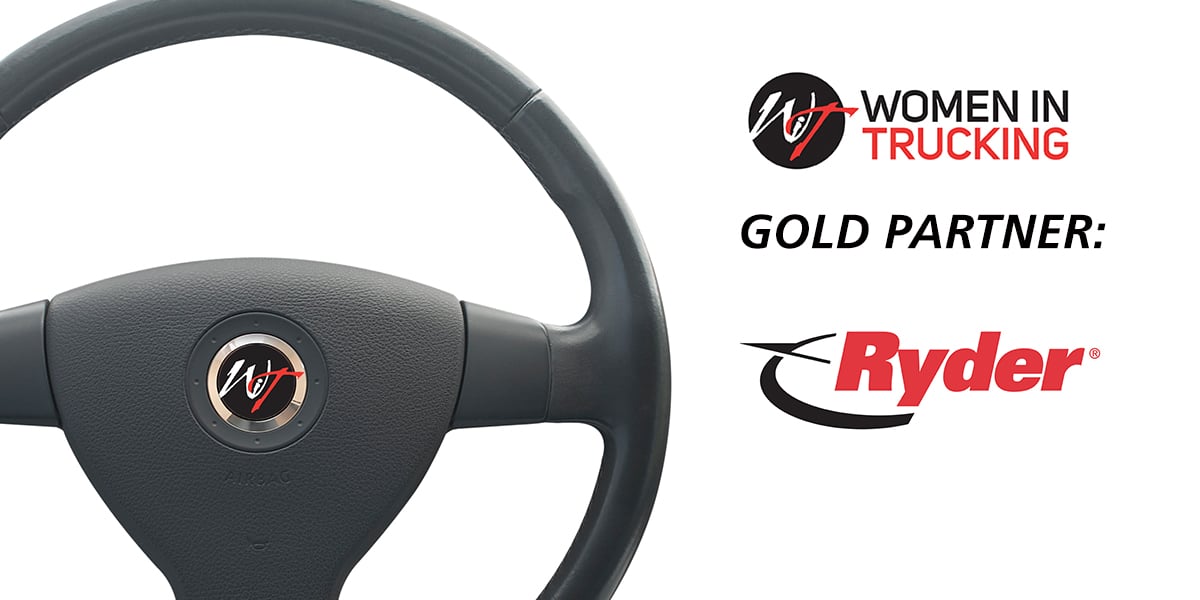 Plover, WI – May 12, 2020 – The Women In Trucking Association (WIT) announced today that Ryder System, Inc. has renewed its Gold Level Partnership to support the non-profit association's mission to recruit and retain more women in the transportation and logistics industry.
Ryder is an $8.9 billion commercial fleet management, dedicated transportation, and supply chain solutions company with operations in the United States, Canada, Mexico, and the United Kingdom. Founded in 1933, Ryder operates behind the scenes managing critical transportation and logistics functions for more than 50,000 customers, many of which make products consumers use every day. Ryder employs nearly 40,000 people, manages a fleet of more than 290,000 commercial vehicles, and operates more than 55 million square feet of warehouse space.
In addition to providing financial support, the company actively participates in the association. Delores Lail, senior vice president of sales for Ryder - Fleet Management Solutions for the East Region, serves on the WIT Board of Directors. Sue Godsey, recruiting project manager for Ryder, serves as chair of the Women In Trucking Foundation, where the company generously supports the scholarship program to make technical training and education more affordable for women who are striving to make a career in trucking a reality.
"As a leader in transportation and logistics, we have created a lot of opportunity for women in our industry to succeed," said Ryder's Lail. "However, we recognize we still need greater diversity to address the challenges of recruiting, retaining, and developing females into the supply chain leaders of tomorrow. Our support of Women In Trucking gives us the opportunity to make meaningful impacts in women's lives."
"We're grateful for Ryder's involvement and dedication to create a more gender diverse culture in transportation," said Ellen Voie, WIT president and CEO. "It's with partnerships like these that we can truly make a difference in the industry."
Since 2007, WIT has been focused on encouraging employment, promoting accomplishments, and minimizing obstacles faced by women working in trucking. A few recent accomplishments include a record-breaking attendance at the 2019 Accelerate! Conference and Exhibition; an award-winning magazine that explores gender issues in transportation; and the launch of recognition programs such as the Driver of the Year Award, Top Women to Watch in Transportation, Top Companies for Women to Work For in Transportation, and Top Woman-Owned Businesses in Transportation lists.
###
About Women In Trucking Association, Inc.
Women In Trucking, Inc. is a nonprofit association established to encourage the employment of women in the trucking industry, promote their accomplishments and minimize obstacles faced by women working in the trucking industry. Membership is not limited to women, as 17 percent of its members are men who support the mission. Women In Trucking is supported by its members and the generosity of Gold Level Partners: Amazon, Arrow Truck Sales, BMO Transportation Finance, Daimler Trucks North America, Expediter Services, FedEx Freight, Great Dane, J.B. Hunt Transport, Michelin North America, PACCAR, Penske Transportation Solutions, Ryder System, Walmart, and Waste Management. Follow WIT on Twitter, Facebook, or LinkedIn. For more information, visit www.womenintrucking.org or call 888-464-9482.
About Ryder System, Inc.
Ryder is a Fortune 500® commercial fleet management, dedicated transportation, and supply chain solutions company. The company's stock (NYSE: R) is a component of the Dow Jones Transportation Average and the S&P MidCap 400® index. Ryder, which provides commercial truck rental, truck leasing, used trucks for sale, and last mile delivery services, has been named among "The World's Most Admired Companies" by Fortune, as well as one of "America's Best Employers" and "America's Best Employers for Women" by Forbes, and most recently as one of "America's Most Responsible Companies" by Newsweek. The company is regularly recognized for its industry-leading practices in third-party logistics, environmentally friendly fleet and supply chain solutions, world-class safety and security programs, and hiring of military veterans. For more information, visit www.ryder.com or our newsroom, and follow us on Facebook, LinkedIn, and Twitter.