by Fran Bernard, on Jan 25, 2023 8:40:58 AM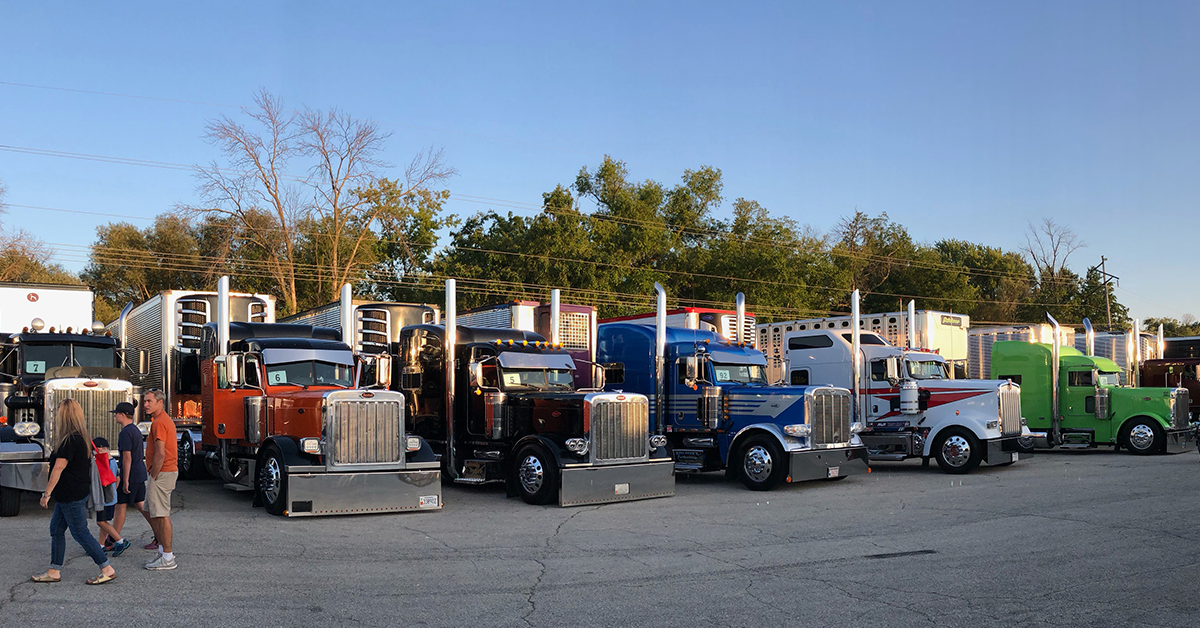 Have you ever wondered if there was somewhere you could go just to look, observe, go ga-ga over some of the gorgeous trucks you see while out on the road? Well, there is…below you will find a 2023 Truck Show Schedule to help you know when and where some of these beauties might be "showing" off.
Truck Shows are all around the country most months out of the year. You can get to a Truck Show from just about anywhere you might be driving. Stop and see the wonderful custom big rigs. Your truck could be a part of the dream too!
There are some shows that have specific focuses on antique, old school vintage models, and custom classic semis. There are shows that are strictly competition and there are the no competition shows. Some shows are held in conjunction with conventions and organization which makes for great training tools being offered as well. If you are into smaller Truck Shows, they are out there too. Many shows are held at fairgrounds, but some cities close their main streets to parking and traffic and line up the trucks. Wherever they are, they are set up so that the awesome trucks can definitely be seen.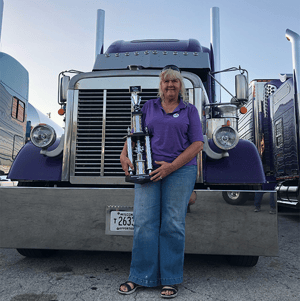 If you have never been to a Truck Show you really need to add that to your New Year's Resolution this year. They have so much taking place. Of course every show is different, and you can check with the shows you are interested in going to find out if they are offering what you are looking to see. There are trophies, plaques, cash awards at a lot of the shows. Most shows have light shows, games, food, vendors, swap meets, and musical entertainment. Some shows have truck drag racing, auctions (silent and/or live), truck pulls, carnivals, VIP Dinners, fireworks, and parades. You will love the parades! At the end of the show, they usually have a parade going around the coliseum, downtown, or even across the Mackinac Bridge. Hundreds of trucks with all their beautiful lights on is truly a sight you don't want to miss.
Having so many Truck Shows to choose from, you will find the ones that best fit your schedule, your runs, and your family ideals. We have heard time and again about certain Truck Shows that people come back year after year to because they feel like kindred spirits. It is like a family reunion. They love seeing old friends and making new ones. It is a great place to bring all your friends and relatives, because it truly is a family affair. What a wonderful way for the public to get to know truck drivers, their loved ones, and the great things about the Trucking Industry. Many of these shows donate some, or all, of their proceeds to different Charities.
Whatever type of Truck Show you are looking for you should find on the list below.
FEBRUARY
Midwest Truck & Trailer Show


Feb. 2-4


Peoria Civic Center
Peoria, IL 217/525-0310
Antique Truck Club of America (ATCA) Vintage Trucks of Florida 10th Anniversary Winter National Truck Show
Feb. 17-18
Sumter County Fairgrounds

7620 State Rte. 471, Bushnell, FL 352/457-1557
Annual Masonic Motorama
Feb. 18-19

Nazareth, PA 484/239-5294
MARCH
34th Annual Run to the Sun Car & Truck Show
March 16-18
Cars and Trucks 1989 and Older

Old Myrtle Square, Myrtle Beach, SC
Mid-America Trucking Show (MATS)
March 30-April 1
Kentucky Expo Center

Louisville, KY 502/702-200
APRIL
Swamp East Missouri Truck Show & Convoy
April 14-15
Sikeston Complex Park

Sikeston, MO 573-233-5768
75 Chrome Shop Big Rig Truck Show


April 28-30



Wildwood, FL 352/748-0330
Annual Truckin for Kids


April 29-30


Irwindale Speedway

Irwindale, CA 949/553-0363
MAY
Midwest Pride In Your Ride Truck & Tractor Show


May 5-6


Tri-State Raceway

Earlville, IA 563/580-8200
Red Dirt Showdown


May 5-6


Woodward County Fairgrounds

Woodward, OK 580-273-8174
11th Annual Kenly 95 Petro East Coast Truckers Jamboree


May 11-13


923 Johnston Parkway

Kenly, NC 919/284-5121
Semi-Crazy Truck Show


May 12-13


Haywood County Fairgrounds

Waynesville, NC 828/400-4136
Annual Make a Wish Mother's Day Truck Convoy


May 14



South of Manheim, PA
717/283-4868
Shine in the Pines Truck and Car Show
May 15-20
Dublin, GA 478/277-5060
JUNE
19th Annual Wheel Jam Truck Show


June 1-4


Huron State Fairgrounds

Huron, SD 605/354-1809
ATHS National Convention and Trucks Show


June 8-10


Grand Sierra Resort
Reno, NV 816/891-9900
Great Lakes Pride & Shine


June 9-10


Hudsonville Fairgrounds

Hudsonville, MI 616/292-7484
Annual Greater Cincinnati Chapter of ATHS


June 24-25


Ashland County Fairgrounds

Ashland, OH 419/332-8352
Texas Trucking Show


June 24-25


NRG Center

Houston, TX 281/671-0440
JULY
Walcott Truckers Jamboree


July 13-15


Iowa 80 Truck Stop

Walcott, IA 563/284-6961
Dirty Business Truck Show


July 21-22


HD Equipment

Ground Mound, IA 563/847-1895
Expedite Expo Trucking Show
July 21-22
Allen County War Museum Coliseum

Fort Wayne, IN 859/746-2046
Gulf Coast Big Rig Show
July 21-22
Mississippi Coast Coliseum

Biloxi, MS 985-630-9171
6th Annual Gear Jammers Magazine Truck Show
July 21-22
Franklin County Fairgrounds

Greenfield, MA 508/212-9998
3rd Annual SWVA Big Rig Showdown
July 28
Russel County Government Center

Lebanon, VA 276/701-2865
AUGUST
The Midwest Classic
Aug. 4-5
Burt County Fairgrounds

Oakland, NE 402/630-8103
Carlisle Truck Nationals
Aug. 4-6
Carlisle Fairgrounds

Carlisle, PA 717/243-7855
34th Annual Waupun Truck-N-Show
Aug. 11-12
Spring Street

Waupun, WI 920/324-9985
Brooks Truck Show


Aug. 25-26


Pacific Northwest Truck Museum

Brooks, OR 503/463-8701
SEPTEMBER
No Coast Large Cars Truck Show
Sept. 2-3
Heritage Park

Forest City, IA 641/565-3566
The Big Iron Classic
Sept. 8-9
Dodge County Fairgrounds

Kasson, MN 507/208-0222
27th Annual Richard Crane Memorial Truck Show
Sept. 14-17

St. Ignace, MI 800/338-6660
Busted Knuckle Truck Show
Sept. 15-16
Wilkins Oklahoma Truck Supply

Tonkawa, OK 800/299-5308
Old Town Rig Down
Sept. 15-16

Downtown Nacogdoches, TX 936/615-0580
Joplin 44 Truckers Jamboree
Sept. 21-23
I-44 Exit 43

Joplin, MO 417/624-3400
Truckers for Hope Truck Show
Sept. 22-24
Clinton County Fairgrounds

Mill Hall, PA 570/660-7281
OCTOBER
Hot & Cold Big Rig Truck Show


Oct. 7



Highway 54, Pratt, KS
Draggin and Pullin in the Pines


Oct. 20-21


Pine Valley Raceway

Lufkin, TX 936/552-6719
November & December have no event information available.
Since the Pandemic most Truck Shows have resumed, unfortunately, some have not. Please check to be sure they are having their shows. These are not all the Truck Shows happening around the Country but the 2023 dates were available for these.
Like this kind of content?

As a member of the Women In Trucking Association, stay on top of emerging trends and business issues impacting transportation, logistics, and supply chain operations, learn the importance of gender diversity in the workplace and the need for more women drivers, and see best practices in encouraging the employment of women in the trucking industry. Learn More