by Sandy Long, on Sep 16, 2015 5:39:00 PM
Having beautiful hair and nails while driving a truck can present many challenges, starting off mainly with lack of time. Many give up makeup when they become drivers. However, there are ways of wearing makeup and keeping one's hair and nails beautiful by women truck drivers that do not require a large amount of time.
Cindy Kaps
Cindy Kaps, who drives with her husband, always looks stylish. "First off, for good looking skin and hair, drinking plenty of water is the key. My makeup is simple, most days just tinted moisturizer and blush, and I love the tinted lip glosses. If I go all out, I add eye makeup and mascara. To take it off at night, I use makeup remover wipes and moisturizer. I keep my hair short, and just use spray gel and blow it dry."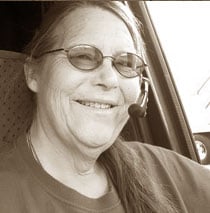 Many women truckers keep their hair short for ease of care, however, some do keep their hair long for the same reasons. Mine is below hip level, and I find it works well for me. I wear it up in a twist and tail most of the time while on the road. To keep it shining, I wash it once a week when home with good shampoo and conditioner, let it dry before brushing, twist it up and off I go. Best thing is no hair appointments, no perms, and no chemicals.
There are hundreds of women drivers who like to do their nails. Some use the acrylic stick-on fancy nails, some do them themselves. Deb LaBree, who drives with her husband, started out her working career when a young woman as a cosmetologist. She still enjoys working with her own and friends' hair when she is home and she adds colored highlights to her hair as the mood strikes her.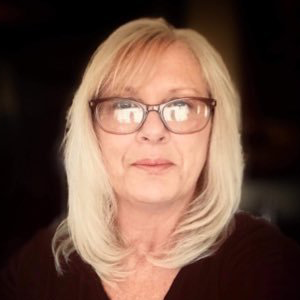 Deb always has beautiful nails that she does herself. She suggests using a good cuticle conditioner for around nails and a good hand lotion. Deb uses both a brush and air brush when doing her fancy nails. When time is short, she uses a white buffer block to gently smooth the nails and then a coat of clear polish for a high shine. If a nail breaks, she says, "Use fingernail glue, not super glue to glue it back in place until it can grow out."
Deb has one other tip for women drivers, "Walmart Super Center stores are a lady trucker's best friend. Most Walmart Super Centers have salons that offer manicure and pedicure options, and a wash, trim, and style. Furthermore, Walmart offers one stop shopping for all of our beauty needs. Remember, that most of the Walmart Super Centers offer truck parking for shoppers."
There are all sorts of beauty and beauty is in the eye of the beholder. Being beautiful in the rough and tumble world of trucking can be as simple as staying clean and neat and allowing the inner beauty shine through. Or it can entail facials, manicures, pedicures, makeup, and fancy nails. Your choice, but you are beautiful if in your eyes you are.