Driver Ambassador: Game-Changing Technology that I Appreciate Today
by Kellylynn McLaughlin, on May 10, 2022 3:58:30 PM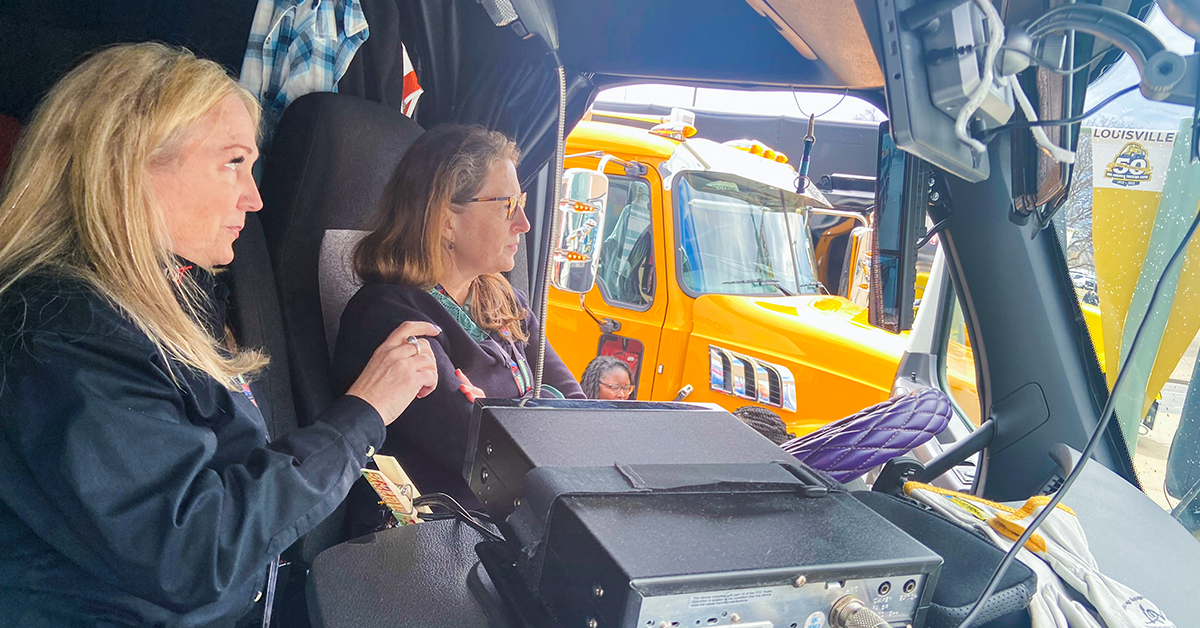 Take a listen to the podcast version below.

As those in the trucking industry know, the Post-Trip Inspection is a time to check and see if anything has changed with your equipment since you began your trip and if there are any items that need to be addressed before continuing on down the road. It's a time to reflect, assess, and plan what's next.
REFLECT
Those that know me know that I am a proud techie and I am definitely not afraid to incorporate technology into my life – my first degree track in college was computer programming. Now I'm going to date myself, but that was way back when computers still used paper cards to sequence the program codes! I learned something about myself back during that period … that I hated being relegated to the dark artificial basement light of the Computer Science building. After one semester, I deviated from that career track when I was carrying my carefully sequenced box of cards down the stairs (which represented by final exam for a coding class), tripped and watched all my hundreds of cards careen down the stairs. I still embrace technology, find myself reading tech journals and I'm known as the techie in my family. The bottom line is that I welcome technology that makes my life safer and easier.

When I talk "tech" about the trucking industry in my vlogs and blogs, I usually receive a fair amount of grumpy comments from drivers who would prefer to keep trucks unchanged and "simple." These are the same drivers that are probably calling home on their cell phone, using a navigation device, have power steering and enjoy their air-ride seats as well!

Over the last few years, I have had the opportunity to work with a variety of teams that not only design and build the commercial trucks we drive today, but are working on the next generation of tractors. I consider these invitations to provide feedback an honor and take the opportunity to have input into those conversations seriously.
ASSESS
I want to walk you through some of my favorite technology on my tractor, Amelia. The tractor I drive today is a different animal than the tractor I drove six years ago.
I am impressed with how fast advancements are progressing! Today I have multiple computers (around 10) that work in conjunction with each other. These computers work to maximize fuel efficiency, reduce environmental pollutants, warn me of potential risks, navigate me through congestion, advise me of weather and traffic conditions, monitor engine systems and alert me of issues, assist in maintaining control during an emergency and collect essential safety data. Safety should be everyone's top priority and technology such as collision mitigation and automated transmissions have significantly impacted driver safety and reduced the number of preventable collisions.
I recently joined a group of 200 other drivers at my carrier to test a camera technology which replaces the six standard tractor mirrors. When I first heard of this technology (called MirrorEye®) three years ago, I wanted to be the first to try it! I love it and really enjoy being able to participate in the ground-level testing and evaluation process with the technology designers and my carrier. The cameras not only provide clear visibility in any weather condition and display a wider field of vision, but also eliminate some of my blind spots, reduce glare from bright headlights and rear facing sun and also have super cool infrared capabilities for better vision at night!
Lately I've been curious to know what my peers and coworkers in the industry think about fast-paced technology advancements. I've been asking two questions of those who have been in the industry long enough to see the changes. The first question is, "What CMV standard technology do think was a game-changer for the industry?" The second question is, "What technology would you like to see become standard?"
Here are some of the thoughts and observations:
Automated transmissions have definitely made the transition to professional driving much easier and safer. When I started training new hires using automated transmissions, I noticed the trainees had more brain space to pay attention to their surroundings instead of stressing about gears/rpm/speed. Many carriers have moved to 100% automated transmission because of the reduction in preventable collisions. I bet that clutch maintenance costs are reduced as well!



Collision mitigation systems prevent or reduce the severity of a collision. How can you not like that technology?! And yes, I also believe it has been a game-changer for our industry as well as the passenger vehicle industry.



One of the Shop Leads shared how he thought that the game changed when the various truck computers gathered data and worked together to give the driver a better driving experience and to reduce the cost of operating (Ex: predictive cruise control).



One simple technology that was a game changer for me was the addition of a refrigerator in my tractor. I know it seems not so high-tech, but now I rarely get sick from bad food, spend less on food and have food when I'm stuck in rural areas. Just three years ago that was not a standard amenity for most trucks I drove.
I never know what response I will receive when I ask what technology they would like to see become standard.
Recently, an engineer friend said he would like to see heads-up displays (HUD) become more common. A HUD projects a transparent image of data on the windshield for the driver so that they do not have to look away from the road. He also liked forward looking infrared camera (FLIR) vision, which he also called augmented vision. This technology uses a thermal imaging system to see more clearly in a various driving conditions and is currently available for passenger vehicles.



My mechanic friend said he would like to see sensors that tell drivers what's going on more completely. He thought the industry could expand upon displaying amber/red indicators to share more complete information of what the sensor is reading. This improvement could provide instructions to drivers on what to do next so that a driver does not have to stop to call a mechanic to find out next step scenarios.



I would like to see airbags and heated wipers become standard equipment. Windshield facing sun glare is frequently blinding and I am waiting for an engineer to invent windshield technology that eliminates that risk.
PLAN
Embracing technology and being willing to give new ideas a try are defiantly in my wheelhouse. Change is a constant in our lives, and when it comes to technology, I'd rather be part of the process. I am looking forward to discovering what the next game-changing technologies will be.

You have several avenues to share your thoughts and opinions with us. What technologies do you think have changed the game for the trucking industry and what technologies would you like to become standard equipment? We would love to hear from you.

Like this kind of content?
As a member of the Women In Trucking Association, stay on top of emerging trends and business issues impacting transportation, logistics, and supply chain operations, learn the importance of gender diversity in the workplace and the need for more women drivers, and see best practices in encouraging the employment of women in the trucking industry. Learn More