HERstory: "Iowa Bus Queen"
by Fran Bernard, on Mar 6, 2023 1:10:52 PM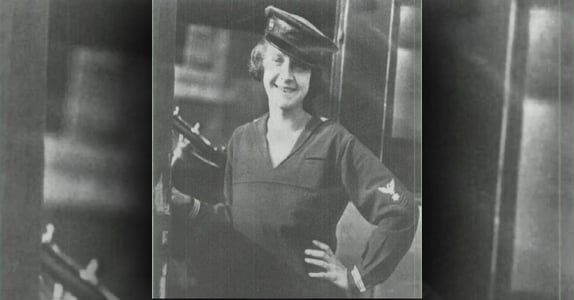 Photo: Transportation History
In honor of Women's History Month, the Women In Trucking Association is taking the time to tell the stories of iconic women who have paved the way for females, whether behind the wheel or in the office, to thrive today in what is seen as a male-populated industry.
Helen Schultz
In 1922, Helen Schultz of Iowa, launched the first women-owned bus line. Red Ball Transportation came into existence at a time when bus services were steadily growing in America.
Helen worked various jobs in California and Minnesota, observing motorized bus operations, and quickly grasped the potential and popularity of this type of public transportation. Women's Transportation History: Helen Schultz, Bus Line Owner – Transportation History
After returning to Iowa, Helen founded her own bus line. She incorporated the Red Ball Transportation Company, which she named after the Red Ball Route (now Highway 218), which runs between St, Paul, Minnesota, and St. Louis, Missouri.
Helen started with two daily round trips between Charles City, Iowa and Waterloo, Iowa. In the beginning, her passengers were mostly women on shopping day trips and traveling salesmen.
By the fall of 1923, Red Ball Transportation Company continued to grow. It was the leading bus company in Iowa, with eleven large coaches and a wonderful reputation for reliability.
Although Helen had many business struggles, her ability to remain in business when women were not welcome in business circles was definitely one of her greatest achievements. Unfortunately, at that time, men excluded women from entry to professions. However, Helen fought and was able to achieve this great victory. She was able to turn her gender from a liability into an asset, highlighting her role as a female trailblazer and becoming known nationwide when the Des Moines Register named her "The Iowa Bus Queen."
In 1930, Helen sold the Red Ball Transportation Company for $200,000 to a Minnesota based Jefferson Highway Transportation Company, which is still in business today.
Helen moved on to other ventures after selling the Red Ball Transportation Company, including an auto service station.
"My bus business is the pride of my life and I love my buses."
Like this kind of content?

As a member of the Women In Trucking Association, stay on top of emerging trends and business issues impacting transportation and logistics; learn the importance of gender diversity in the workplace and the need for more women drivers; and see best practices in encouraging the employment of women in the trucking industry. Join today! Learn More