I've Got My CDL - Now What?
by Women In Trucking Staff, on Jun 8, 2022 4:19:42 PM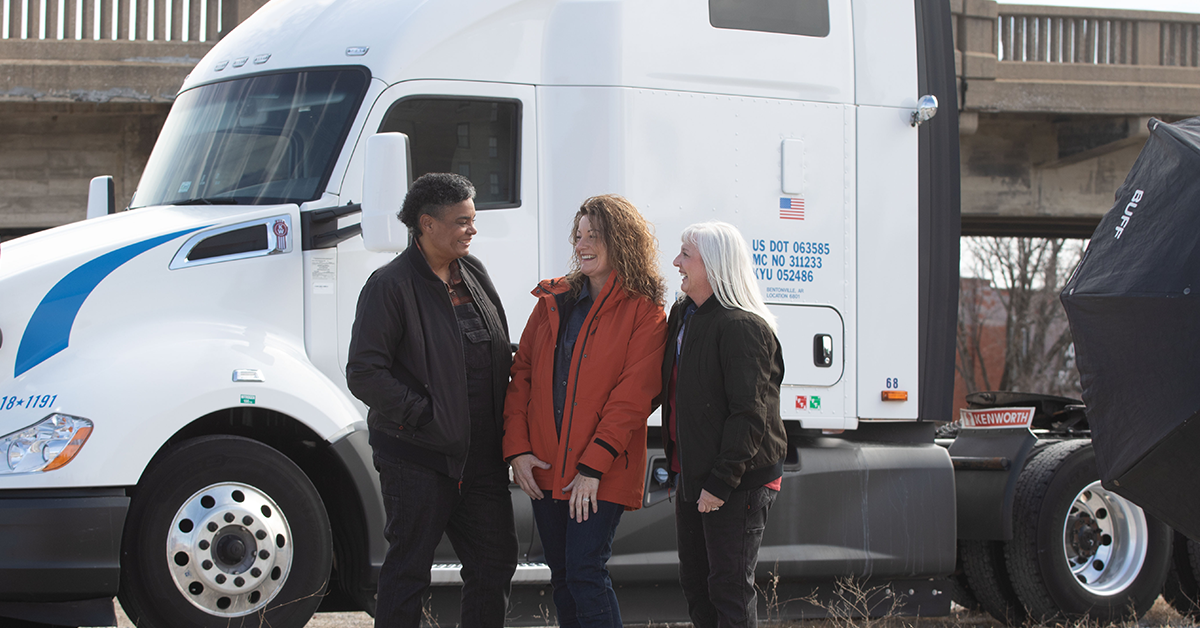 We often hear, "I've just obtained my CDL, but I don't know where to start." It can feel overwhelming starting the next phase of your trucking journey, such as finding the right employer. Our experts from the Women In Trucking Image Team have been in your shoes and are here to offer some valuable insight and advice.
How soon should you apply for a truck driving job?
You should begin researching potential carriers while you are still acquiring your CDL. "It's important to not apply to the first trucking company you come across," said Image Team member, Jeana Hysell. She continued, saying "you need to do thorough research to determine what carriers would be the best fit for your specific needs." By being prepared and doing your research, you should be equipped with enough knowledge to apply for a professional truck driver position shortly after obtaining your CDL.
"Obtaining a CDL is just the first step in learning to be a safe and professional driver and new drivers need to get themselves in the seat to continue their journey in the transportation industry and improve their driving skills," said Image Team member Kellylynn McLaughlin. "It takes time to build habits of a great driver and a commitment to safety on the road."
What struggles did you face during your search for a career in truck driving and how did you overcome them?
As a woman, pursuing a career in the transportation industry can pose many challenges, including:
Struggling to find carriers that implement and enforce gender bias and harassment policies
Inability to find other women to connect with and learn from
Being "different" and standing out in a male-populated industry
For those struggling to find carriers that implement and enforce gender bias and harassment policies, you might want to consider applying for a carrier that consistently ranks on
WIT's Top Companies for Women to Work for in Transportation
. An additional resource for those looking for other women within the industry to connect and learn from is the WIT members-only community site,
Engage
, for online networking, education, exclusive benefits and resources, and more.
Additionally, WIT has partnered with LeadHERalliance to bring professional female drivers a unique mentoring program. The 10-month program,
LeadHERtrucking
, matches a new driver with an experienced and seasoned driver who has achieved long-term success on the road.
In your opinion, what are the most important questions you should ask trucking company recruiters?
When applying for a career as a professional driver, there are many questions you can ask to gain a better understanding of the company and if it would be the right fit for you, such as:
What does the onboarding training entail (length of training period, pay during training, gender protocols, etc.)?
What is the standard equipment in the tractor you will drive?
What are the company's core values?
What is the company's harassment policy?
What is the professional development track for drivers?
Is home time a priority for drivers?
What is the driver turn-over rate at the company?
What percentage of the drivers are female?
Image Team member Kellylynn McLaughlin, also suggests requesting to speak with a driver from the company, especially one who is working on the account for which you are applying.


What are the biggest mistakes an individual can make when applying for truck driving jobs?
As stated earlier, it's important to do your own thorough research of carriers before you begin the interview process. This will allow you to gain a deeper understanding of the company, its core values, and policies for women within their workforce. "The biggest mistake you can make while applying for truck driving jobs is not researching the company," said Image Team member, Jodi Edwards. "You need to know as much as possible about the companies and if they offer the type of driving job you are wanting."
Additionally, Kellylynn McLaughlin stressed the importance of being open and honest with recruiters, stating, "do not lie about anything, including previous drug screen tests, previous accidents, or moving violations. Honesty is the best policy!"
What has been the most rewarding aspect of your career in truck driving?
Although being a woman in a male-dominated industry has its challenges, there are many rewarding aspects to being a female professional driver. For Image Team member, Allyson Hay, she believes it's the people you meet along the way, stating, "the most rewarding part of my career as a professional driver is meeting different people and their help along the way. She continued saying, "I didn't get here by myself and it's what's made me who I am. There were a lot of people who contributed to my success, and I'm thankful for my truck driving sisters and brothers."
In addition to the people you'll encounter, a career as a female professional driver comes with a huge sense of pride. Image Team member, Jodi Edwards, has 1,829,981 safe driving miles under her belt and said, "the most rewarding part of my career in the trucking industry is being a safe driver. "My learning curve has been huge," said Kellylynn McLaughlin. "I have flattened my barriers and the self-confidence that comes with that is a nice perk."
What advice would you give to someone who is pursuing a career as a professional driver?
My advice for someone seeking a career in the transportation industry is to not job hop. Do thorough research, find a good company that fits your needs and stay there."

– Jodi Edwards, Professional Driver, J.B. Hunt Transport
Get as involved in the industry as you can. There are organizations that need help, and there's nothing better than giving back. Speak up about changes you would like to see, and don't be complacent and grumble. Stand up and do something!"

– Deb LaBree, Independent Owner-Operator, Castle Transport, LLC, Leased to Landstar
Become the best professional driver you can be without changing or compromising your integrity"

– Jeana Hysell, Sr. Safety Consultant, J.J. Keller & Associates, Inc.
Make a professional development plan for yourself, look towards the future and decide where you want to go, then figure out what you need to do to get there. Network, network, network and be an informed participant in your career and this industry. Be a professional every day and take this job seriously! The weight of your CDL card is extremely light, but the weight of the responsibility that comes with it is heavy." – Kellylynn McLaughlin, Professional Driver and Training Engineer, Schneider
Use the schooling and training you get and add to it, knowing that every day is a challenge. Don't give up or get frustrated. Be patient with yourself, and NEVER let failure be an option. Remember that there are always people out there willing to help you."

– Allyson Hay, Professional Driver, Walmart Private Fleet
About the Image Team
The Women In Trucking Image Team is comprised of individuals who best represent the mission of the association. They're knowledgeable, passionate, and positive women who are subject matter experts in the trucking industry.

Image Team members participate in ride-along events for legislators, regulators, and industry leaders to provide a deeper understanding of the obstacles they face on the road. They also speak to the media and other industry professionals at public events and industry trade shows.

Like this kind of content?
As a member of the Women In Trucking Association, stay on top of emerging trends and business issues impacting transportation, logistics, and supply chain operations, learn the importance of gender diversity in the workplace and the need for more women drivers, and see best practices in encouraging the employment of women in the trucking industry. Learn More