Lessons Learned from Thirty Years in Safety
by Beth Cramb, Penske Logistics | Sponsored Content, on Dec 12, 2022 8:09:00 AM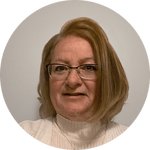 Over the three decades that I have served on Penske Logistics' safety team, our industry has experienced its fair share of change. From seismic shifts like the ELD mandate and the COVID-19 pandemic to more gradual demographic and technological transformations, these changes have demanded a lot of our drivers.
As transportation leaders, we owe our hardworking drivers the tools to navigate and excel in a changing environment. Here are some ways that Penske is equipping our drivers for success, both on and off the highway:
We put safety at the heart of our culture.
Through our onboarding, training and everyday interactions, we emphasize safety as a core value—not just a box we have to check. Our safety culture is modeled from the C-suite to the loading dock, and serves as the foundation for our response to new regulations, emerging technologies and changing workforce needs.
We embrace our drivers as safety partners.
Through consistent, clear and transparent communication, leaders and drivers are able to take a collaborative, unified approach to new challenges. We also tap drivers with strong safety records to serve as Smith System trainers, which leverages the power of peer-to-peer interaction to keep drivers informed and engaged.
We ensure training is timely and relevant.
We are constantly re-evaluating our training programs to ensure they meet the needs of today's driver. Our training goes beyond collision prevention to focus on the whole individual, employing programs like Worklete to prevent injuries and promote better quality of life.
We celebrate continuous improvement.
Just like an NFL quarterback reviews game film, our drivers are able to learn from inward- and outward-facing cameras that are triggered during events like swerving or hard braking. We celebrate what our drivers do well and identify opportunities for improvement. When I first piloted this technology, I learned that even safety experts have room for growth!
We employ the newest and most cutting-edge fleet in the industry.
In addition to our onboard camera systems, we keep our drivers safe with collision avoidance and lane departure systems, stability control systems, air disc brakes and automatic braking, onboard telematics and diagnostic systems, speed governors, rollover safeguards and advanced visibility LED headlights.
As our industry continues to evolve, having these fundamentals in place can keep your team grounded in what really matters: ensuring that drivers arrive home each night to the people they love.
Written by Beth Cramb, Director of Safety at Penske Logistics.
Like this kind of content?
As a member of the Women In Trucking Association, stay on top of emerging trends and business issues impacting transportation, logistics, and supply chain operations, learn the importance of gender diversity in the workplace and the need for more women drivers, and see best practices in encouraging the employment of women in the trucking industry. Learn More