Perspectives To Help Maximize Success in Recruiting and Retaining Female Drivers
by Women In Trucking Staff, on Mar 22, 2023 7:52:40 AM
It's no secret that the trucking industry is short more than 80,000 professional drivers. And what's worse, it's predicted the industry will have a turnover in excess of one million drivers by 2030, according to the American Trucking Associations (ATA).
So what can companies with for-hire or private fleets do to address this complex issue head-on? Targeting women to join the trucking industry as drivers could help to minimize the shortfall, but this means fleet-based companies will need to take a proactive approach to execute their recruitment strategy to connect with women and keep them engaged in the job long-term.
When you look at the most successful professional truck driver recruiting and retention strategies, there are two components help to maximize results:
Broaden your talent search to new and underrepresented demographics – and tapping into the female demographic of women who would perform well in this role is an ideal place to start.





Develop strategies that ensure all of your recruiting and retention efforts feature career opportunities and benefits that will resonate with female drivers.
This informative article will provide practical advice and information on how to integrate these two components into your professional driver recruiting and retention strategies. This information is primarily based upon perspectives provided directly by female drivers involved with the Women In Trucking Association (WIT).
These perspectives were developed in conjunction with a sponsored research initiative between WIT and TransForce, a leading provider for CDL Driver marketing, recruitment, staffing and retention solutions. Part of the goal of this research project was to benchmark and explore the recruiting experience of female professional truck drivers. The survey covered the following:
Areas of interest and concern for female professional driver applicants, including what can be done to help women drivers manage life on the road.


What are the most important benefits when choosing a truck driving job, and what type of information do they expect to see on a job posting as compared to their male counterparts?


What driver applicants look for in a job search platform (i.e., job search websites, mobile apps, etc.)


Insights on the experiences professional drivers have when seeking a new job opportunity.
A free whitepaper that summarizes the results and perspectives of this survey, called "How to Unlock Success in Recruiting and Retaining Female Drivers," is available to the industry at-large. Download Now

Broaden Your Talent Search to New and Underrepresented Demographics
As you look to expand your strategy to bring in more female applicants and associates, make sure that your recruiting efforts and job postings are relevant to them. In fact, the online survey shows female drivers explicitly said they are looking for this type of information illustrated in a job postings they consider:
Details involving the route type ((72.3 percent)
Critical factors like health benefits offered (61.5 percent)
Types of endorsements required (58.4 percent)
Type of CDL required (52.3 percent)
Company rating by other drivers (50.77 percent)
Equipment type used (50.7 percent)
Additional information about the career opportunity that is important to applicants include is weekly pay rate (49.2 percent), work hours (41.5 percent), and recruiter name and contact information (40 percent). Including these key components in your job postings reflect what's most important to your driver candidates. Finally, when creating your job posting keep in mind, "What in it for them?" and ensure to lay out specific details and requirements of the job.
Comparatively, according to respondents of a recent TransForce survey, drivers want to see weekly pay rates (61 percent), work hours (60 percent), and route type (60 percent) listed on job postings.
Develop Strategies to Ensure Your Recruiting and Retention Efforts Resonates with Females
Make sure the you develop your professional driver recruiting and retention strategies based upon what is most important to females in their professional and personal lives. Through this on-line survey, women drivers indicated five factors that are most important to them – and you can use this knowledge as you develop your recruiting and retention strategies.
As you might expect, the survey concluded that women drivers want similar things as men regarding job benefits like pay, employer respect, work-life balance, etc. However, the main difference employers should keep in mind is that although at the core of the job, men and women have similar values, attracting and retaining women require different strategies.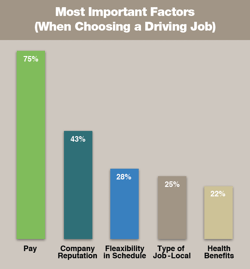 The most important factors for women who are professional truck drivers tend to be:
Pay (75.3 percent)
Company reputation (43 percent)
Flexibility in schedule (27.6 percent)
Type of job - local, regional, over-the-road, etc. (28.1 percent)
Health benefits (21.5 percent)
Companies most successful in attracting female drivers and retaining their entire driver workforce intentionally address these concerns head-on in their recruiting and retention strategies.
About TransForce

TransForce is the leader in CDL driver solutions. For more than 30 years, TransForce has been perfecting and innovating the driver's employment journey: from obtaining a CDL license and securing the first job, to the very last mile.
TransForce takes its expertise to market in the form of tech enabled and efficient CDL driver recruitment and staffing solutions powered by a network of 1.8 million drivers. More than 3,000 carriers nationwide choose TransForce as a partner for their driver recruitment and staffing. For more information, visit transforce.com.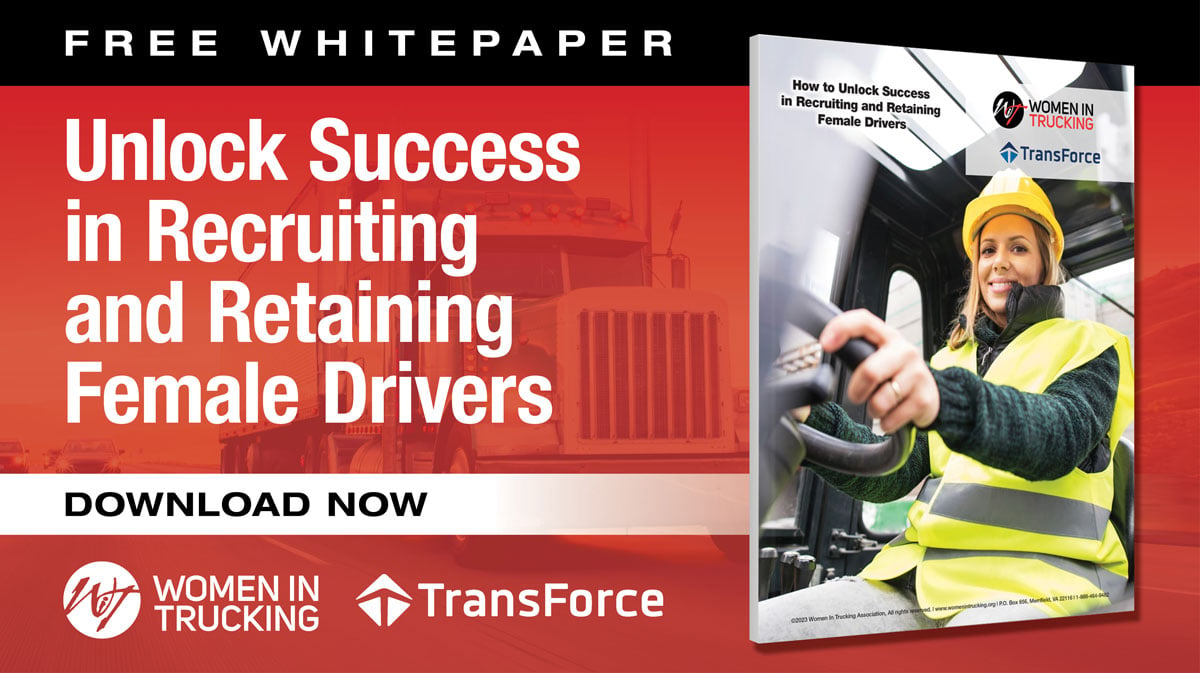 A free whitepaper that summarizes the results and perspectives of this survey, called "How to Unlock Success in Recruiting and Retaining Female Drivers," is available to the industry at-large.
Like this kind of content?

As a member of the Women In Trucking Association, stay on top of emerging trends and business issues impacting transportation and logistics; learn the importance of gender diversity in the workplace and the need for more women drivers; and see best practices in encouraging the employment of women in the trucking industry. Join today! Learn More